So, another update today that I'm really happy about. The first off being that game will now be supported on Linux based systems, so enjoy that! I was really happy finding out we could support Linux users. That bit of news may mean less to some of you, but for the people running Linux I hope that makes you happy.
---
A couple of updates today that I'd like to go over with all of you. The first of which being the new inventory system.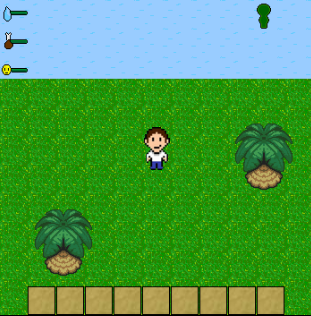 The inventory is at the bottom of the screen and is represented by those boxes. Your items are held in those said boxes, and that means that players can only hold 9 items on them, but you can carry as many stackable items as you wish. All food items are stackable, and some crafting materials are as well.
I really like the on-screen inventory idea and I'm going to stick with it. I'm also going to stick with the 9 item limit. It is a survival game after all, we don't want anyone hoarding a huge amount of items and guaranteeing their survival.
Also, as you can see the player icon has changed and this is now the current icon. Customization will come in the near future in the form of changing skin color, hair color, and the color of your clothes.
---
The final part of the update is the cannibalism feature which is something I've been a little confused on if I should implement it or not, and the final result was me implementing it.

Human Flesh is an item that is dropped by deceased players, and can be gathered by the living players as a food source. It's essentially a last option kind of deal, and if the players are low on food then eating the corpses of their friends could be just the thing to keep them alive.
It does replenish a decent amount of hunger, but doesn't deal back health and is really, really bad for morale but it will keep you from starving to death. Luckily, since there's no PvP you can't just grief other players and stock up on their flesh for food.
Also, when Human Flesh is picked up it will say "[player.name]'s Flesh". So, for example if you're playing a guy called "BigMomma" then the item will be called "BigMomma's Flesh".
What do you guys think about the cannibalism feature? Far-fetched, or does it suit the island survival scenario?
---
You can also show your support for Islands by following our Twitter, and liking the Facebook page.