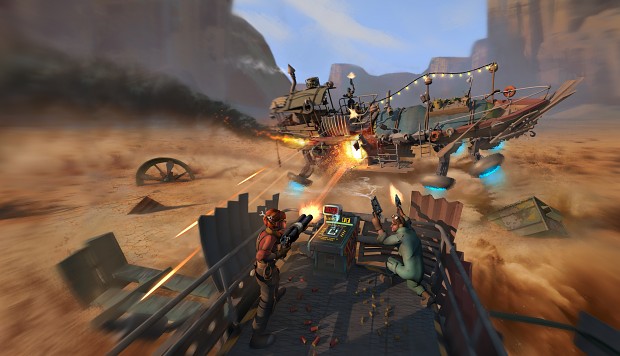 Hover Junkers is a VR-exclusive multiplayer shooter, and looks to be one of the first fully-fledged games that will be available for the HTC Vive consumer headset. Launching alongside the Vive in April 2016, Hover Junkers utilises the Vive's room-scale tracking in a unique and interesting way.Players combat one another aboard their own hoverships, the decks of which form the boundaries of the Vive's tracking area. Though your own physical movement is limited to the space of your ship's deck, the ships themselves can move around the game world independently, carrying you with them.
What's even more interesting is that your deck can be occupied by a second player, and you cooperate to defend attacks from multiple angles. To assist that defense, you can pick up scrap material from the wasteland and bolt it to your ship to act as cover, which you'll then need to physically duck behind. Could the sensation of being on a moving platform be too much and induce motion sickness? We'll have to wait until April to find out.
Though multiplayer seems the primary focus, a singleplayer campaign will also be included that emulates the survival structure of the classic game, The Oregon Trail. Developer Stress Level Zero has launched an IndieGoGo campaign to handle pre-orders; $35 will net you a Steam key and get you ready to play the game when the Vive launches in April. The developer also plans to add support for Oculus Touch controllers when they release later in the year. The campaign has raised almost 10% of its $100,000 funding goal in less than 12 hours, with just over a month remaining.