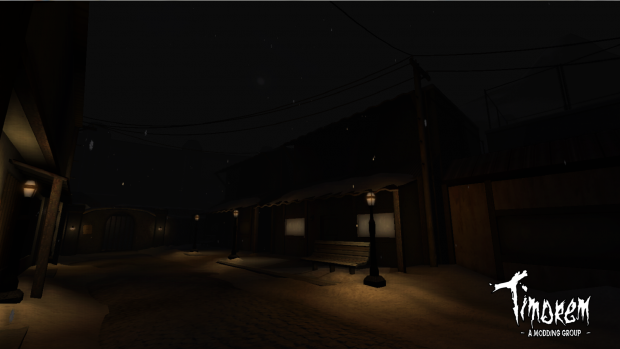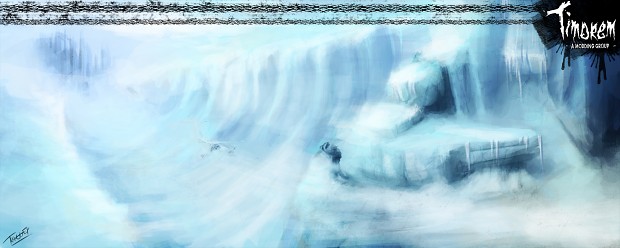 Amnesia: The Dark Descent, a horror game which sparked a revolution in the horror gaming industry, has risen to the ranks over the past few years since it came out. It has had numerous Let's Plays that involve both the eerie, fear-inducing campaign, and the custom stories which follow. These "custom stories" are entirely developed by the community, who are only given the tools which allow map creation, model editing, materials, and scripted sequences. Add these together, and with a touch of love and devotion, some great ideas are bound to emerge! Some ideas, though, show greater light than others.
One of them, is what you see here. "Horizon". A mod by the Timorem Team. Some of the best collaborative folks from the Frictional Games Forum, brought together to form a team. We have been hard at work, developing one of the most unique and original custom stories out there. We have designed concept art, planned the story out in collaboration as well as on paper (or in this situation, a text file), and have assigned necessary "job positions" that best suit each member. Complete with devoted teammates, we are making progress on what we hope to be one of the top custom stories out there for Amnesia. We have thought of and designed new features and mechanics that have not yet been seen in the original game or custom stories. Think we're pulling your leg? Here are a list of features that will be included in Horizon.
1) All assets are created by the team. This includes models, enemies, live NPC (no voices behind the door), props, sounds, music, graphics, particles, textures, everything. Not a single Vanilla asset is used.
2) Dynamic Weather. This involves simulated wind, snow, reaction to the environment (i.e., getting colder outside), etc.
3) Large Outdoor Environments. You will no longer only be confined to small corridors and cramped rooms. With a change of settings (and proper development), we can create large outdoor environments seen from all around. In a mountainous range, why would we limit ourselves?
4) Interactive HUD. With the power of the protagonist's high-tech goggles, it is able to read health level, battery level, read power locked doors and display it, read temperature, hack panels, and much more.
5) Live NPC and Interactive Enemies. You will not only meet new characters, but you will interact with them as well. Animated by Obliviator27 and Statyk, they will help you through your journey, and you will build bonds. Enemies, on the other hand, will try to stop you. Run, or outsmart them, it all depends on you.
6) Free-running Elements. Some areas will allow parkour behavior. Use it to progress, explore, or outwit your enemies.
7) Near-Cinematic Sequences. Certain situations call for special third person or first person cinematic sequences, involving the protagonist and any characters or environmental situations involved.
8) Fantastic Voice Acting. These actors include the famous Miss Rigi, who is also the writer of the story, Mookyvet, Traggey, and Obliviator27
9) Unique puzzles. This involves clever parkour usage, timing, UI-based hacking, common sense, and puzzles some have not yet seen before!
10) Unique Soundtrack. Composed by Sgtyayap, Or Python Blue, the ambiance of this unique soundtrack will set you deep into the cold, burdened story of Horizon.
STORY:
The story tells of a girl named Timmy, who is the daughter of a man of war. Her father has been fighting years with his brother, and he has tried his best to keep his family safe. He designed a place known as The Haven, bordered by large concrete and steel walls, to protect the ones he loved. He told you to look after your mother while he was gone. It's been years since she's seen him... And her mother passed away not too long before the events of Horizon take place. Is he still alive? Timmy can't just sit back unsure of the whereabouts of her father. If he is gone... Her world is gone. With no more family in the dark days of war, what else is there to live for? Thoughts running through her mind, day in... Day out... Father told her to stay home, no matter what.
But to Timmy... Father is her home.... And she has to find it.
__________________________________________________________
"Horizon" - Developed by Timorem, Created by Timorem
"Amnesia: The Dark Descent" - Developed and created by Frictional Games.
Stay tuned for more!