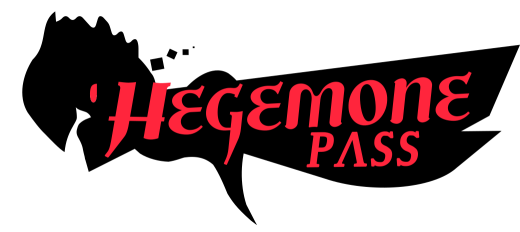 INTRODUCTION
Hegemone Pass is a turn-based RPG with switchable leaders, who in battle use their title's influence (a collection of stat boosts, resistances, and a passive effect) over allies or foes, featuring platforming gameplay while exploring various missions. Both sides of battle have a leader, victory goes to the party who defeated their opponent's leader. Both sides can switch the status of leader from one character to another during battle on to activate their title's influence over the battlefield.
We have already a TIGSource devlog, a Haxeflixel Forums devlog, and, just recently, we got a website, and now we have an IndieDB page!
STORY
The goddess Demeter has taken over the Underworld! The former Queen of the Underworld Persephone had her title stolen! Now she's being hunted by Demeter, who orders the entire Underworld to capture Persephone, in order to harness Persephone's hidden secret and become the supreme ruler of humanity and rule over the Pantheon, the home of the gods!

While in hiding, a distress summoning of Persephone occurs! Temporarily escaping from the Underworld, Persephone manages to save three humans from the Surface from an invasion of the Empire, Yvonne, Ethan and Emilie, members of the barbaric tribes of Icaune.

For having saved their lives, Persephone asks in exchange for their help to help her reclaim her title and retake control of the Underworld, bycollecting the five Order Flowers in order to weaken and defeat Demeter.

To do this, Persephone resides inside either Yvonne, Ethan or Emilie, allowing them to manifest the power of their title and lead their team fight against the controlled forces of the Underworld. Persephone can move in between Yvonne, Ethan or Emilie at any time to change which title she needs to activate to change their approach in battle.
CHARACTERS


Persephone
Former Queen of the Underworld.




Yvonne
Next in-line for the leadership of the Hardiesse tribe.




Ethan
A student of the Savoir tribe, brother to Emilie.




Emilie
A soldier of the Savoir Tribe and sister to Ethan.




Demeter
Goddess of Harvest and Life, and currently the Queen of the Underworld.
GAMEPLAY
BATTLE SYSTEM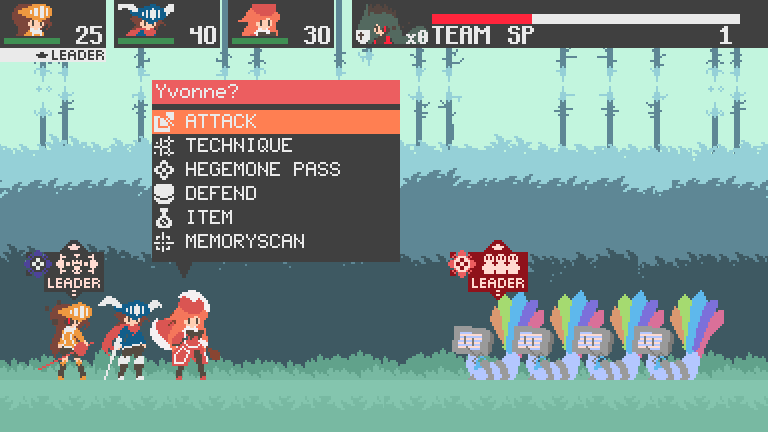 The battle system uses a classic turn-based RPG system. And so, you choose your party's actions before they act, with speed being a determining factor in who goes first.

Unlike most RPGs though, your party uses a shared pool of SP (Spirit Points). SP is used for performing certain techniques and magic spells of all sorts. SP regenerates every turn, with each conscious ally contributing a certain amount of SP per turn.

You gain EXP from defeated foes, whilst undefeated foes give less EXP if the enemy leader is defeated before his allies.
Your party shares the same exp bar and, as a result, levels up at the same time.

In addition, you can scan your foes with the "Memory Scan" command, which enables you to register the enemy's entry in your encyclopedia. This allows you to see the enemy's description, weaknesses and enables the display of the enemy's current health in battle.
SWITCH LEADER SYSTEM

In battle, each side of battle has a single designated leader (On the player's side, the current leader will have a miasma eye, similar to Persephone's miasma eye, when they are leader). The goal in battle is to defeat the enemy team leader, while simultaneously trying to keep yours alive. When a unit is leader, they manifest their Title over others!

Every unit possesses a Title, a manifestation of their influence over others. Titles possess numerous advantages that differ from one another, including :
An assortment of stat boosts and/or decreases.
A passive effect imposed on the receiver(s) of the title's influence.
And, depending on the title, a set of resistances (or weaknesses).

The effects of a title only manifest when one is the designated leader.
Any leader can pass their leader status to another unit using the "Hegemone Pass" command. Once that unit becomes the leader, their title's influence overwrites their predecessor's and it's own effects come into play.





Titles are classified according to whom the title will influence once the unit becomes the leader. These four categories are: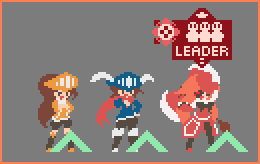 TEAM TITLE
Provides average stat boosts and elemental resistances for your entire party.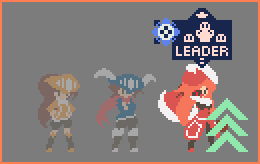 LEADER TITLE
Provides major stat boosts and elemental resistances for your party leader only.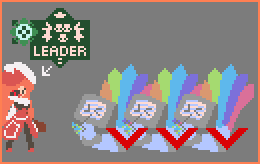 FEAR TITLE
Imposes moderate stat decreases to the enemy team. Does not change their elemental resistances.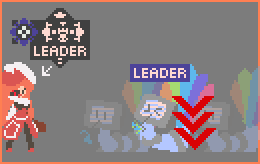 TARGET TITLE
Provides major stat decreases to the enemy leader. Does not change their elemental resistances.

There are also techniques that force your team to change their leader, that can be used by ally or foe alike. Also, certain techniques and status effects have different properties if the target is a leader.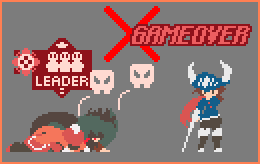 If your leader is defeated, it's game over. But, there are some safeguards in play:
You can switch your leader to another ally if you feel the current one is low on health or might be weak to the attacks of the enemy.
Your leader will always endure the first fatal hit in any battle.
And lastly, if you have any 1UPs, your leader will be revived and the battle will continue.
As long as your current leader isn't KO'ed, the battle goes on.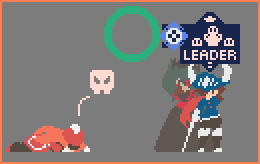 OUTSIDE OF BATTLE
The game is divided into chapters, and each chapter has missions to complete. Missions send you to a level with an objective to complete.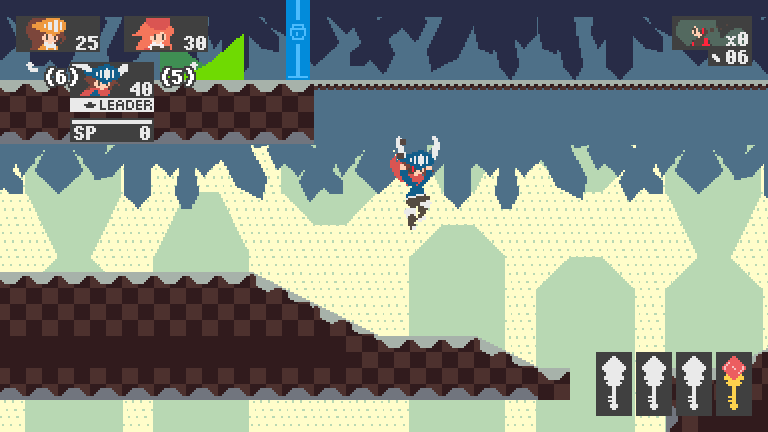 In a mission, you take control of the current leader and will be exploring the level which house various obstacles, while being able to switch leaders on the fly to use their different abilities. And throughout the level, you will find treasure chests containing various kinds of items, and small collectibles used for extra 1UPs available during battle.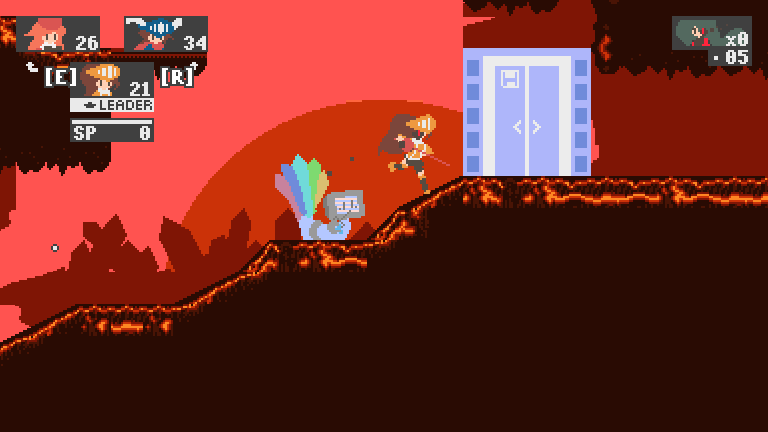 Enemy encounters are represented on the field. And if you enter their field of vision, they will chase you until you run far enough, or enter battle with them. When in contact with the enemy, you will be sent into battle, but you can get a "first strike" if you hit the enemy with your weapon on the field.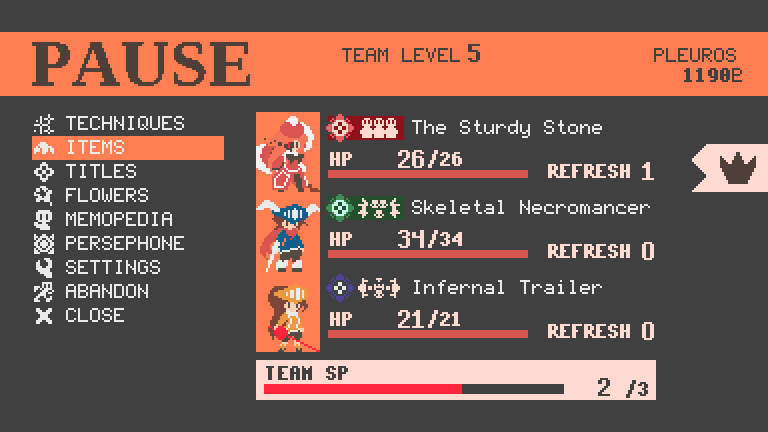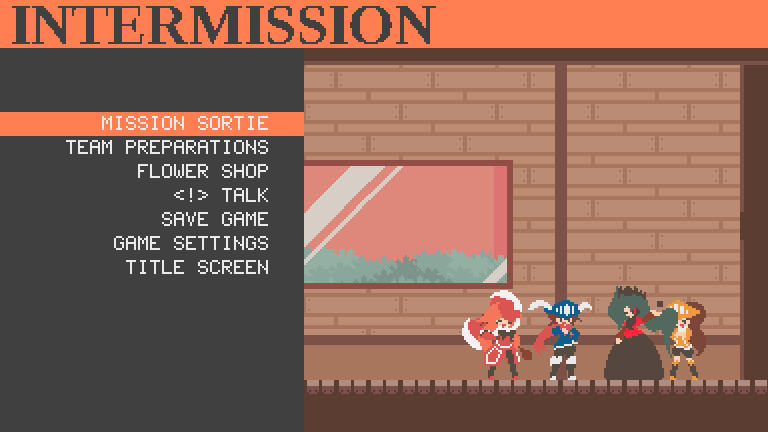 In between missions, you will go to the Intermission.
In the Intermission, you can buy items and equipment in the form of flowers from the Flower Shop, talk with your teammates about various topics, as well as choosing your next mission.
DEVELOPMENT


The game is being made with Haxe & HaxeFlixel.

Most of the battle and platforming systems, as well as core mechanics, are done. What's left to be done is the actual content of the game, with some extra features.

It's mostly a solo project, I'm handling the programming and doing the pixel art. My brother is helping out by creating a database editor for the content of the game.

All pictures shown above are not necessarily representative of the final product. If you want to see more regular but unfinished progress, you can have a look at my Twitter profile, where I post gifs.