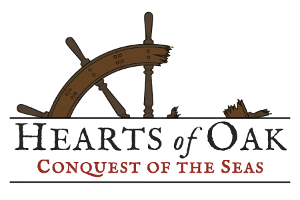 Ahoy, ye scallywags! This be another Heaarrts of Oak progress article that demands yer attention. Argh!
On this fine International Talk Like a Pirate day, we be deligh'ed to share yet another new early release of our humble game in-the-makin'. Enjoy wanderin' around in yer pirate gear, settin' sail and firin' the guns aboard yer magnificent vessel, me hearteys!
September Demo 1 Features
- Improved Materials and Loading Times
You'll notice this build looks a little more polished, but also loads a lot faster than the previous one.
This is due to some optimisations behind the scenes, as we continue to iterate and improve on each release.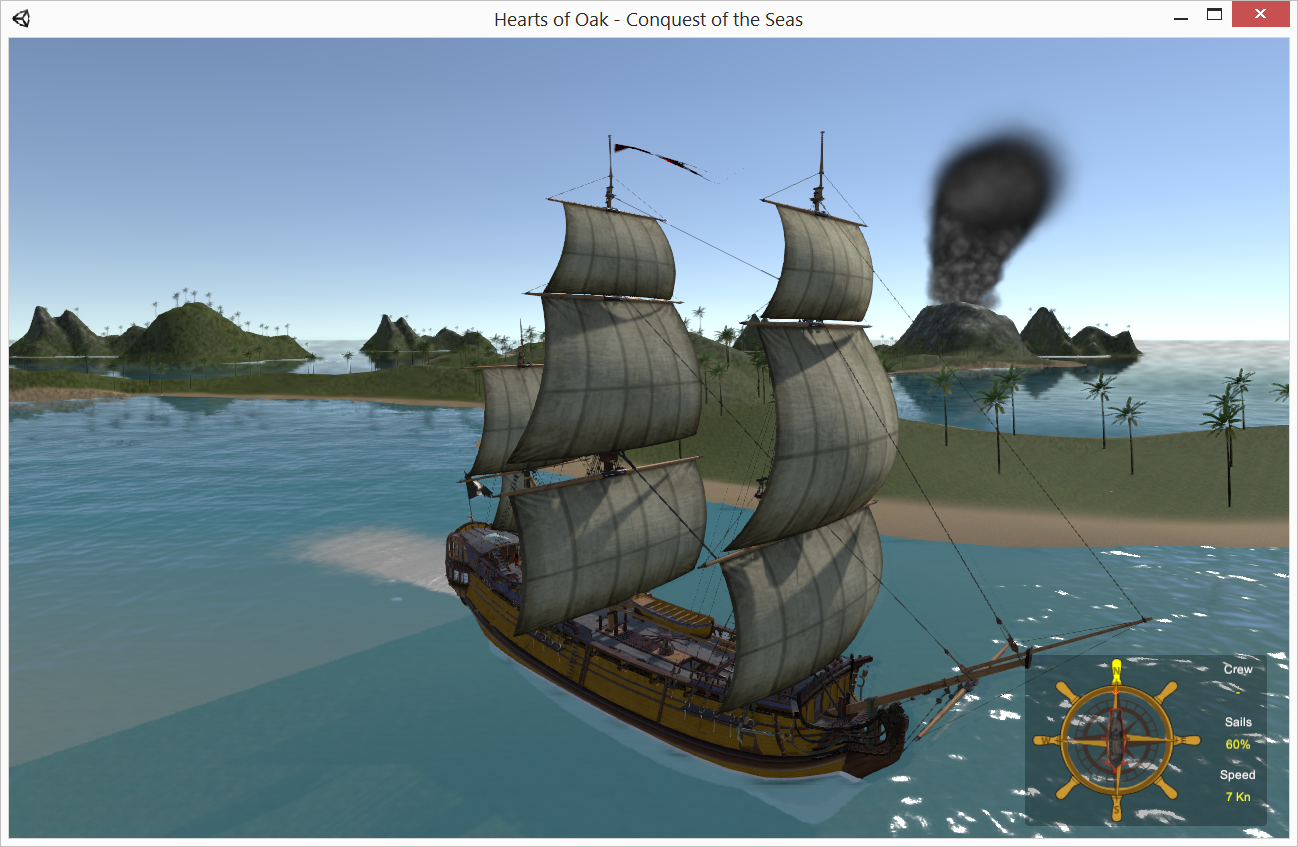 - Ship Command Stations
Commanding your ship is now done through several different stations on board; you can switch between them using the Tab key.
The helm is where you steer the ship and set the sails, as before. Now, you'll also see a helpful rudder indicator, depicted as a ship's wheel around the compass on the bottom right of the screen. This will help you to keep track of which way your rudder is currently pointing.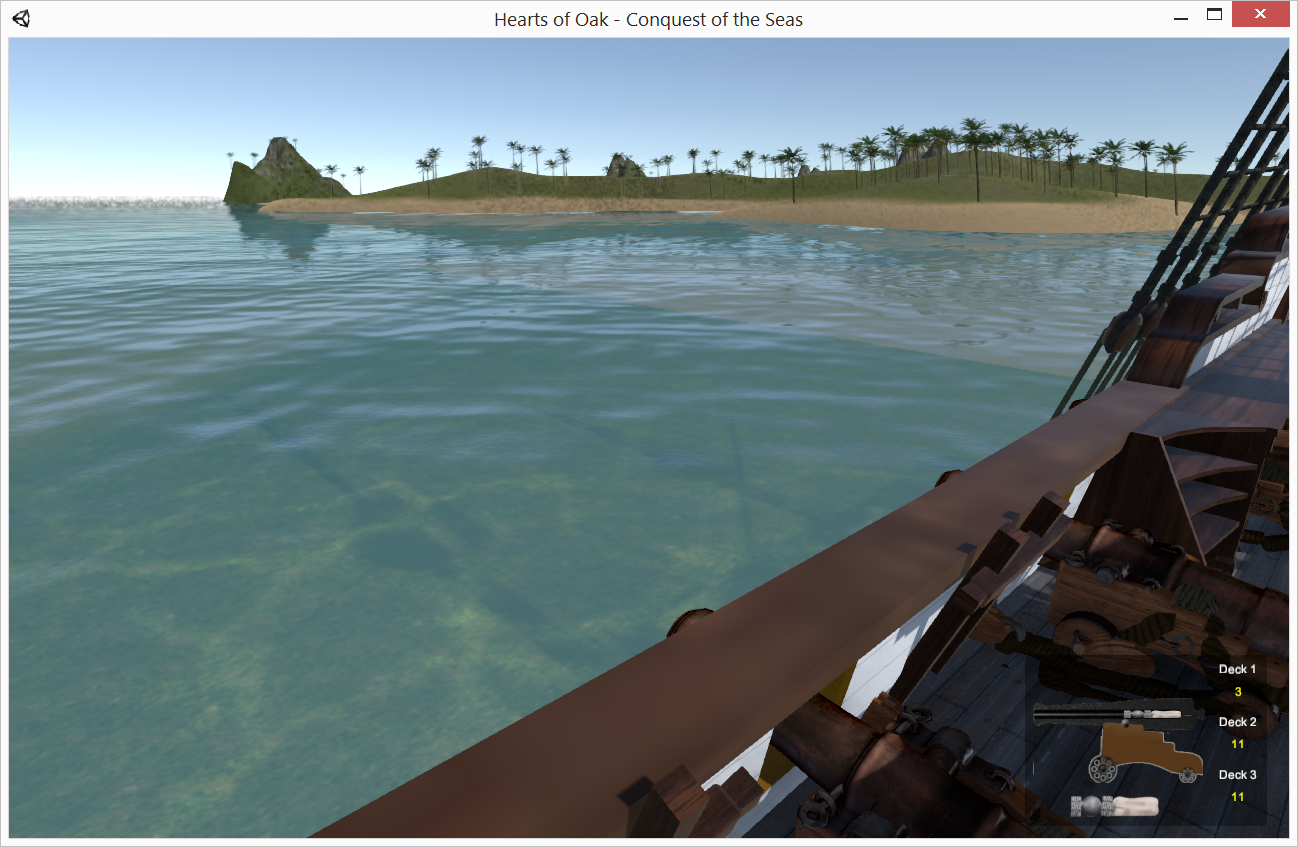 To fire the guns, you'll now be using the various firing stations around the ship. There's a separate station for the port, starboard and bow gun batteries (though there aren't any bow chasers, yet). Here, you can control the elevation of the guns using the Up and Down arrow keys, and fire a broadside using F.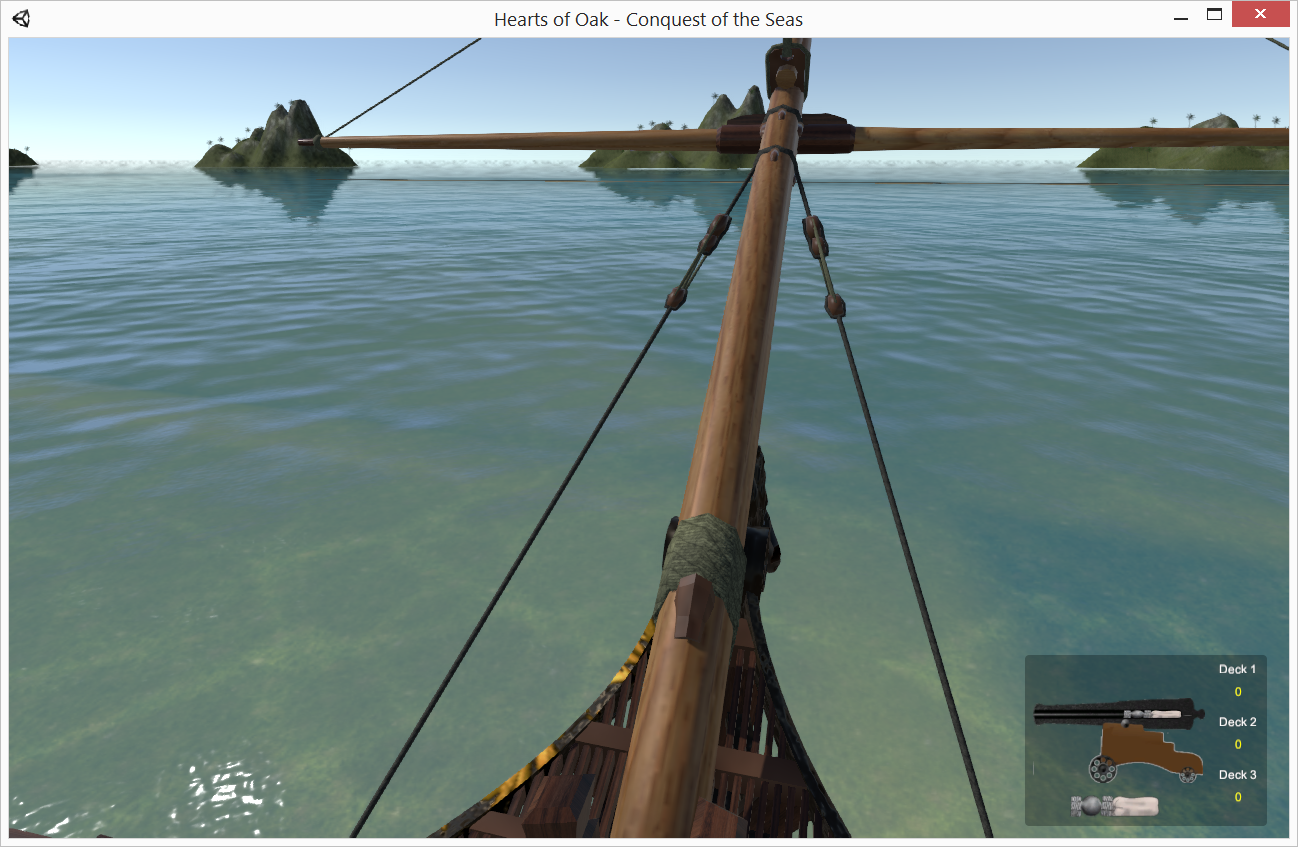 The new gunnery interface on the right shows the elevation and reload status of the guns in the current station. You'll notice the cannon icon rotating up and down with elevation, and the yellow loading bar in the gun barrel represents how long the guns are taking to reload.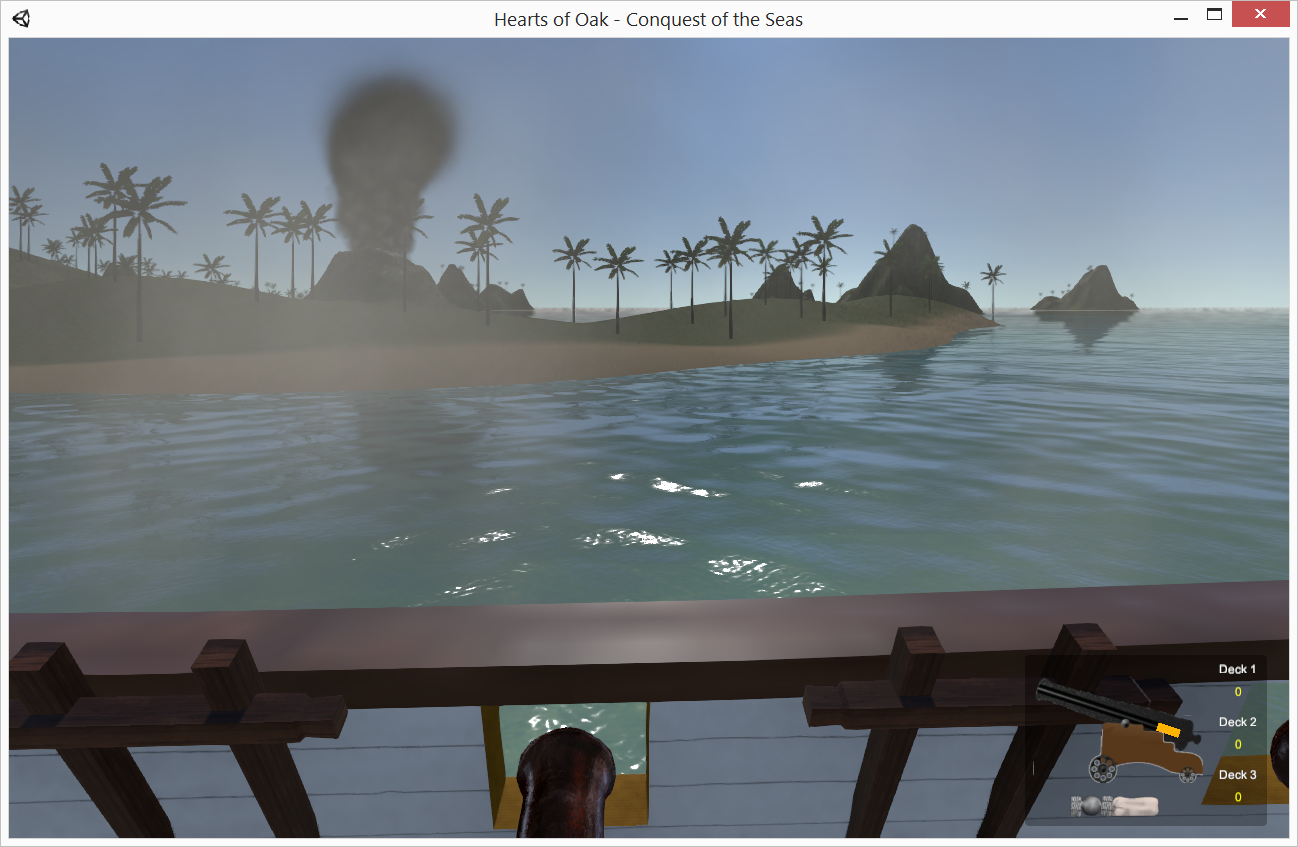 Coming Soon
- New Islands
You may be sitting there playing this build and thinking "Those islands need some work, mateys!" Well fear not, as we've got RobinPC working on some brand new islands of a far higher quality.
Below is a preview of his recent work building towards the new scene.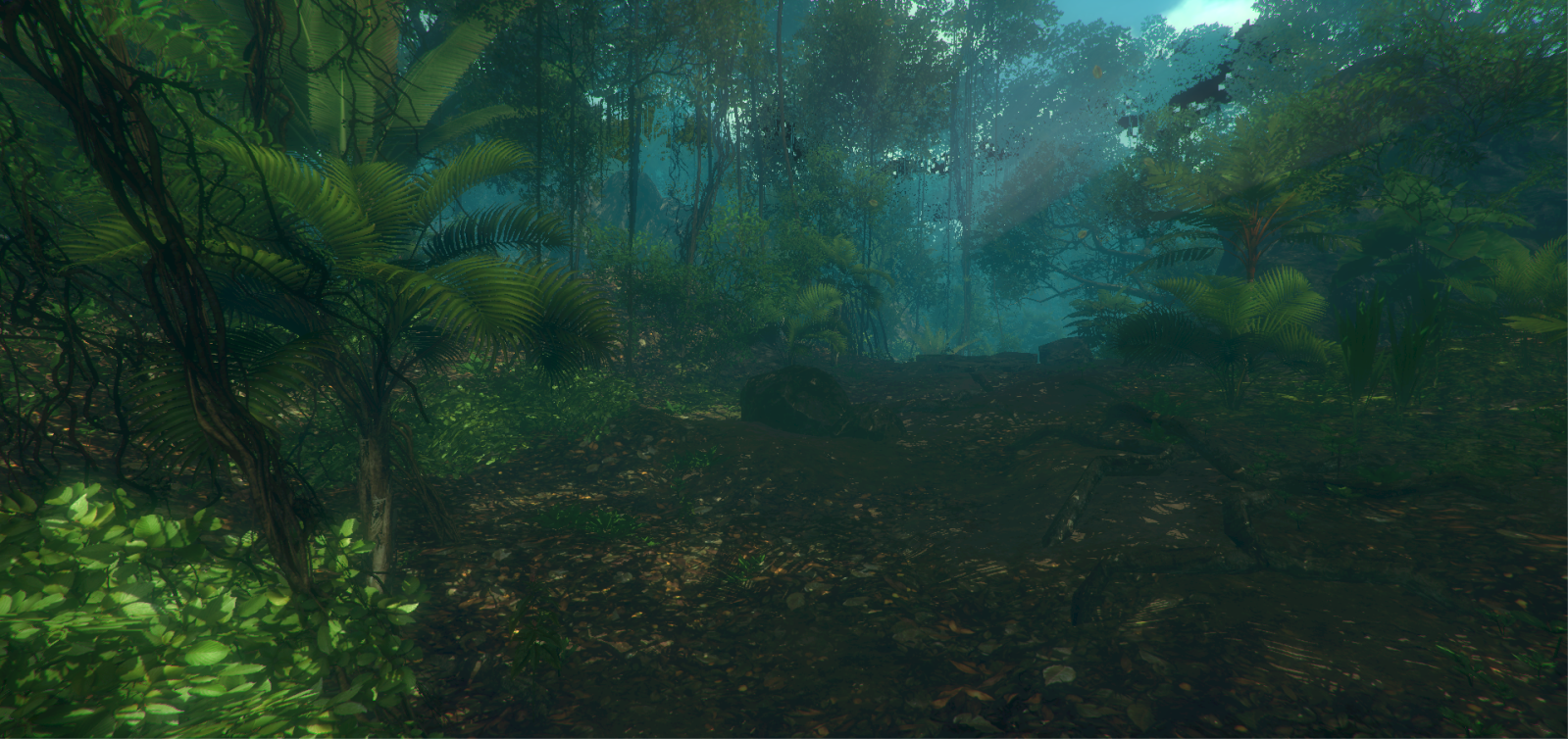 - More Command Stations
In addition to the helm and gunnery stations on the ship, we will also be adding a quartermaster's station in upcoming releases. This will allow the player to handle repairs and to assign crew to different areas of the ship, such as sails or guns. This will increase or decrease the efficiency of operations such as setting the sails or reloading the guns, and will become an important factor once you start losing crew in battle.
- Tutorial Quest System
As we're making an RPG, a quest system will be a vital component of the game in future releases. To start with, we will introduce a simple tutorial quest to help the player learn how to command their ship. This will include a dialogue interface with quest information to guide you along.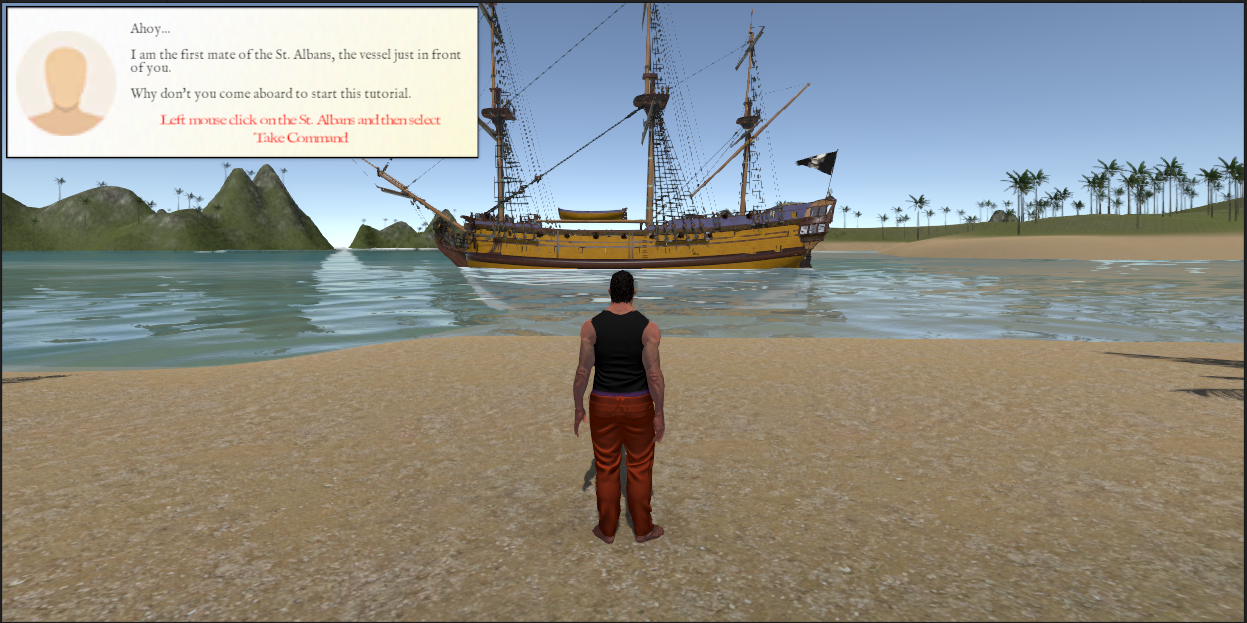 How You Can Help
To make it easier for you to find out what you can do to help (and to make this part of the article less of a text wall), we've now posted a detailed article to summarise everything.
In short: we're still looking for all sorts of contributors, as well as people to test the game. So if you'd like to help, please take a quick look at the new article and then visit our Recruitment forum if you want to join the team.

That's it for this month's progress; we'll have more updates for you soon!
Don't know what the Hearts of Oak project is? Take a look at our Frequently Asked Questions for more information.