---
Introduction
In this update we show you our A-A gun and a hand drawn concept.We would like to thank everyone that voted so far. I would also want to talk about some other mods that I think have a very bright future.Lets start this update off then.
A - A gun
With recent maps being made it was time to add some flavor, here's our A-A gun. It's the same type of A-A gun found in the halo 3 map "Highgrounds".It was made by me (SamUK) in worldcraft and textured by dandi8. It still a wip.
Note: the pink at the buttom of the barrel's will act as a fence so only the silver will be displayed.
This will be showing off our alpha mapping.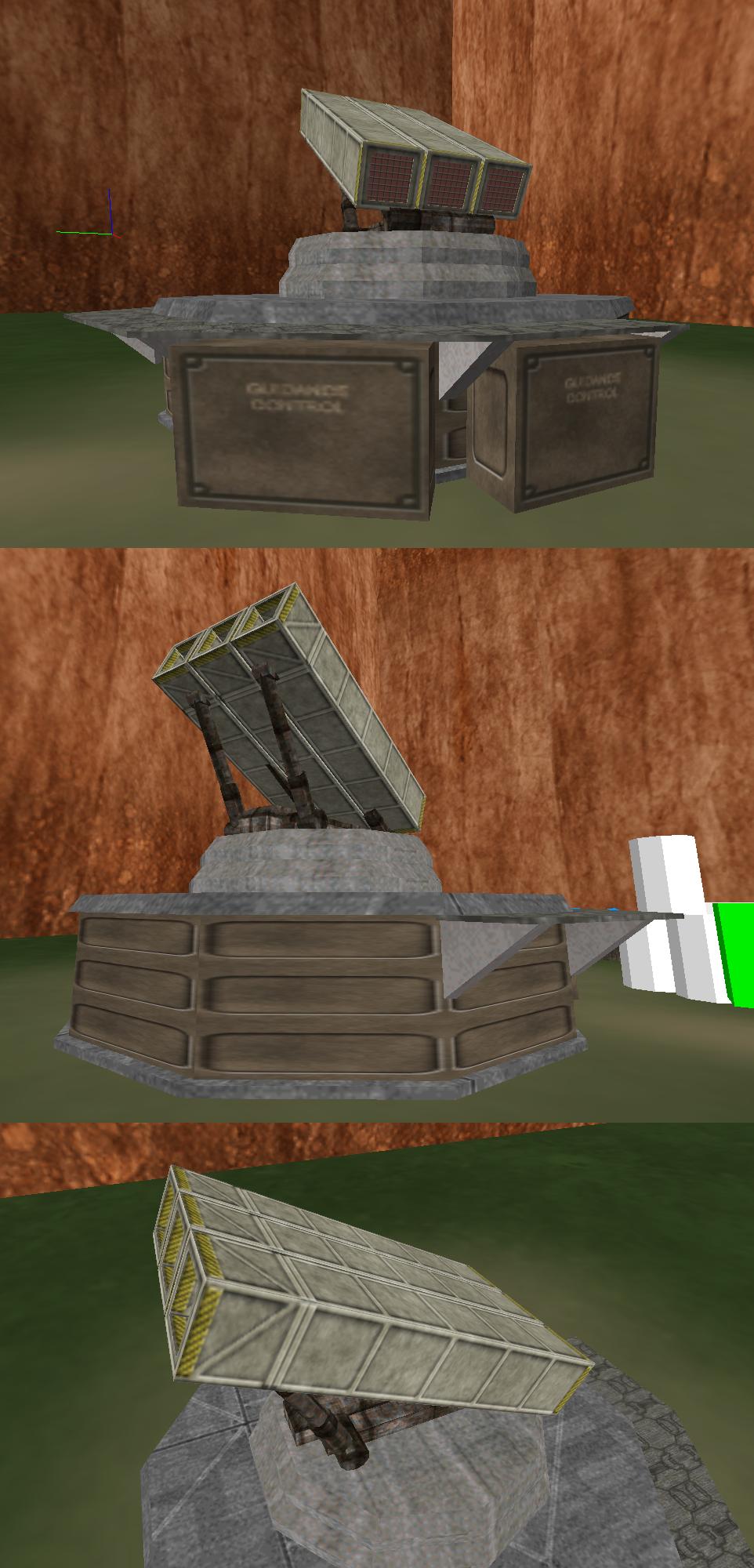 Concept art.
With the maps finaly shaping up I have been working on a few concepts for props. Simple things that you wouldnt notice unless they wernt there. I started off with the most basic prop, the most over used prop of all time. THE CRATE !
Spartan
We also have goten our spartan ingame. The texture was made for demonstartional purpose, It will be remade.
Note: This is in vanilla quake so the colors are still old school, not the stuff that is in Solitude-Z engine. There are also some height issue's, the spartan will not look 4ft tall in the real game.
SkyBox

Our games should now all look like halo maps, why ?
Becouse we have a halo skybox, it was made by iIlducci, here it is !
Torrecilla has been working on the elite, the armor has not been touched but he started with the skin. Here's a sneak peak at the WIP.
Other Mods
There are quite a large number of mods out there but only a few catch my eye. Here's a list that I hope and think will go a long way;
WarmGun-
This is a TC for Unreal 3, the team behind it seem's the msot dedicated bunch of guys ever. The art that these guys produced is outstanding, I just hope there programmer's dont mess up!
Overgrowth-
Recently the team became a full company that we can all sue :P, but thats no surprise as this Indie game seem's to be as good if not better then any other AAA Game out there.
Naruto: Naiteki Kensei-
Bringing new life to the half life engine ! This mod looks like the only threat to ESF.
Killing floor-
Has to be the best zombie killing game hands down. Everyone seem's to be buming L4D. L4D will be popular for some time but it dont think it will ever be as fun as Killing floor. This game proves that UT2k4 has an awesome engine!
Overdose-
The best quake II mod I have ever seen, Simply put, Amazing.
Thats it for today.
Come back next week as we get the wheel's really moving.
Regard's
Team Flaming Ice
www.halosolitude.com