H2FLOW is still in full blown development and we are working super hard on getting it out the door! You'll find me chipping away at a very long list of things to finish from from 10 pm to 3 am every night. Being an indie developer means no sleep and then having to go straight to a real job at 6 am!
We're working on getting some funds together to help release H2FLOW on iOS, Android, PC, and MAC in a few months. In order to garner more interest in H2FLOW we will be releasing a playable alpha demo later this week! You'll hear it here first!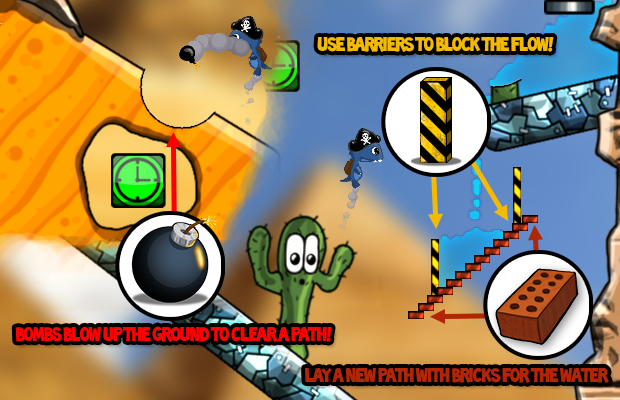 At this point, a majority of the coding is done... but it can always be improved if we had time or more money! We want to release a awesome looking game that is fun to play.
We've updated a lot of things since the last update, too many to list but lets go over the major ones:
The player will bounce off of terrain if they get too close and this will help them get "unstuck"
We've finalized most of the GUI functionality and just need some more refined art for some of the buttons!
updated the art style to be more cartoony and less... mechanical.
We've locked down the enemy types to 6, which provide enough challenge in their own various ways.
electric shock mine no longer damages you, but he will stun for you a few seconds.
Since we don't post a lot of the internet, we have really had no feedback! Please take a minute to check out our videos and screen shot and let us know what you think!
If you help spread the word about this game, I may just give you a FREE copy when it comes out!
Go hit up twitter and use #H2FLOW or on Facebook... or use smoke signals... anything.
No one knows about this game and it is killing our morale!
Sebastian
Haptix Games Developer