Guided Walkthrough
In our ongoing campaign of free extras, we've released the official Guided Walkthrough PDF.
Rather than just a bullet-point to-do list, we've put together a comprehensive 34-page guide to take you on the epic sci-fi adventure from beginning to end(ings), including solutions for all the puzzles plus cues along the way where you can find extra story content.
The letter-sized layout and PDF format make it a tablet-friendly companion. Or, go old school and print it out. We left plenty of margin space for notes! (And if you don't have either of those options, it will work just fine in your favorite PDF reader while ALT-TABing in and out of the game.)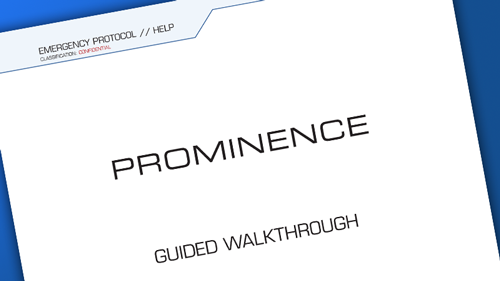 On Steam, the walkthrough can be found in the Prominence game directory
(..\Steam\steamapps\common\Prominence\Prominence_Guided_Walkthrough.pdf)
Those who purchased via the Humble Store or Humble Widget will find a link for it on their downloads page (Purchases -> Prominence -> Choose platform -> E-books)
The release of the Guided Walkthrough follows the Blooper/Outtakes Reel from the voice actor sessions, and the release of the complete Original Soundtrack. We still have more extras planned, including Steam Trading Cards. All extras are included free with purchase of the game.
New Trailer
We just released a brand-new Prominence trailer, which combines some back story narration, some final art and gameplay, a few peeks at some of the puzzles, and some quotes from some of the press reviews. It's a jam-packed ~90 seconds!
In Space No One Can Hear You Picnic...

If you're a gamer with a pulse, you probably know that Steam is running their Summer Picnic Sale right now, but with over 13,000 games on sale you might not know that Prominence is currently 40% off!
... Award-winning Adventure Game?
We were surprised and delighted to win not one but two 'Best of the Year' awards from IndieGames.com and three Aggie nominations from AdventureGamers.com. We've been much more focused on sharing the world of Prominence with our players and trying to make a great game, but it's wonderful to see the critical acclaim as well. Thank you very much!