What we've been up to:
As always, we take our commitment to our fans very seriously. A promise made is a promise kept! And we have promised that we will work long and hard to deliver a satisfying experience to our future players. There are many of you that have expressed your belief that the game should have a melee dominant combat core. We had the basics for the combat down, but it was exactly that. 'Basic'. You are all familiar with the ridiculously out of place katana in previous update videos. We have replaced the katana with an entire arsenal of various melee weapons, providing the player with new and rather satisfying ways to mutilate their foes. We've enhanced our time power mechanic, allowing the player to replay the level they are on at will, from the beginning. We've also managed to create a crude version of "time building", which allows the player to completely restore old ruins and forts to their previous grandeur.
The official main menu for Grimore: Vengeance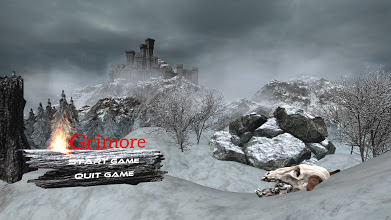 Tombs such as these provide the player with new weapons, powers, minions, and a power base.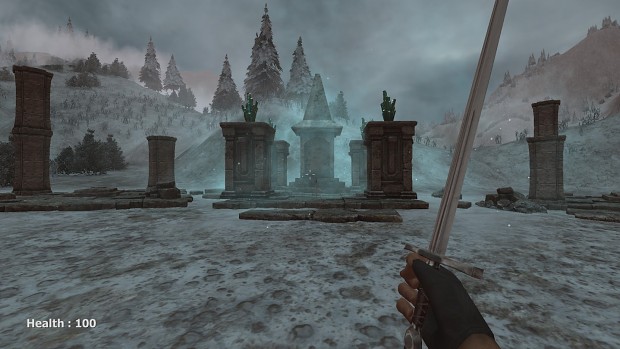 There are many villages and settlements scattered throughout several maps in the game, each with their own quests, their own faction leaders, and with their own unique view of the player.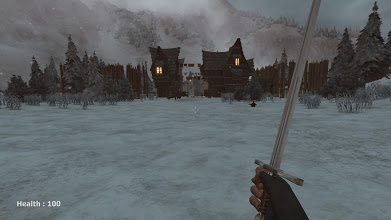 The video below will demonstrate how the new 'Restore' function works, as well as briefly preview the new melee combat as well as show of a few of our new warrior NPC's and their animations. As this is a work in progress, these mechanics are subject to change at any time.
As you can see, once the player destroys the orb over the ruins, the buildings are restored to their original state. Thus allowing the player to reap the benefits the ruins offer.
Minor updates and fixes:
We've also fixed our shadow clipping issue, significantly increasing the games graphical allure.
We've updated several game textures, including most of the sky boxes in the game. Chief among these is the sky represented in the post-apocalyptic world the player starts in.
We've also added several of our medieval warriors, knights and archers, giving the game a more believable living and breathing environment.
We've updated the main menu, finalizing what we believe should represent the look and feel of the game.
We have integrated a mini map into the game as well.
We strongly encourage you to download and play the last version of the game, before we release our Official demo. This will give you a meager taste of the barest scrap of this game.
If you like what you've seen here you might also be interested in Lord Of Decay being developed by our friends over at Sandbox D7. "Lord Of Decay is a dark fantasy RPG where you get to literally build your undead army limb by limb and command them in fierce combat."
As always, remain vigilant and stay tuned for our next article! ~Willingshade Studios