Hello everyone. It is I, Furok here.

I

n this

[What's new?]

I'm going to talk about unit trees, their stats and balance. And how it works in singleplayer and in multiplayer.
UNITS
Here are 3 picture which represent units of 3 factions and their stats. Unfortunately news picture limits wont let me put big pictures up so to see numbers go to the HD version Via the link. But before you start to learn it, let me give you some explanations
First of all let's talk about the icons near unit names.

Troop Size - how much place unit takes in your army (SP) or how much points it cost (MP)


Health and Damage - How many HP's the unit has and what damage his weapon has. If you see two numbers near damage icon it means unit has a melee and ranged weapon.
First number is melee damage. Second - ranged damage.


Armor - how armoured are the bodyparts of the unit in question.For people who are new to the Mount&Blade combat mechanics - in M&B your body is separated into 3 parts. Head, torso (including arms) and legs.


Shield - durability of the units equipped shield. This icon is only for units with a shield.


Horse - shows HEALTH, ARMOR and SPEED of the units horse.
This icon only for mounted units.


EXP - how much experience you get if you kill this unit.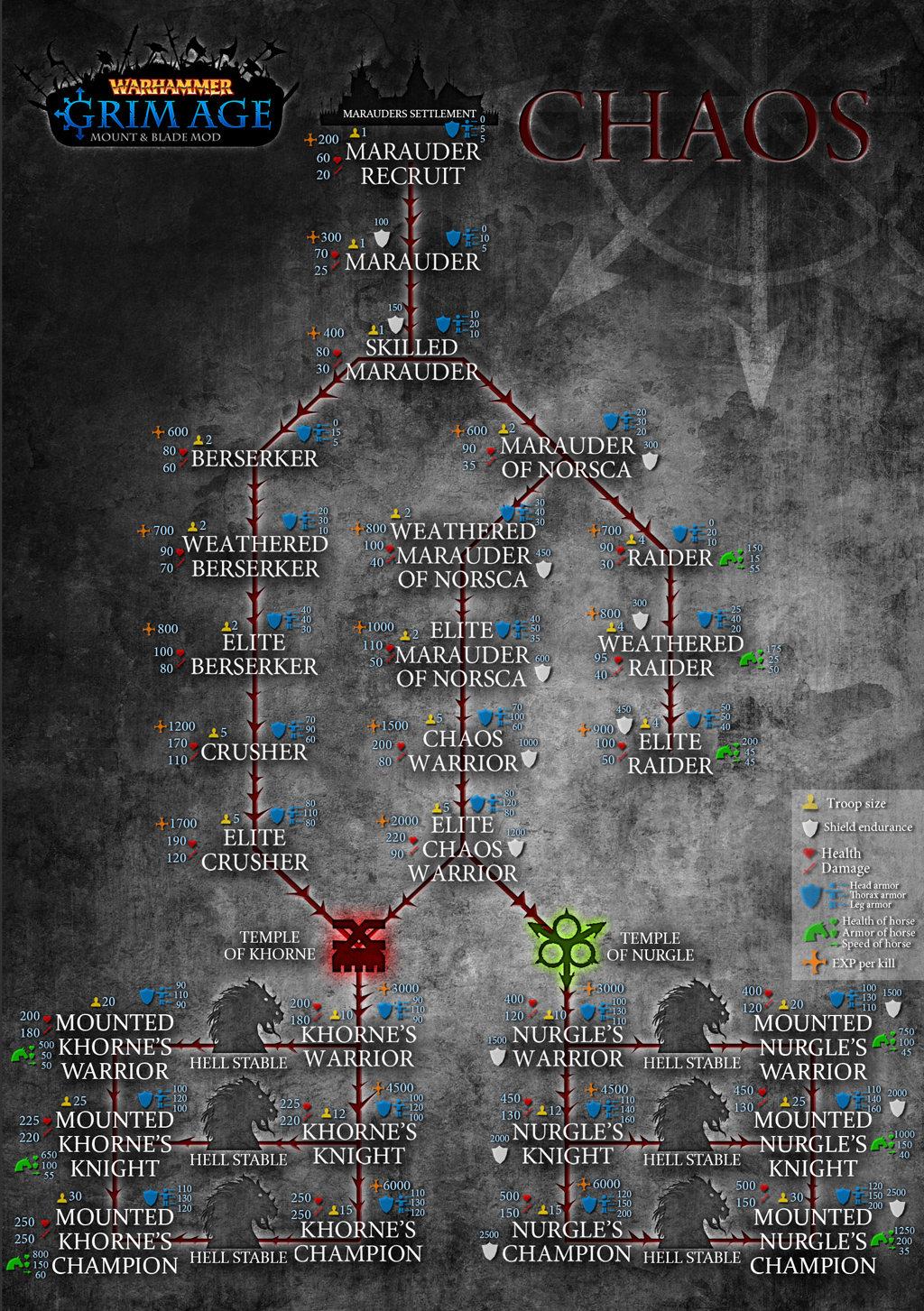 Chaos units specifics.
1. There are no ranged units.
2. Only ranged weapon is throwing axes. Every chaos unit carry 2-3 throwing axes except these:
a) Berserkers. b) Crushers. c) All Khorne followers.
3. Tough units.
4. Heavily armoured elite units.
5. Most units take up more space an in army.6. Best infantry assault units.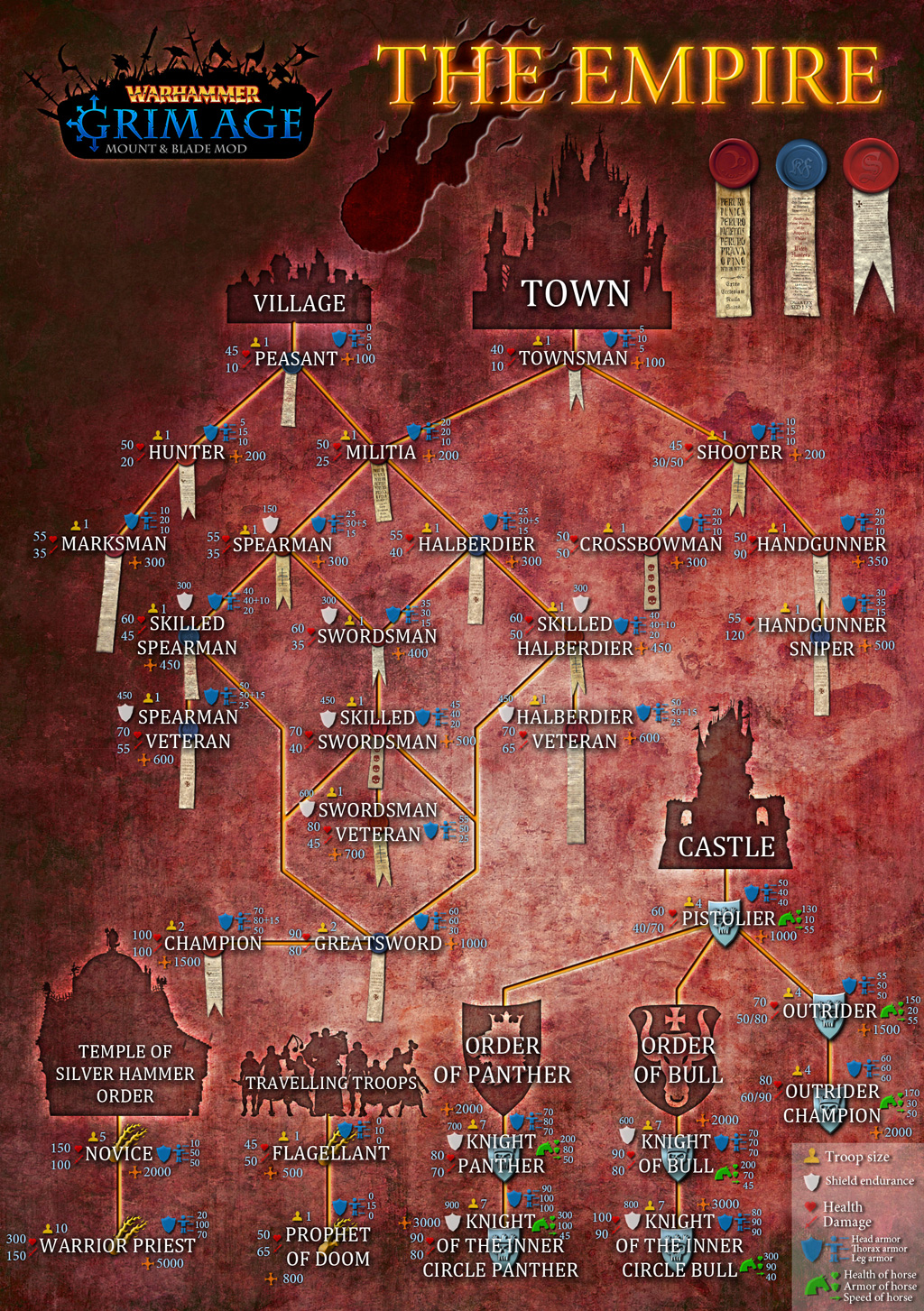 Empire units specifics.
1. Big choice from all types of unit allowing you to be more flexible in your tactics.
2. Firearms which deal the highest ranged damage in the game.
3. Formations (singleplayer).4. Knightly orders.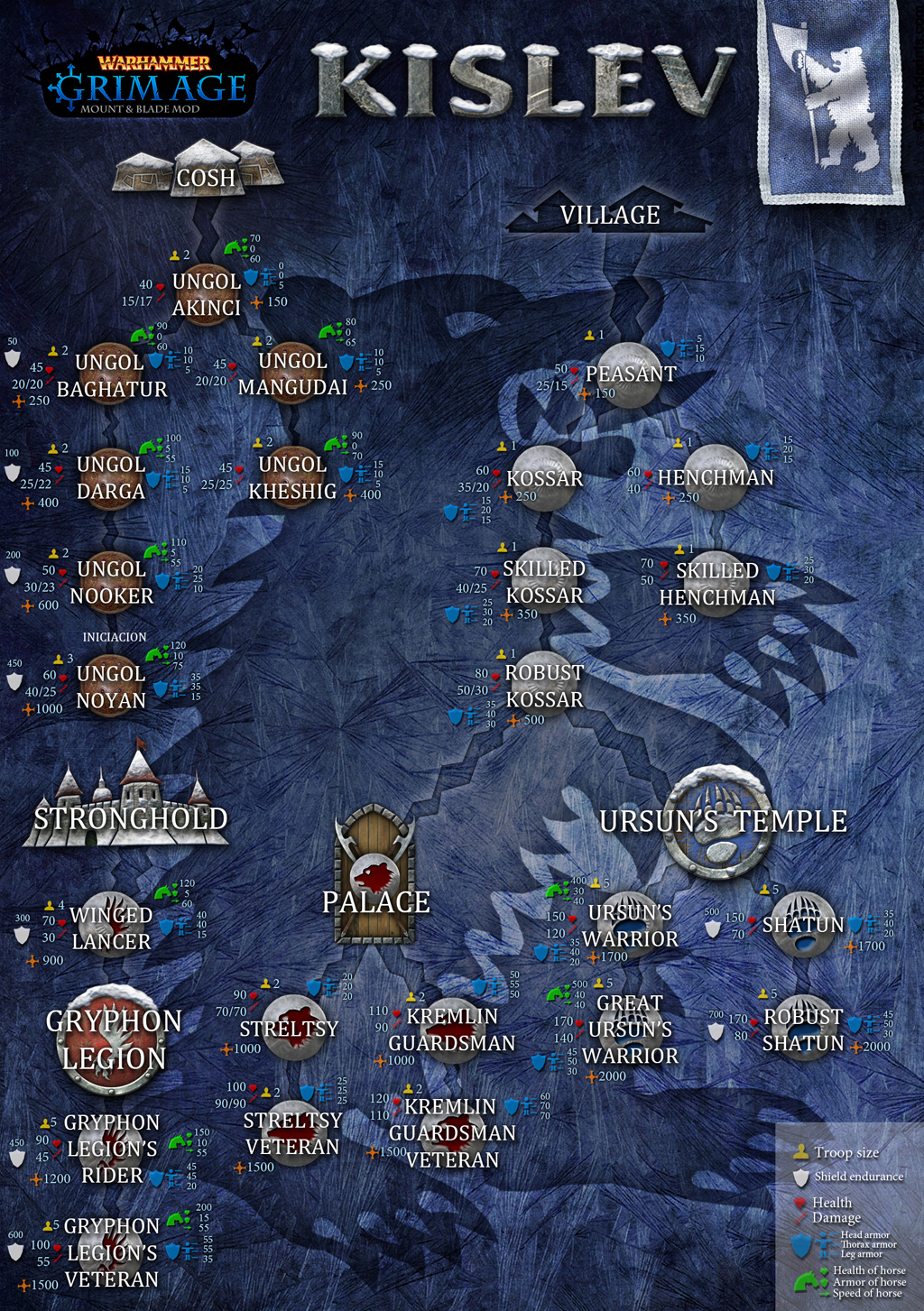 Kislev units specifics.
1. A lot of cavalry
2. Archers. A lot of them. Tons of units equipped with bow.
3. Most lightly armored making a highly mobile army.
4. Two handed axes. Half of units equipped with two handed axe.
CLASSES
In Skirmish UNITS combined into CLASSES. For example 3 gradation of spearman it's 3 different UNITS in Ostalnd Campaign and one CLASS in Skirmish. Classes include all equipment avaliable to units who fit in this class.
CLASSES
Empire:
1. Spearman (Spearman, Skilled Spearman, Spearman Veteran).
2. Halberdier (Halberdier, Skilled Halberdier, Halberdier Veteran).
3. Swordsman (Swordsman, Skilled Swordsman, Swordsman Veteran).
4. Huntsman (Hunter, Marksman).
5. Crossbowman (Shooter, Crossbowman).
6. Handgunner (Shooter, Handgunner, Handgunner Sniper).
7. Greatsword (Greatsword, Champion).
8. Pistolier (Pistolier, Outrider, Outrider Champion).
9. Knight Panther (Knight Panther, Knight of the inner circle panther).
10. Captain (COMMANDER) (Contains mix of best equipment).
Chaos:
1. Marauder (Marauder Recruit, Marauder, Skilled Marauder)
2. Marauder of Norsca (Marauder of Norsca(MoN), Weathered MoN, Elite MoN).
3. Berserker (Berserker, Weathered Berserker, Elite Berserker).
4. Raider (Raider, Weathered Raider, Elite Raider).
5. Crusher (Crusher, Elite Crusher).
6. Chaos Warrior (Chaos Warrior, Elite Chaos Warrior).
7. Chosen of Chaos Undivided (COMMANDER) (Contains mix of best equipment)
So that was the information about the units. Take your time and explore it gradually.