Hey guys!
Virgil here with another cool update, this time more serious, regarding enemies. Those simple headed and at times non-headed beasts which stand in the way of all that gold and princesses which await us. but only for a couple seconds until they dramatically die until they're.. well, dead :)
To start off, this guy here is possibly the 1st ferocious encounter you might stumble upon in this fairy land of Mana Aegis: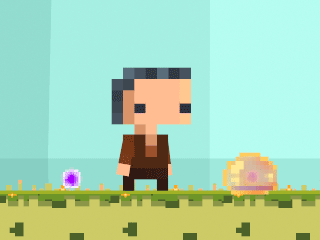 With medium size, little mobility and tragically low scarce factor, this guy right here might just be the best peep to try your master-wooden-stick-sword upon. He is the 1st in class of the 1st rank type monsters.
As we move along the sailing wind, another weird blob figure would happen to turn up and face us. With a more developed body and unknown attack source we present to you the 1st enemy in the line of 2nd rank type:
So a bit more intimidating than the 1st rank representative, this guys is poised to show up as a more aggressive fellow so better gear up first.
And as the cliche of showing off more powerful and frightening wilder beasts carries us into the wilderness, comes this multi-legged fairy - the light spider: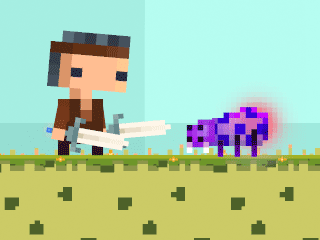 With crazy colors and pants-wetting agility we shall prepare to take on the groups of crazy colored spiders. Yes, each of these ladies will face us wearing different clothes, walk on both land and ceiling and like ladies, go at you when they aren't alone and you are! This is the fierce representative enemy of the 3rd rank type monsters.
As for a quick summary since we started up this little enemy topic. There will be 9 ranks of enemies, each being represented by a minimum of 3 different monsters we love to brutally kill for sometimes no reason at all :) ahhh, logic.
We don't know what the next update will be since we're working on more things at a time and can't stay focused on finishing up just a single one. But we'll release the next development of flashy images at the end of this week. So keep tracking for more pretty, moving pixels!
Virgil, out!