A happy new year to all of the longtime players and the new players that have come in during the holiday sale!
During the christmas and new year holidays the employees of Logicorp have been working hard on some new hardware that will improve your ship's performance in many different ways. These new systems are the data core terminals and data core expansion bays. These systems will need data cartridges to work, which you can find randomly on stations, these cartridges hold the upgrades to your ship, you can add a cartridge to your data core terminal to make them active. Each data core terminal starts with 2 open slots, you can increase this to a maximum of 8 by building data core expansion bays, each bay will allow for 1 more cartridge in the data core terminal when assigned to a data core terminal.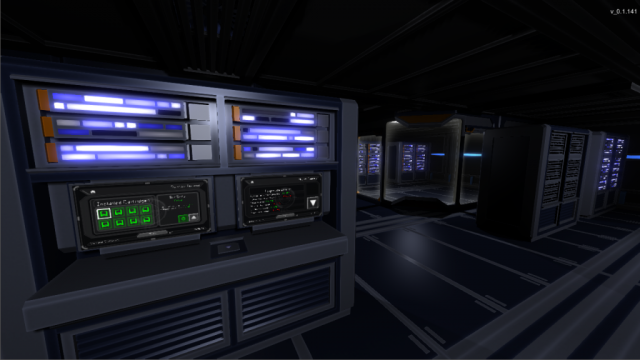 The new datacore terminal + datacore expansion bays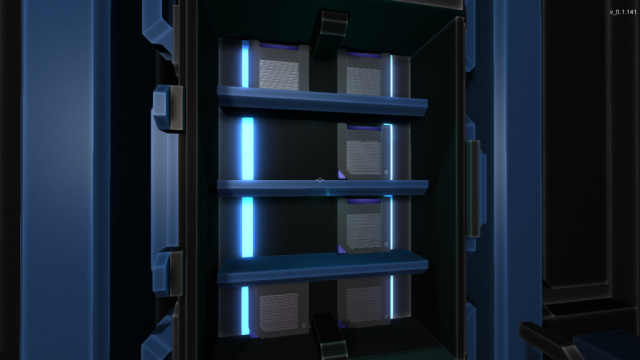 Cartridges inside a locker
Upgrades can vary from faster refine speeds, to engine upgrades or faster shield regeneration. Upgrades stack with each other and can completely turn the performance of your ship around.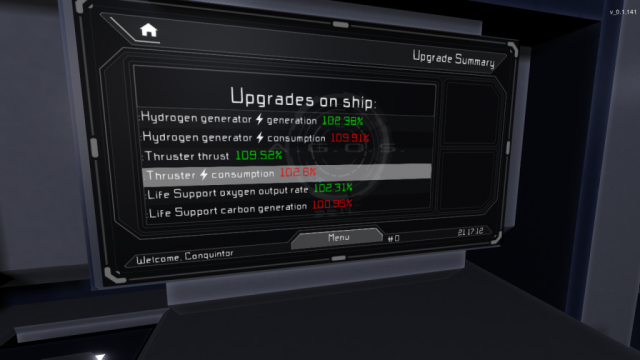 Some of the upgrades that can be installed
The cockpit software has also received another update, the cockpit will now alert you when you are on a crash course. When you are sitting in the cockpit the crash course alert will occur 5 seconds before impact, when you are not sitting in the cockpit the crash course alert will occur 30 seconds before impact. We have also greatly improved the shields, as we found with the addition of point defense drones, shields did far too little to stop the incoming projectiles. Both shields have received a very substantial buff. See the patch notes for more details.
We have added a new feature where cargo will now add mass to your ship, this means that when you are hauling a lot of cargo your speed calculation will be different and make your ship slower and harder to turn around.
Lastly, You can now turn more systems on or off using your GRIP tool, such as power batteries and power cells. This gives players more control over the in and out-flow of electricity between systems.
We hope you enjoy this new patch and as always, if you would like to know more or would like sneak previews of upcoming features and patches please follow us on twitter, facebook and our own and steam forums.