Greetings to you all from the Frozen Home of Santa! The past couple of months have been really busy time for me with all the Christmas preparations and travelling. However, some major stuff also happened with Gekkeiju Online.
Action Combat
You asked for it and I eventually listened! Gekkeiju Online now has a free form targeting-system where you can easily target all the skills to whichever direction you want. Skills have different kinds of target forms so the player needs to get the monsters inside the target form. Most skills can also hit multiple targets now.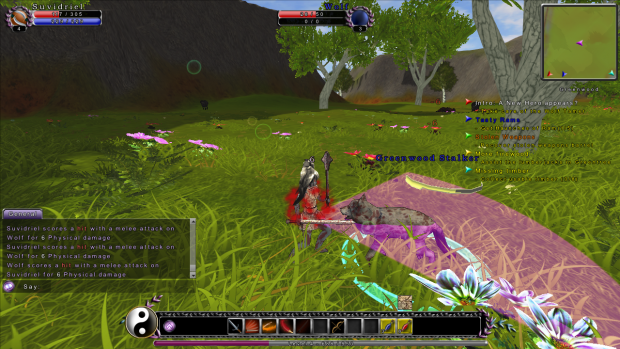 Some may wonder whether this change makes the game unplayable with lag. To that I can answer that I implemented this mode while travelling in Thailand so the distance to the servers in Finland was pretty long. The game was playable quite well. PvP may end up being a different thing but that remains to be seen.
Another change with the action oriented combat was the removal of auto attack. The auto attack was replaced with 1-2 weak attack skills that do not need energy to be used. This makes it possible to continue fight even when running low on energy.
Monsters can still be selected to see their health, and it's possible that some special skills will still be used at targets but this remains to be seen.
Ranger combat mechanics changed
The action oriented combat made Rangers seem a bit boring class because they weren't allowed to move during combat (movement reseted focus points). The Ranger combat mechanics were changed so that they now won't lose focus during combat even if moving. The focus will still reset, however, if moving while out of combat.
User Interface changes
Quest tracker was updated a bit to show the quest's name in different colors depending on the level difference between the player and the quest. This makes it easier to avoid too difficult quests.
Another small change was to hide the second and third quickslot rows when slot is not in use. The empty slots will now show up when dragging skills or items into the slots.
More content
One of the things that took quite a lot of time has been the addition of new quest content into the game. There is now 32 quests in the start region of the game. After a couple of repeated tests it seems that 1-2 more quests will need to be added to levels 4 or 5 though but after that the start region will be finished.
What's next?
The next big thing will be the public test day or weekend during January. The exact date is not yet decided nor is how the participations will be collected. More information about that will be posted both here and on our Facebook and Twitter later.
Happy Holidays everyone and Stay tuned!