Gazillion Hats!
I know it is too late for Halloween and too early for Christmas but I had this itch in my bones that I had to try this and it turned to be possible! I managed to make randomly generated hats that are free and fully shareable! The hats will be somewhat physical, physical on your hard drive. Then you can go and send them to your friends with email, share them through facebook or such or even upload them to filehoster/torrent sites if that is what you like. Oh, you can also multiply your hat files. Then maybe put them on a floppy each and then pile them up to the moon.
Free the hats I say!
"Gazillion hats?" You might ask "Hats are somewhat a limited definition" you might say.
That is right, that is also why the better term for them is Head Enhancement Gear but you can still call them hats just because it is such a short name.
Here is a first look at some randomly generated wigs for the Skeleton King: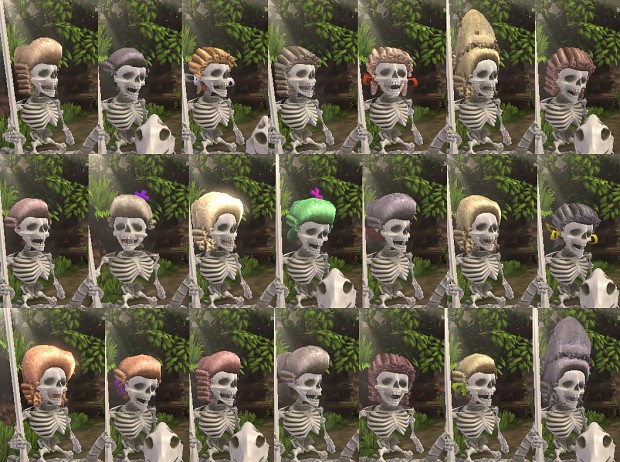 A mixture of randomized colors, vertex deformations, mesh variations and material defined variation.
At the start there will be 1 "hat" type for each of the 7 characters. You will be able to find the rare hats in gift boxes the endless modes or get them through friends or other sources. I will also show you more when the update for the game is ready. Should be already tomorrow if all goes well.
There will also be a special "hat" for everyone that purchased it before the update. (played 1.1 or lower before)
Be Mine X Bundle
The Be Mine X bundle has started today and Last Knight is a part of it! Among lots of other cool indie games and even a AAA game: Groupees.com Electronic Super Joy, Last Knight, Shelter, Call of Juarez, Legends of Dawn, Face Noir, Finding Teddy + a Mystery Game. Also Music, and Bonus games.
If you should have the game not yet and you do not grab that bundle I can't help you anymore! If you wait for the Steam release there is also a Steam key in it for you that you will receive once the game is released on Steam. Just like it is for everyone else that purchased the game. Concerning Steam, I will try to get the game released on there as soon as the Bundle is over but I can not tell yet how long that process takes with Steam. Some people already asked about Steam achievements and my answer to that is that they are planned and they will be even connected to cool stuff that unlocks in the game but that doesn't mean that that stuff is exclusive to Steam.
That is it for now, I better get cracking on that update.