SPIRAL UPDATE 001 - NOW AVAILABLE
We have four major types of game updates:
Title Updates: Targeted Monthly. Starting June 2013.
Spiral Updates: Bi-weekly. Map Variants & Store Updates.
Game Patches: Targeted Weekly. Tweaks, Changes, Adjustments.
Hotfixes: Targeted Weekly. Fixes any issues with Game Patches.
Spiral Updates are bi-weekly updates for 'ORION: Dino Horde' which focus on adding more variety while we work on the larger, more significant Title Updates (Free DLC Packs). Spiral Update 001 adds the following content:
2 Maps
2 New Hats
1 New Taunt Pack
1 New Character Pack
10 New Achievements
Game Patch 2
Spiral Rewards
"Are You Insane?" Competition
GET A FREE HAT! (EARLY DISCOVERY)
We are making a very rare hat available to all early adopters of the game in celebration of the return of the Play With Devs weekly competition.

The Early Discovery (Spaceman) hat will be available to ALL users for FREE until Wednesday, May 15th, 2013.
SPIRAL REWARDS
This is a brand new program that launched with Spiral Update 001. It is still in the very early stages and will only improve however it allows users to unlock rare, exclusive in-game Spiral Store items for FREE.
We've launched with six rewards and will be adding more via future Spiral Updates:
Buy Before May 15: Early Discovery Hat
50 Achievements: Carrier Football Hat
75 Achievements: Elemental Water Character Pack
100 Achievements: Rainbow Character Pack
Win a match against Devs: Dev Armor Pack (4) (White Gold, Diamond, Pink Gold)
Beat Insane Mode: Reptar Hat
PLAY WITH DEVS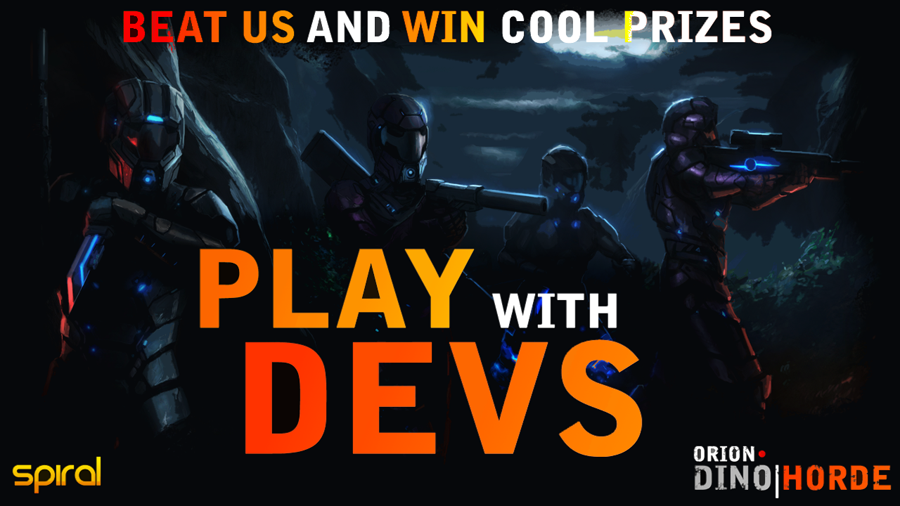 Think you can beat us in 5 v 5? Prove it. Send an application to:
pwd@spiralgamestudios.com
If you have a team assembled let us know and how many. Matches are announced on Wednesday and played on Sunday. More details here.
"ARE YOU INSANE?" COMPETITION WINNERS

I can't believe I am writing this. But there are folks who have already won the competition we posted up on Friday, "Are You Insane?".
The winners of this competition will recieve ALL hats from the Spiral Store forFREE for life. Congratulations, you already have access as of today!
There are two teams being rewarded, they include:
TEAM 1
MPQC
Hane-Hane
Todengelt1
Armpoul
JimmyR
TEAM 2
Nekrage
Mew2
Nelorzoul
Yelrah
Rawrcay
HOTFIX 2 - NOW AVAILABLE
We have just released a Hotfix that you will need to update both the Clientand Servers. Changelog below:
Fixed bug with some hats not showing up in game or after a map load.
Fixed bugs that were affecting the Spiral Store for international users.
Fixed bug with 'Arctic Digital' Pack and the 'Thimble' Hat notshowing up in users options.
Added Spiral Reward: Early Discovery ("Astro" Hat). Redeem at Spiral Store by 05/15/2013.
Fixed bug that was spawning too many AI in the 'Rampage' game mode.
Fixed connection issue that was saturating players bandwidth.
Reduced the amount of splash damage on the 'Cryo Knife'.
Changed world dinos to not spawn if players are too close.
Spiral Dedicated Servers are back online.
NEED A PRESS COPY?
Do you own or work for a gaming press website and need review copies of 'ORION: Dino Horde'? Simply send an email to review@spiralgamestudios.com and let us know who you work for.
OWN A YOUTUBE / TWITCH.TV?
Do you run a gaming-based YouTube channel or Twitch.tv account? Let us know and we can get you hooked up with some press copies of the game.
Send an email to press@spiralgamestudios.com with a listing of who you represent.