In this article we want to meet readers closer to the project "Steammancer",- what it does means.
We all at least once heard about popular "Tower defense" game genre. The main sense of this genre is to kill all the enemies coming from point «A» to point «B»! There are lots of variations on this theme, and our project was not the exception. We also tried to bring in the project something different and new.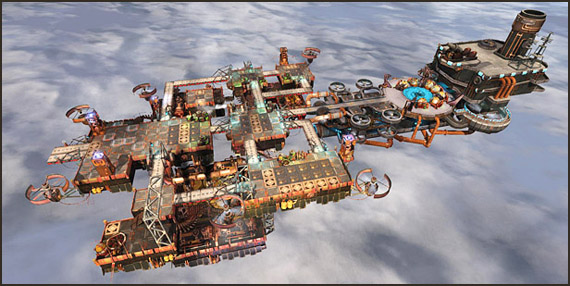 As you can see, the levels presented as a flying platforms, where the main purpose, or the point «B» — is the moored ship of the main hero. You may ask "why the levels are flown?" We can answer — because it's beautiful and unusual! The "Steammancer" world worked out much deeper than it is usually done in this genre of games. You can read that in the next article and for now let's return to the gnomes and their protective technologies. Game zone is presented as the plane split into tiles (squares), part of which is the mines for weapon construction. For players there are available up to 5 types of towers (weapons). Each type of tower damages in certain way. There are 5 types of damage: physical, fire, acid, electrical and frosty. Except damage, every kind of weapon has different shooting mechanics: some weapon inflicts area damage, other only on the single target. In addition, we have: different path of fire, firing range, firing rate and amount of possible damage. All in all we have rather complex, but at the same time interesting weapon system.
Until now everything was standard: built towers, upgraded them and, if necessary – sold. Further is more interesting. We have already mentioned that the idea inspiration we found in "Defense Grid". In "Steammancer" we used the same principle of runway construction.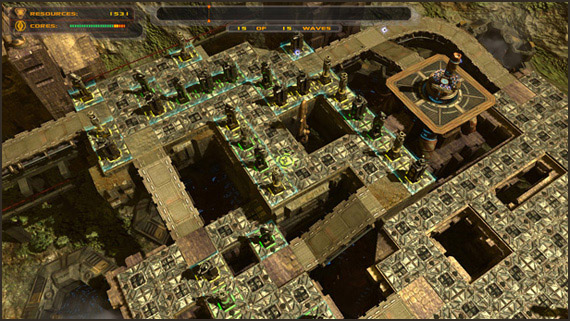 That was greatly increased the tactical component of our game. But at the same time we got the problem. Most of you probably remember the main drawback of "Defense Grid" and other games with the similar mechanics — «swing.» The essence of «swing» is the ability to block the way from the enemies, just opening it in another place selling the tower that was built earlier. Using this technique many times, to pass the level was not great difficult. We worked with this problem complexly.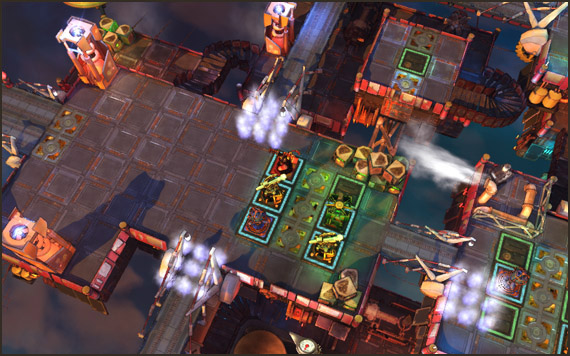 Firstly, we added feature, which allow player to put nominal "steam blocks" while passing the level. Secondly, the level geometry was created with the few runways and to block all of them at the same time is possible only by setting steam blocks. For such as moments there is the game term alert: no free runway – steam blocks disappear. Unreasonable using the steam blocks is lead to the fail or to the necessity to rebuild defense. Such as game abilities names «power steam».

Using the steam blocks – is not only one available power steam. There are few of them. All have particular time of recharging and will be acceptable for player during the game. But these again not all, as it said "more defense facilities – better to sleep". So, we follow this rule, make particular situation on the level to help player. Some of the objects are made as interactive traps. Being caught by them the enemy may have embarrassing result. Carefully passed level may appear with the few facilities that can be used in the most critical situations.
If you have read until far, we worked not in vain. Therefore, it is time to say about the most interesting — technologies. The "Tower Defense" — it is firstly upgrade abilities. In "Steammancer" is planned to implement about 10 upgrade variations that are available for the player between the missions. For upgrading is needed to have "technology points", that player can get after passing the level. Due to gamer effectively, he or she gets points. In total the game has 33 levels, 13 of which are required to pass.
Weapons, steam powers, traps – all together are quite impressive arsenal. Many of users can ask "Isn't there to many options for defense?" – Don't worry, everything is fine! The enemies are not so helpless, as they seem. Each unit has 5 types of resistance as opposed for the 5 types of damage. Some are good with the fire and acid, but at the same time, electricity is contraindicated for them. Others are susceptible to fire and frost. The active resistance make player to be more attentively to the choice of weapons, and that the most important it doesn't allow to pass the whole game with only the one type of weapon.
In addition, gremlin's units have special skills, which make player task more difficult. Under certain conditions, skills are misfired. For example, the unit «Gvardeec» move into run when lost strength, and the unit «Sabotagnik» become invisible for some time after being attacked. Add to all above: secrets, interesting and intricate plot presented as hand-drawn inserts, atmospheric music, and you will get the game that is needed to play at least once.
P.S. According to many circumstances the game mechanics was cut down. Not included such as features as integration the main hero (mechanical golem), crafting and resource extraction, level generation and much more. If there is something interesting for you or something was extra, please, let us know posting on the forum. Friends, with your help we will make cool and exciting game!
Best regards,
Team Krat Labs