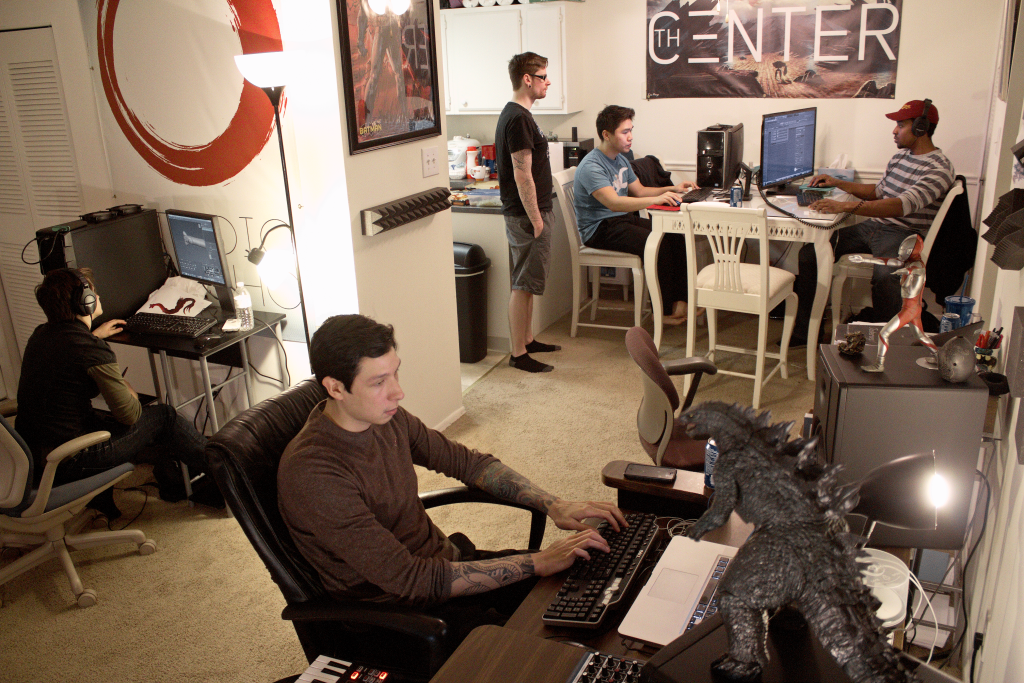 The Studio Daisho office hard at work!
Hey guys! This time, I won't really be focusing on any of The Center's characters or concepts. Instead, I wanted to dedicate this post to the people I've come to respect so much over the past few months. In Richmond, VA, where Studio Daisho is based, its three founders Jason Rosa, John Anderson, and Albert Clanton pulled everyone involved in the project together for an intensely focused period of development. This "Game Jam" as we've been calling it ran from 1PM on Friday to 1AM on Monday, with most of the team's members working for twelve hours a day. Joining them in the studio were Lew Fraga, Sung Joo-Byun, and the team's newest addition Cindy Raggo. A special thanks also to Brittany Gray, who was kind enough to provide food for everyone – thanks Brittany!
John Anderson and Jason Rosa creating sound effects for The Center's cutscenes.
However, development on The Center is anything but centralized! The rest of us (myself included) joined the jam at our own workstations from all across the United States via phone calls, text messaging and Skype. Anthony Davis, the team leader, helped to coordinate efforts across all departments while doing his own work in visual effect creation and character rigging. Wilmar Arroyave and Arianna Edwards worked with Lew, Cindy and Sung at the Richmond Office on both artwork and in-game models while Steven Davis and Mitchell Sanchez worked on bringing our characters to life through animation and cutscene work. Dakota Brown worked on recording some awesome new sound bites for HEX while Paul Bennett and Matt Stover slaved over the Unreal 4 engine to integrate our models and animation sets into the build while rounding out most of the mechanical aspects of The Center.
Cindy Raggo put together some truly outstanding artwork – look forward to seeing it!
As for myself, I coordinated with the Richmond Office to work on our impending Kickstarter Campaign while attempting to remain abreast of everyone else's progress – and trust me, that was no easy task! Every member of our team focused tirelessly on bringing The Center to life over the past three days, and I'm still having trouble wrapping my mind around the monumental strides we've made in such a short time. The people working on this project are all so passionately dedicated to their crafts, and they never cease to amaze me.
Sung Joo-Byun taking a break from working on the Kickstarter campaign – I feel you, buddy!
I honestly can't wait to show you what we've managed to put together, and the good news is, I won't have to wait long! I know I've already teased about this once, but this past weeked has helped to solidify our expectations, and by the end of the week, we'll be able to tell you exactly when our Kickstarter will be launching. Even once the campaign is underway, I'll still be keeping you all apprised of our efforts and progress via this blog, so make it a point to check back regularly and be sure to follow us on Facebook and Twitter as well. We've also been adding a lot of content to our Youtube channel – don't miss it! Thanks guys!
Joshua Fane
Assistant Producer