Happy Friday!
This week was a fun one for me as I had a bit more time to delve into the game than usual. The two things I chose to focus on were artistic process and management design.
Art
I've always been a bit fan of workflow improvement and optimization and was really inspired by Michael Pavlovich's GDC talk "Blurring the Separation Between Concept and Production." This led me to try out a new twist on my modelling process with the intent of getting things in engine faster. In general it is:
Greyblock model - Quickly test something a very block, ugly version in engine to test overall scale and sillouhette
High poly - Still focused on large shapes and not on details, using tools like Zbrush's Zremesher to get sculptable topology.
"Auto" low poly and unwrap - Using tools like decimation master and unwrap in zbrush to get quick representative models
Batch texture - Pipe low poly and high poly into Substance designer or Quixel suite to both bake and texture.
Import into engine.
There are still a lot of steps I would like to streamline and automate more but I really like this process because it means in a very small time I can go from high poly to having something in engine that I can actually look at. Where this really shines is the fact that I can go back to any step in the process, refine something, and everything will update with very little to no effort.

Using the above process I made this crate, medical tub, and partition curtain. I'd like for everything to feel almost like a handpainted miniature, very tangible when I'm done so they all were piped through the same slightly dirty clay substance for now. I will be doing more of this work to flesh out the other models in the base before refining anymore textures too much so the area feels more lived in and less empty.
Design
I also made some headway on the management portion of the game. I wanted to get some of the managment gameplay in and working as soon as possible to balance and give context for the more action oriented parts. I know that this isn't quite as exciting but I think will be very important for the overall game feel and balance. Right now I'm developing it as its own module so I can play through the days very quickly but will hook it up into the main game as soon as I feel it is more complete and balanced.
Right now it is loosely functional, you can cycle through the day's with a placeholder section that gives you a random amount of resources that you would normally fight for in the missions. I'm hooking up the UI so you can assign personnel and choose destinations now, with base upgrades to follow.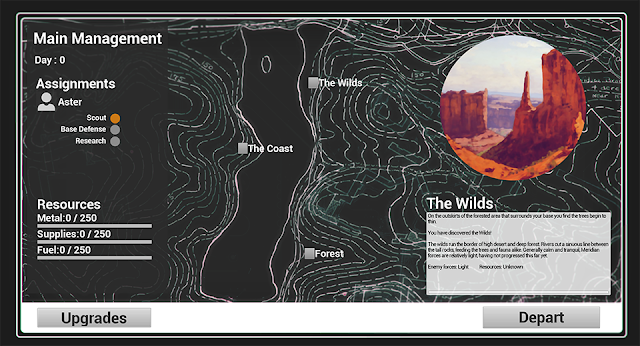 Misc
Finally, I also sat in on the weekly Unreal Engine twitch stream. This week they talked about developing the characters for Paragon and rendering challenges. Lots of fun to watch and interesting to hear them talk about some of the more technical aspects and developments. New upcoming tech includes:
New hair shading solution - Anisotropic highlights on masked hair with supporting techniques that get rid of most hard edge penetration issues.
New eye shading solution - Similar to skin shader but allows for more convincing wet surface. Coupled with material techniques for recreation of the lens, iris and other physical phenomena associated with the eye.
New cloth shading solution - Based on research and work done by Ready at Dawn for the Order, adds "fuzziness" which enables the recreation of a wide range of cloth types without fresnel fakery.

Hope you all have a wonderful weekend! - CJ