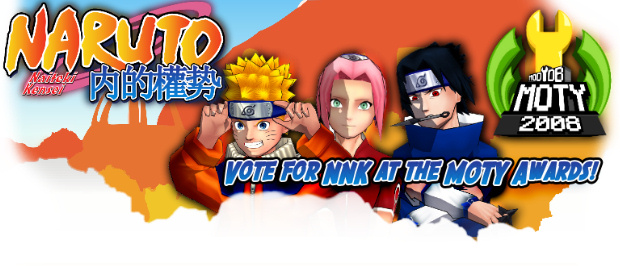 Welcome to Friday Update #36!

Last week we looked at Naruto's Rasengan. It wouldn't be fair to Sasuke if this week we didn't show Chidori followed by an interview with one of our newest talented programmers Tom!
---
---
Development has been going strong behind the scenes as usual. We're working really hard on all our jutsus that you'll be seeing in the coming weeks.
We're especially proud of how Chidori has turned out. It looks and sounds perfect and is an utter joy to impale your opponents with!
---
And this week's interview, Tom!
Ok, so tell us about yourself?
My name is Tom. I'm 21 and I live in Canada. Currently I cook for a living but eventually I want to go back to school so I can get into a small game studio.
How long have you been following Naruto and do you only read the manga, watch the anime or both?
I've been watching since about episode 30 aired in Japan and watched it until about 110, at which point I stopped. I got back into it once Shippuuden started. I also read the manga.
Are there any other animes you watch or mangas you read?
I'm a HUGE fan of BERSERK. I own the box set and 17 manga volumes (although I've read all 32 volumes). The manga is by far better, the anime ends at a horrible point and there is no season 2 planned (too violent apparently).
So how did you get into modding anyways?
I remember coming across a DBZ mod for Quake 3 when I was young called Dragonball Quake. I'm sure some of you remember it. It was Bid For Power's rival for the longest time. Anyway I joined the forums, got to know people, and pretty much moderated the whole forum.
I wanted to do more to help out the project so I decided I'd pick up a trade. I tried modelling/skinning. After realizing I have NO artistic ability, I decided to try out mapping. I couldn't do that either so I finally settled on programming. I had a very good mentor and he taught me a lot about programming. He actually teaches New Jersey Institute of Technologies Game Design Course now. I however did not pick up programming over night and did not think I was good enough to join the DBQ team back then so I didn't join.
After many years of practice I came a long a mod named ZEQ2 (www.zeq2.com), I actually was there when ZEQ2 was first being created. I had a friend who animated for them (Tenken, if anyone remembers him) and he wanted me to program for them, but I still wasn't confident in myself as a programmer yet, so I didn't join at that point. A few years later I decided to finally join ZEQ2 as a programmer. That was around the same time SV quit.
I've pretty much learned everything I know (game wise) from working on ZEQ2. Even though ZEQ2 is now gone, we're still working on an unannounced project, so look for that soon, as I think we'll be putting up a site in the near future!
And how did you end up at NNK and what exactly do you do on the team?
I've watched this project for a few months and I was REALLY impressed with what the team has been able to do with such old technology. So I went ahead and applied. Now here I am. Currently I'm working with GlassShine and Ryokeen on programming.
Are there any other projects you worked on in the past or that you are currently working on you would like to mention?
Well ZEQ2 is on hold at the moment and the other project is unannounced, but once we have a site up, I'll be sure to mention it.
Any last words you want to add to this before we bring this to an end?
Glad to be aboard!
---
Next Friday update commencing in 7 days!
- The NNK team