We bring out our first, still very early, playable version of our game! Now for the first time you can grab control of some of the ships and see for yourself what our approach to space combat feels like! And we've got something more that you'll no doubt find very interesting - an unusual game mode!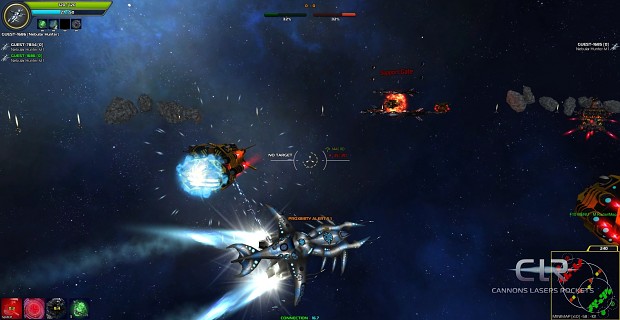 We're very excited to tell you about our new game mode, but first things first. You now can go and PLAY the game. To do it, follow this link: Netgameslab.com and download the game client. It does not need any installation, just unpack it wherever you like. When you run the client, you'll
see a request for your password - which none of you have as of yet. You'll need to press the "GUEST" button. This will let you enter the fully-functional game but will not save your progress between game sessions.
PLEASE NOTE: you'll need at least four players online to enter combat; the timer that says "Time until next battle starts: 0 sec" does not actually count anything yet - it's just a placeholder.
Everything is pretty intuitive, but if you need something, browse the PDF files in the game folder - the control scheme and the game interface are described there. The game is, mind you, still pretty rough -
there's only a handful of ships, some assets are still placeholders, there's no social elements like leaderboards and trophies. And there's only one game mode.And yes, we're eager to tell you about this game mode.
How did we arrive at it? Well, you've asked many times about "smart" weapons, like missiles able to seek enemy ships, so that got us thinking and we thought of drones. There's some necessary but boring stuff in team combat that nobody likes to do but somebody has to. So why not put some unmanned small ships to do those jobs? Naturally, ships should be able to put drones onto battlespace, and set objectives for them, but after that drones will think for themselves and won't bother players - unless, of course, they're enemy players. So our new game mode shows a tiny little bit of what drones are going ot be capable of.
So what's the deal?
Game mode is called Anthill and it separates the players into two teams. Each team has a home base to guard and an enemy base to destroy. These are your "Anthills". Bases are not toothless - they shoot powerful laser beams at one another. Whichever team's base explodes first, loses. To prevent this from happening, a swarm of repair drones flies in to aid each team. Naturally, you don't only have enemy ships to fight, but also enemy drones to destroy - otherwise, their base will never run out of structure points. Shooting at drones will distract them - they'll pursue you and forget about their main job. Think of this as if worker ants were coming to the anthills and the warrior ants' job was to stop them from repairing the anthill.
To sum up: keep your base safe, protect your drones, destroy enemy drones and blow up as many opposing ships as possible! There are also turrets to capture, bonuses to pick up and asteroids to destroy on every map.
How do I get the edge?
Unlike drones, player ships are all different, albeit created equal. Every ship type has unique qualities that reinforce a specific play style. Special abilities of the ships are called "technologies" and there are generally-available ones that any player can buy, and ship-specific technologies. To buy a technology, you get to the star gate anв open the "Combat shop" - and there you'll find every stealth-module, bomb charge and speed augmenter you need.
How do you earn money for the shop?
Oh, it's not money, it's combat experience that you spend, and gaining it is obvious and fun - blow something up! Enemy ships, drones, turrets, asteroids - it doesn't matter, if it can explode, it's worth
points. There's, as we promised, no grinding - you're rewarded only for the fun stuff that you're here to do anyway.
What about free-for-all, assault, or any other well-known game modes?
We did not sacrifice any basic game mode for an esoteric one. It's just that we want your opinion on the Anthill mode, so we included it into the playable version now. In the next game version, you'll
find more new things and game modes, and in the one after that - something new again! We want to have a game mode for every kind of fun you can imagine, so stay tuned - there's more to come!
Download our game client here Netgameslab.com