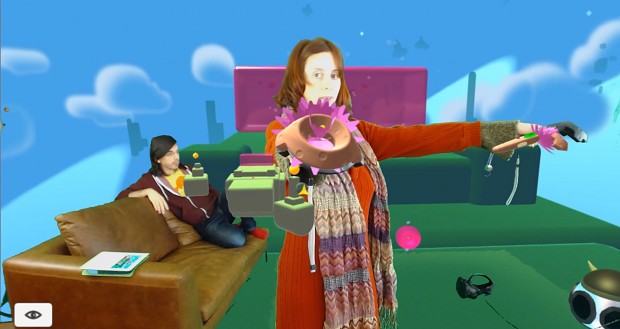 One of the less talked about hurdles virtual reality faces is that of self-promotion. It's hard to showcase a VR game with a series of screenshots, or a trailer - it's something that must be personally experienced. Another facet of this problem relates to livestreaming: how do you show a VR game in action on Twitch? The developers of Fantastic Contraption may have found a solution.
Fantastic Contraption was originally released in 2008 as an Incredible Machine-style puzzle building game. It has since been redesigned from the ground up to function as a "room-scale VR game" for the HTC Vive. This makes it a perfect game to demonstrate how mixed-reality Twitch streams could solve VR's inherent incompatibility with the livestream format. You can see the result, below.

In a post on Northway Games' official site, the developer elaborated on how its mixed-reality Twitch stream was accomplished. Multiple in-game, third-person cameras, each of which only rendered objects at certain distances, were combined and overlayed onto footage of the developers standing in front of an infinite green screen wall, giving the illusion of depth within the game's world.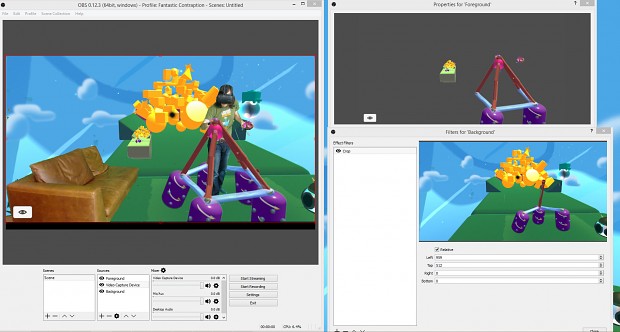 It's an incredibly technical and specific solution which not every VR game is going to be able to offer. But as livestreams become just as important a part of promotion as existing traditional methods, offering a mixed-reality option such as this has the potential to benefit both the game and streamers alike; the former with reach, and the latter with awesome-looking content that that is really only visible in this fashion.