The power system is the beating heart of every ship in UNION and it's so important to me that I get it right.
I have two images of the "wireframe" (a mockup I'm using to design the UI) for the Engineer's power management system.
The systems are laid out in a "wheel", split into three sections; front, left, right and rear. In the centre of the wheel is the core. The core has a number of outputs (like power sockets) called nodes (shown in red on the wireframe). To power a system you simply drag one or more connections (the squiggly blue lines on the wireframe) from available nodes to the system in question. There are other things like heat and overloading to consider, but that is not shown in this wireframe (I'll post about those later). Nodes can be "blown" by power surges (ususally caused by weapon hits), disabling them until they are repaired. If that happens you'll need to route power from other nodes to keep systems powered.
This first image shows the ship in the "Standard" configuration, with everything powered except the cruise engines (left and right).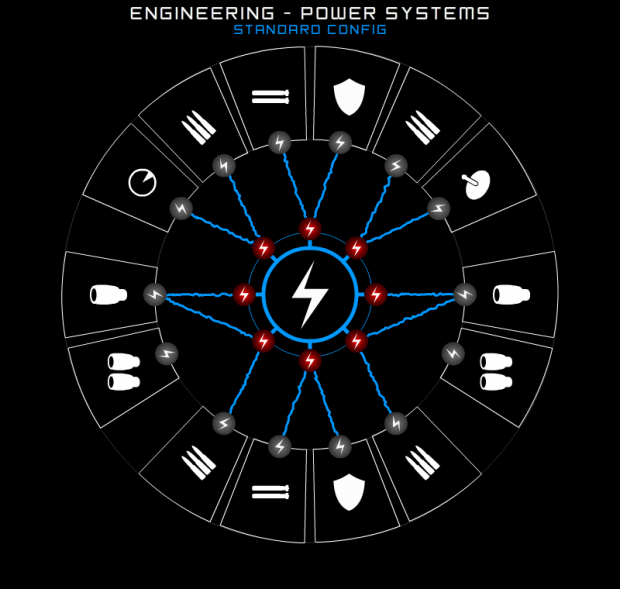 The second image shows the ship in the "Cruise" configuration. In this configuration all power (except sensors) has been routed to the cruise engines. The cruise engines are very fast but they require a lot of power.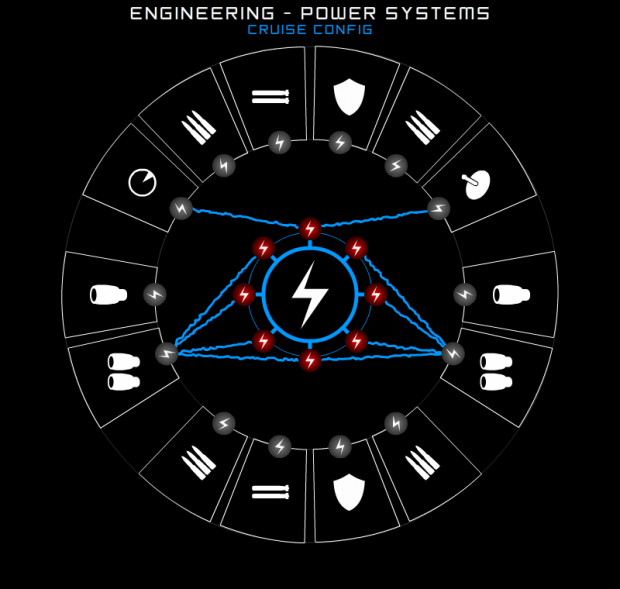 The "Cruise" and "Standard" configurations will come as default, however you can modify these and even create your own. Configurations can be switched on the fly.
That's it for now, I plan to do more regular small updates like this in the future.
Thank you for reading, and thanks to everyone for the support so far.
Mark