It's been aaages since the last update to Eight Dragons, we know. We've been moving the game from an in-house engine to Unity - that's a pretty hefty change behind the scenes. For most of you that means there are some little tweaks to how the controls work - hopefully you'll find the movement a little bit tighter than before, and most of the issues people have had with controllers should now have disappeared.
GOING CROSS-PLATFORM
For those of you who haven't been playing because you don't have Windows, there's good news for you too - Eight Dragons now works on Linux and SteamOS, and will very soon work on MacOS too. (It might already work, but it's a lot easier to find people with Linux to test the game than people with Macs.)

GETTING SHINY
It isn't all behind-the-scenes stuff that's been going on, either. We've also improved the look of the game. We've improved the shader effect to make the game look more like its running on an old tube television. We've added a whole bunch of different animations to our heroes to spice things up. And we've also added breakable props, like trashcans and parking meters. Some of them, like trashcans, can also be picked up and thrown around!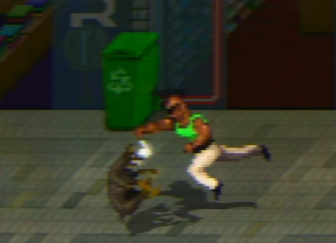 GOING FORWARD
Like we said at the start, it's been ages since the last update. Way too long, in fact, and that's sadly been unavoidable because of the engine change. Nobody wants months of updates saying "we're working really hard, but you can't see any of it yet". Those days are over though, so here's what's coming over in the next few weeks:
MacOS support!
More pickups - something to boost your health at last!
More props - everybody likes throwing things!
Some level changes - because we really don't like the Docks!
And once those things are done (and a few others) we'll finally be ready for an actual release! Thanks to all of you who've bought and played Eight Dragons - we couldn't do this without you!
You can get Eight Dragons on Early Access here! Store.steampowered.com