Hey all, with our Eco alpha build being released this Monday Nov 23rd, I wanted to give an update on our progress and what to expect from the build.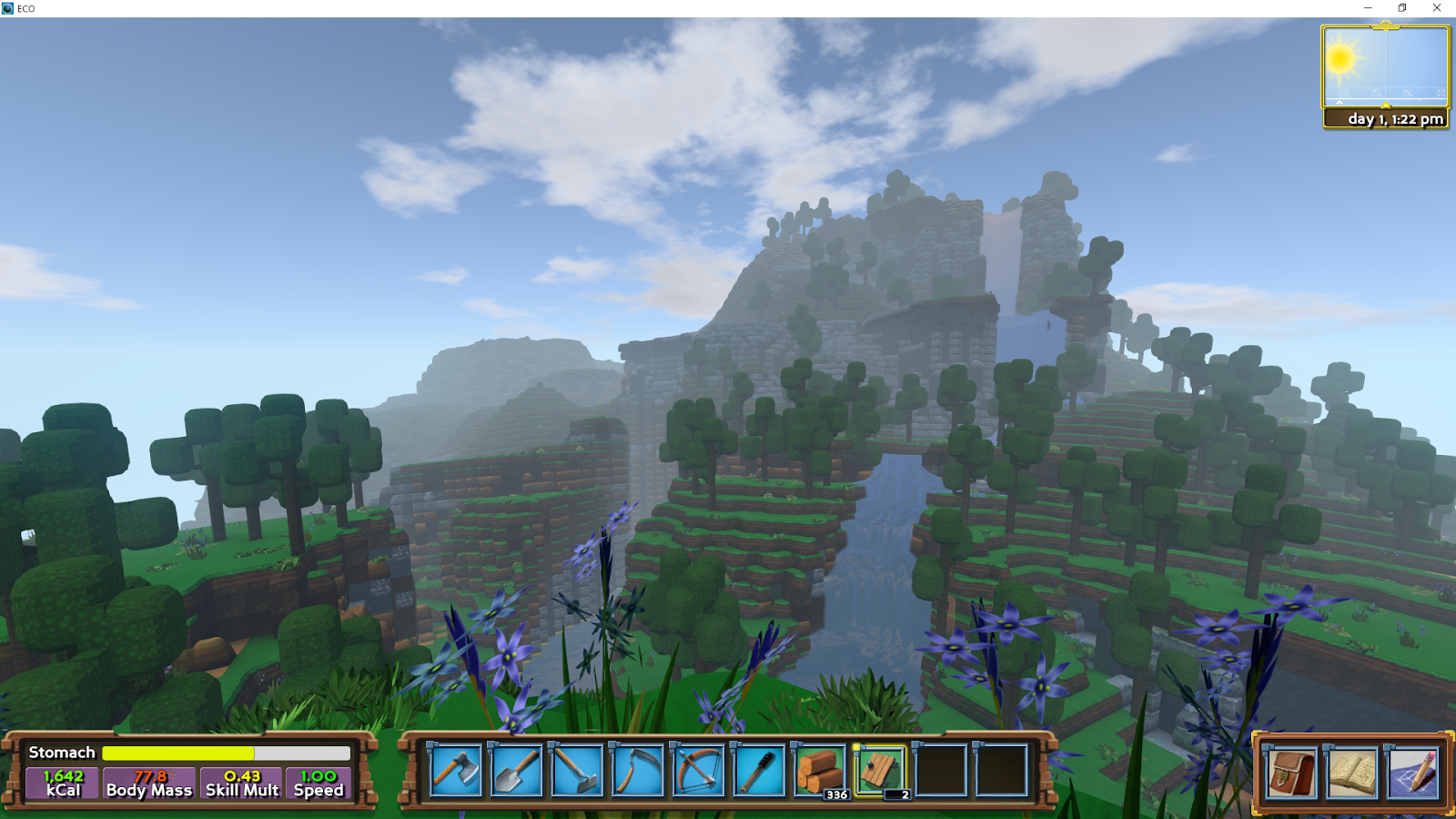 First and foremost, keep in mind this is an alpha build! We have 1.5 years of development time left on it, so we're just getting started. Expect to see lots of bugs and features still under development. With that in mind, we're looking forward to getting lots of feedback and bug-reports from users, and please feel free to do so in our forums here:
Alpha Notes:
The game comes with the server executable, and players can host their own server or connect to an existing one. We'll be hosting one or more public servers, but the best way to play will be with one of the user communities. We'll open a new forum category on the link above for people to post.
We'll be raising prices slightly and changing new user icons on the 24th. This is to ensure that our earliest backers and supporters will have received the best deal and be recognized as such with a unique icon. Players will be able to add new pledges or upgrade an existing pledge at the Kickstarter prices until then (you can upgrade to a multi-pack for example to get keys to send to friends). Accounts can be created here.
We'll be making frequent updates, with patches each week, and more sizable releases less frequently as new features are developed and ready for testing.
For alpha the client will be released on PC, Mac, and Linux. The server will be released on PC only for now. System requirements are as follows:
Client:
Intel Core i3 or AMD equivalent
DX9 capable video card
1GB HDD space
Server Requirements:
Varies depending on desired world size.
Intel Core i5 or AMD equivalent. The more CPUs the better.
4GB of ram
1GB HDD space
Alpha Features
What we'll be releasing on Monday is the first-pass on our early-game core features, which are:
Building. You can create buildings which will have effects in the world, and allow you to craft new items and research new tech.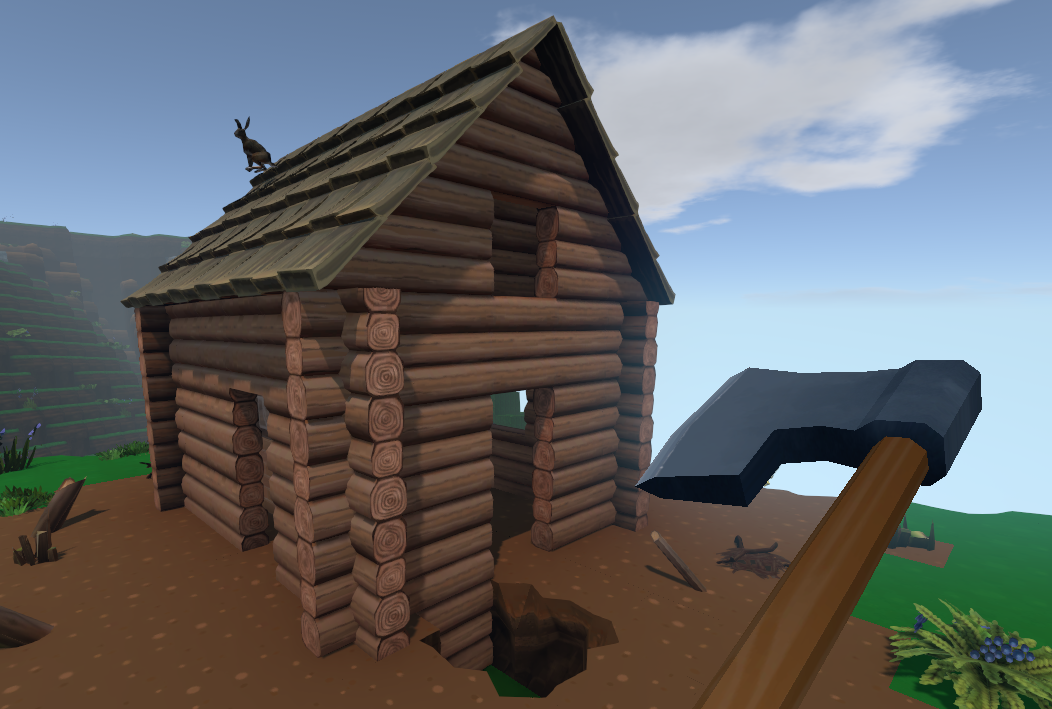 Food and Ecosystem. You can grow, harvest, and hunt for food, taking from the existing ecosystem. The ecosystem will live on its own, running continuously, and will be affected by what players do.
Skills. Your skill levels in certain areas determines how effective you are, and unlocks new abilities. Skills increase a rate determined by the food you eat (the healthier you eat, the faster they go up), and they go up even while offline.
Research. Inside buildings you create, you'll be able to perform research by 'crafting' skill books. Skill books will unlock new skills and buildings you can create, and the knowledge can be infinitely shared (or you can sell access to it by creating single-use scrolls). Skill books are very expensive and time-consuming to create, but training in the research skill will make them cheaper and faster.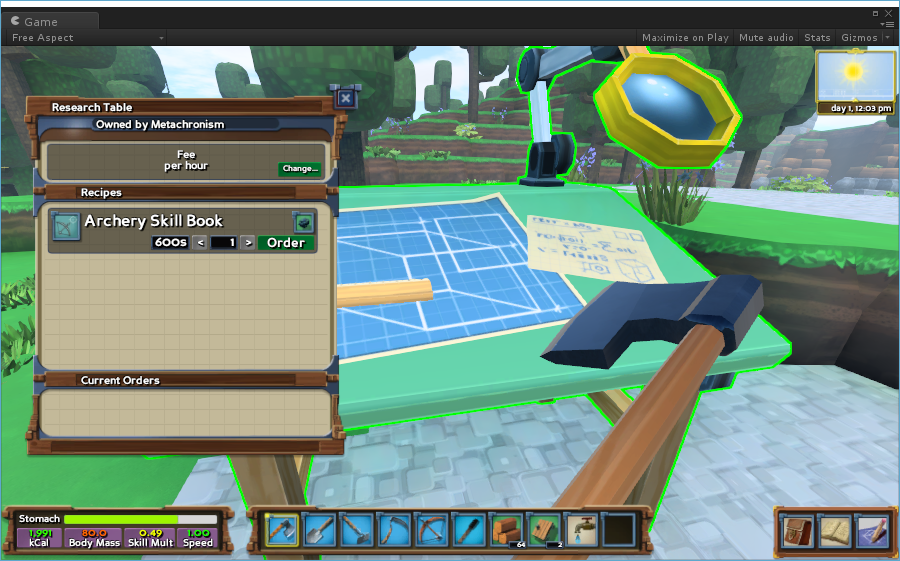 Rights Management. Players can control access to construction sites (allowing others to help you build) and finished buildings (making them public or private and controlling which rooms can be accessed).
Laws. Players can propose and vote on laws which are then enacted, and the server will prevent players from violating them.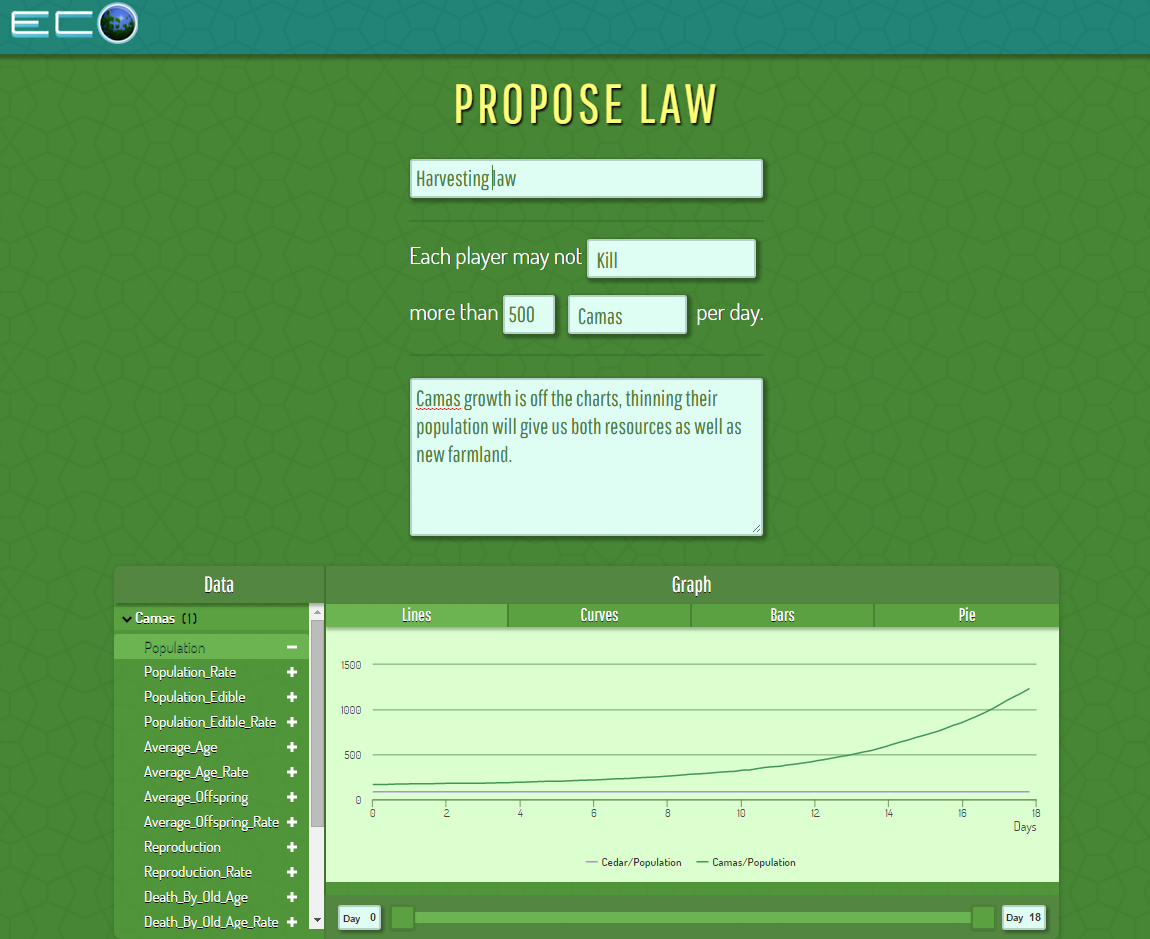 Stores. The core building of the economy, the store, is working. Players can create stores and allow others to use shelf-space.
Crafting. Craft tables will appear in new buildings, and allow you to create new items and research. The owner can take a fee on all crafting that happens on their table, making them another key part of the economy.
Meteor. The meteor will be circling the planet and impact it in a fiery explosion after 7 days, unless players tech to the highest tier and stop it. Temporarily dropped from 30 for alpha.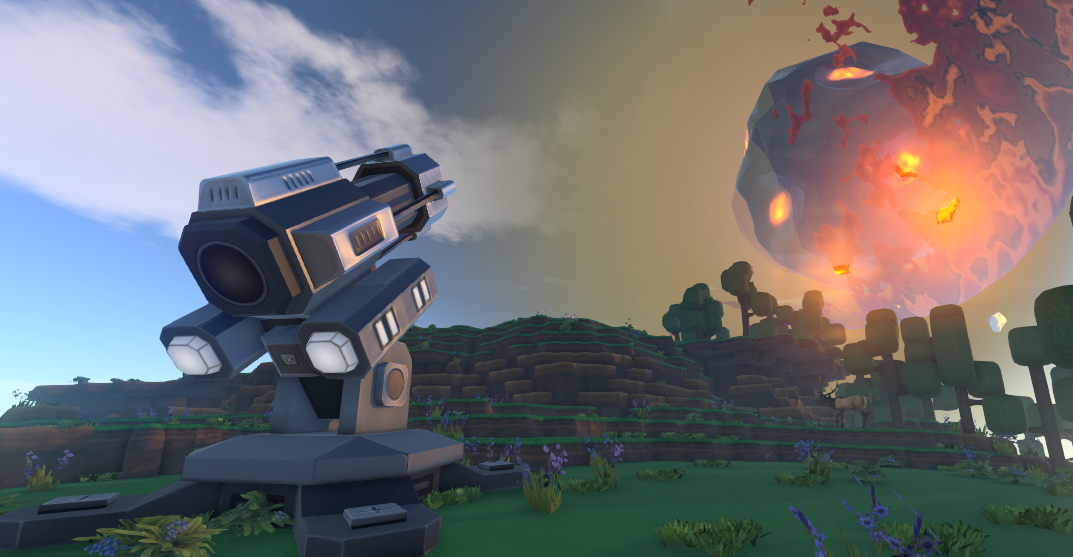 Stats System - Players can view stats about what's happening in the world and create graphs from them that are used in law proposals.
Pollution - Crafting certain items will create pollution which will damage the surrounding environment if not contained.
Later Features
These are the features not yet in, which we'll be developing through Alpha and into Beta:
Late game tech, including energy, transport, automation, and waste systems.
Aquatic ecosystem, we'll be fleshing this out and connecting it to the terrestrial ecosystem and water pollution. We'll also be adding several more species to the existing ecosystem and continuing to balance it.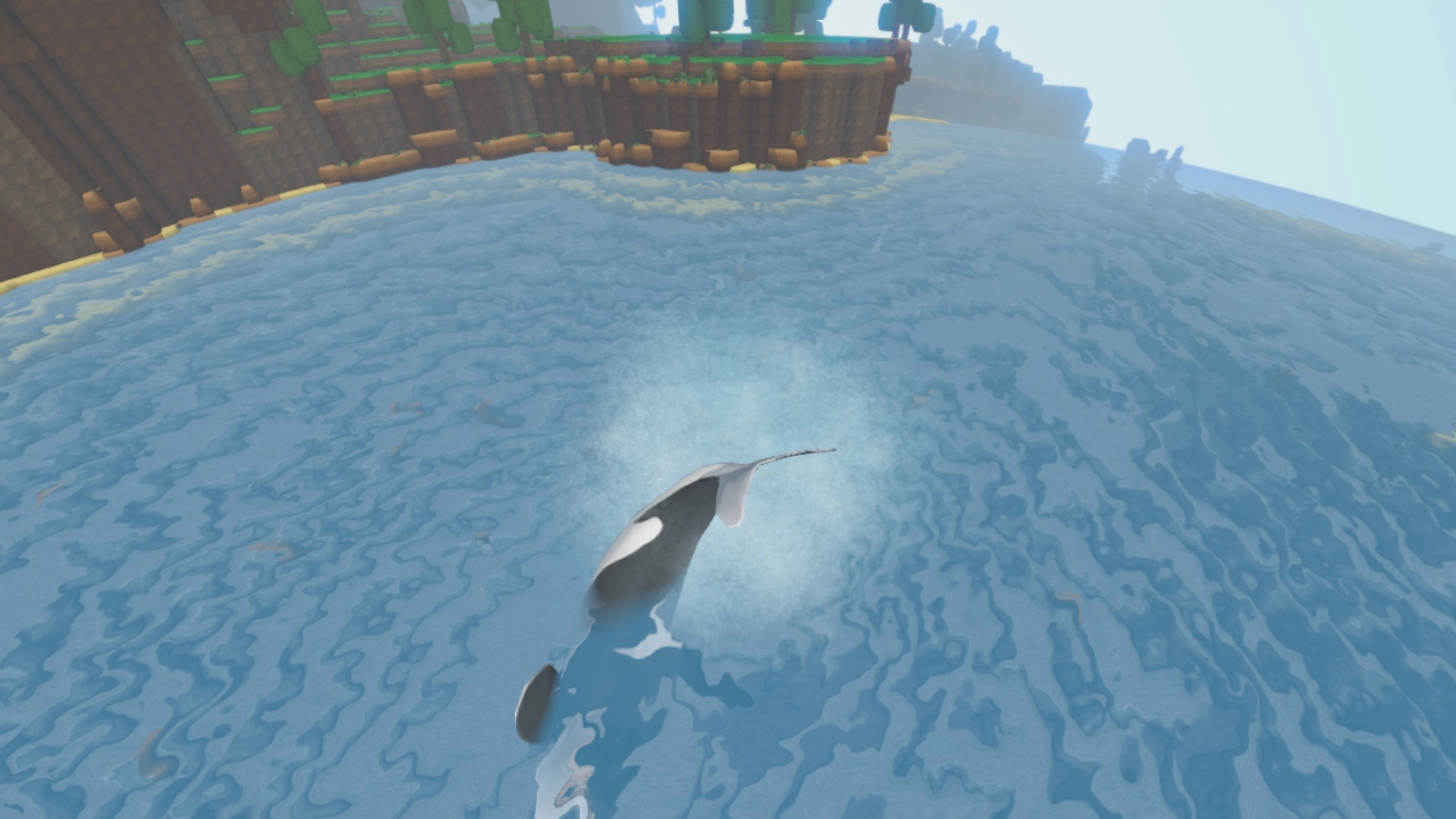 Contracts, this will be our 'quest' system and a key aspect of the economy
Property Ownership, this will form the basis of taxes and be a key aspect of the player run government.
Breakable Laws, laws currently are unbreakable, but as per our stretch goal we will be allowing them to be broken and have a criminal justice system to punish those that do.
Art refinement, we're going to be continuing to develop and iterate on our art style, and the style of buildings and vegetation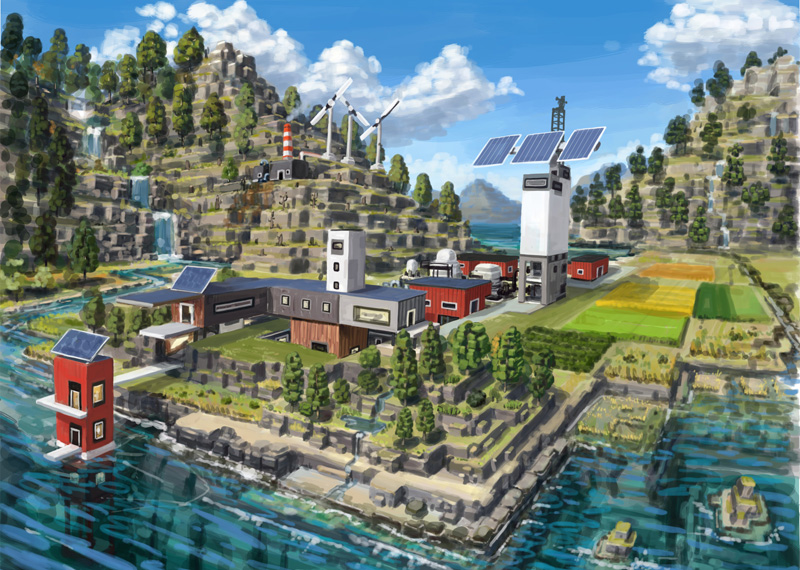 Balancing! We'll be doing tons of balancing on the skills/food/buildings/items/research/ecosystems, as well as general polish and improvement on everything.
We're excited to get this game out to our early backers and get their feedback, we'll be putting tons of work into it in the coming months and having your early thoughts on the game will be incredibly valuable. Thanks for joining and supporting us from the beginning on this ambitious project, and see you in the game.
-John K