Closed beta in a months time
We're still aiming for a closed beta to launch in the beginning of December and our own internal testing will begin this week. We're really excited about it and the new cards are going to be just awesome! We've also tweaked a lot of the UI and feel of the game, hopefully making the controls easier to understand and get into. Below is a very early screenshot - very very early screenshot - showing the overall feel of the game scene. (A lot is missing, textures are bad, font is wrong, cards in hand are not correct, etc. etc. - it's development!)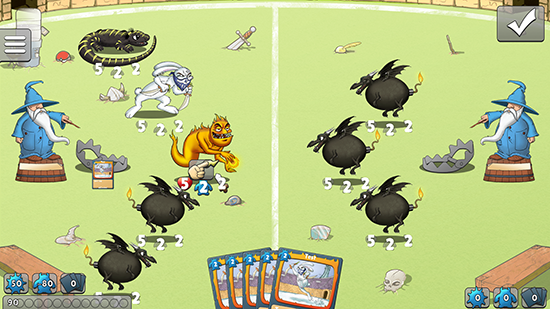 More New Cards!
So we wanted to share a little bit about the process of creating new cards. All the way back when we started out, we tested a lot of cards and actually all four different schools at the same time. We had about 80 unique cards in total. When we decided to release the prototype/alpha version of the game, we had narrowed that number down to two decks with 12 unique cards in each. For the beta we aim to release with a minimum of 100 unique cards. And the development of these are really moving forward. Here are some examples of the new cards currently being developed and tested.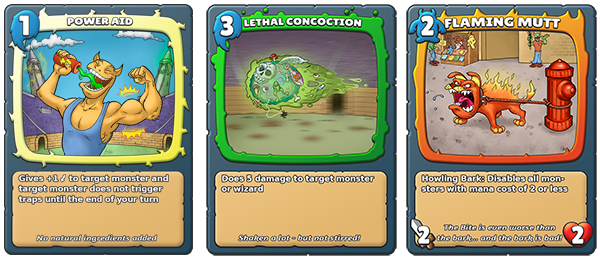 Keep in mind that all cards are still being developed and are still subject to fine tuning/testing

Card Themes
For the Beta, we want to add a lot more cards and also introduce the two remaining schools of lightning and poison. When creating the new cards for the schools we are creating different sub-themes. Each school will at first have two different themes. A theme is both expressed through the style and characters of the individual card, but also through the playstyle. These themes are still being worked on and tweaked, but the overall idea for the different themes are in place. That means that you, as a player, can choose to play as a Frost mage and then choose cards that belong to one of the sub-themes within frost. You can of course also mix and match the different sub-themes within a given school as you wish.
The themes are still work in progress and we don't want to spoil everything – rather we want you guys to see them for yourselves. Some will be more self-explanatory than others and some you would expect to be there (*cough* Frost… *cough* control…) and some you wouldn't have seen coming – at least that's what we hope!
Poison Wizard Sneak Peek
And the wizards are coming along as well. Here is a small sneak peek of the Poison Wizard getting ready to throw Lethal Concoctions and Second Hand Potions after you!