Dunlore 1.0.2 - 1.0.6
Dunlore has been getting a lot of fixing up recently. I've been constantly fixing bugs, adding new content, and balancing it. A lot has been improved, and there is much more to come.
Recent Updates
1.0.2
In 1.0.2, I fixed quite a few bugs, updated a lot of art, and began the Halloween event. The Halloween event was really fun, and everybody had a great time. Already excited for next year!
Changelog
1.0.3
1.0.3 was a pretty small update, but it had some cool stuff. I fixed a few bugs, added some potion art, and changed Dunlore's old choppy lighting to a new smooth lighting system(which looks AWESOME).
Changelog
1.0.4
This update included tons of bugfixes- I also balanced the game a lot in this update. I added a few tiny improvements, and added a whole new map. I also made it so shops would only buy items they "want" for full price; other items can be sold for half price.
Changelog
1.0.4.1
This was a really quick (and rather rushed) update- I realized I broke a few features while adding them in in a hurry...
Changelog
1.0.4.2
There were a few really bad bugs involving stat saving/loading; luckily I fixed them. I added a few things, removed a few things, and fixed a few things. Another very minor update.
Changelog
1.0.5
This was a really quick update that fixed some important bugs. It also added a Fireball Scroll into the game, which, once used, allows the user to create a fireball(assuming they have the necessary Flux Shifting requirements).
Changelog
1.0.6
After a small period of inactivity(I've been quite busy...), I finally got back to updating the game. I released 1.0.6, which added a number of things into the game. I added new fish into the game which began to bring more depth into the Fishing skill. I also added handheld torches which can be crafted; they create a light bubble around the player. I updated a ton of the old art(which actually dated back to ~2 years ago...). I made melee combat keys mappable, a killer falling tree animation, and I ended the Halloween event. Also, of course, there were the usual bugfixes, making for a pretty solid update. Changelog
Media
Here are a few pictures of what I've been working on recently for the next update.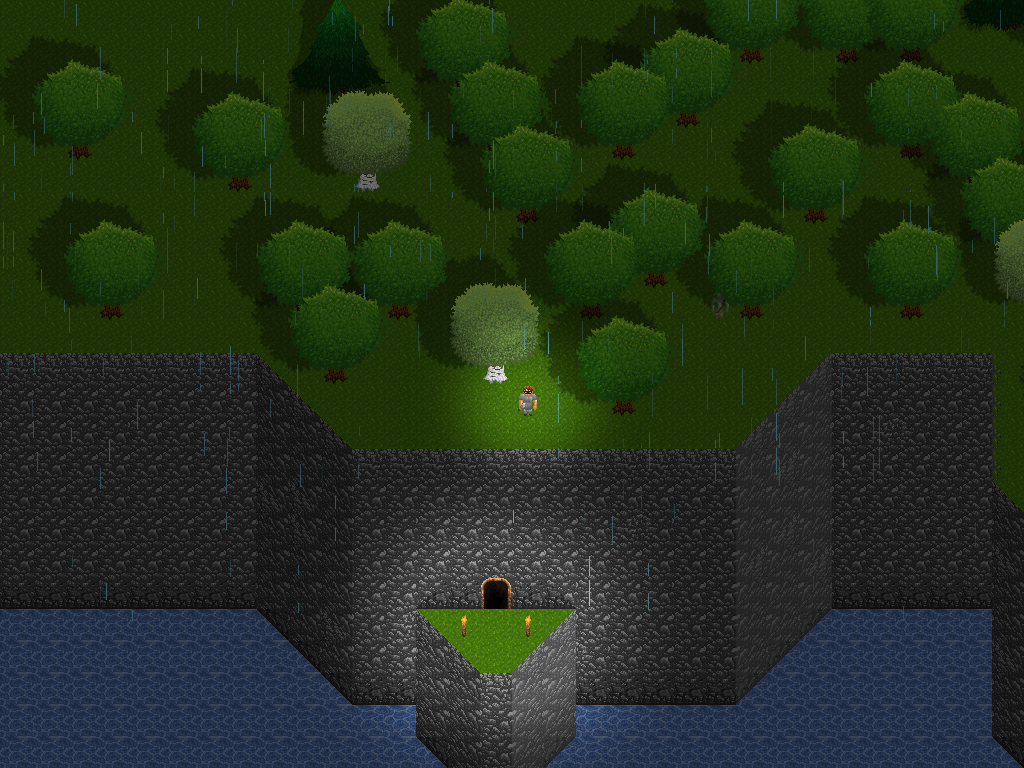 A screenshot from the next update. It shows the improved cliffs and mountains being worked on; it also shows a new kind of tree.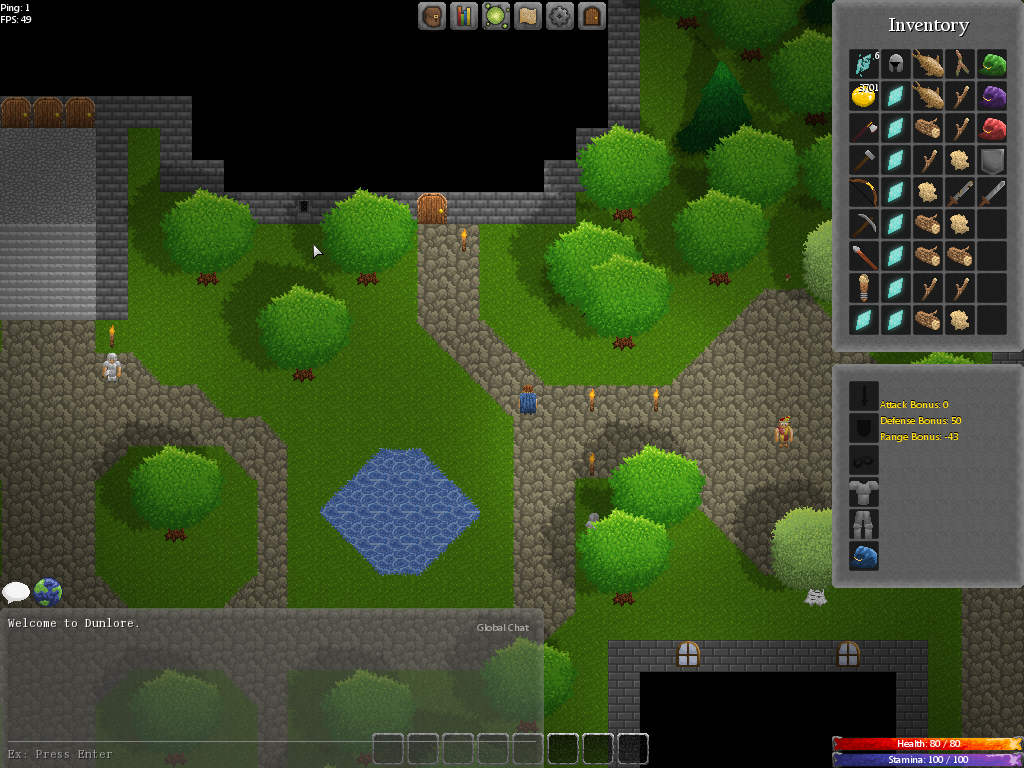 Another screenshot from the update that is being worked on. I show off a new feature: Capes! Disregard the Inventory Hotbar being under the chat window- it's fixed now. The equipment window was also a bit messed up at that point; it's also fixed now.
I've also thrown together a Dunlore Beta trailer. Check it out here.
A Plead For Help
Recently, the game has been empty a lot. It's really kind of dying, and I need some players to have some fun regularly and keep the game going! Come check the game out; bring some friends.