Well... it's me again. I have not planned surfacing my submarine but yet... i really want share this for You. As you know we work on the movement controller. And our hero already running, walking, jumping, climbing and etc. - BUT... because we do not want make a cut levels (in classic games developers use non-scrolling screens) on many different static screens (like in old games like FlashBack and Prince of Persia), and because we want make world without many cuts - we need make targeted on player camera.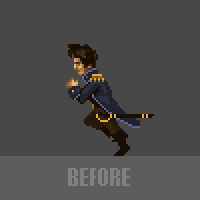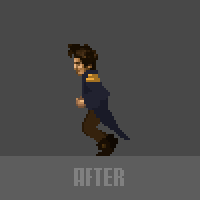 This is not a final version of "after", but early sketch. We need work with
a "skethes" in animation because most important thing in this case -
soft movement and correct visualization in movement actions. Post-work
with a sketches starts after we finalizing controller
Camera work not correctly, because camera linked to player. Because our player have a limited number of frames (in previous version of Drake - 8 frames). We have a twitching scrolling artefacts. This is no right way to make a good immersion. For the soft camera panning we need animation which be good work with pixel-perfected camera. For soft moving we need a more frames. I make this. Now our Drake have a number of frames more than legendary Flashback. In Flashback developers made 20 frames for running. We made 24. For really soft movements.

Result - i love new Drake more and more. It's a hard work but... i sure that you want a real old game, and really good technology for this game. I think this a right decision.
In GiF sample hero movement like in Matrix but in engine all looks good. See ya citizen of Hindale. I hope we see you soon, with a new and effective progress.