MAKING OF VIDEO
We've prepared some unique rewards for every backer that will support us during the upcoming Kickstarter campaign. Do you like games like Bushido Blade, do you enjoy action and high risk, low hp combat? Then this is something for you! Don't miss our Kickstarter and get early bird discounts!!
Click on the picture below and check out behind the scenes video mapping of the creative process of making the Mask of Oni. Support our Kickstarter campaign and get this fantastic handmade masterpiece!
This unique samurai mask was created by a talented young craftsmen from @kreakov.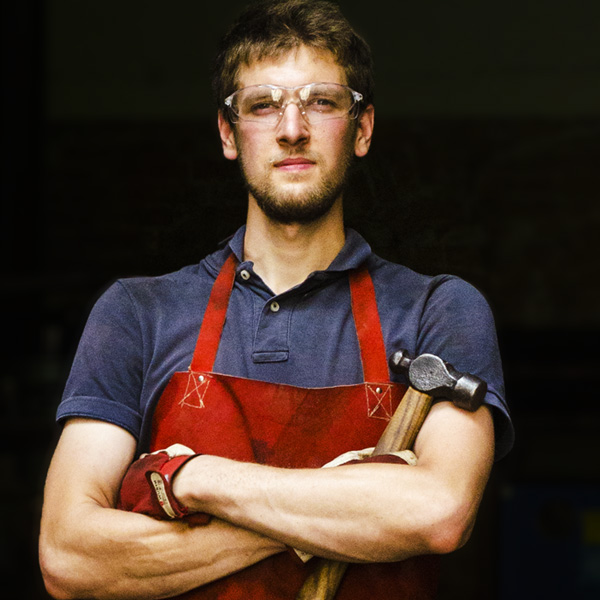 COLOUR OF YOUR CHOICE
The skin of Oni may be any number of colours, with red and blue being the more traditional choices. The same applies for the mask offered on Kickstarter. Choose your own Mask of Oni colour.

In Japanese folklore, Oni is a class of supernatural monsters, spirits and demonic creatures often of giant size, great strength and fearful appearance with one or more horns growing out from their heads.
LIMITED OFFER
This is an exclusive and limited offer. We can only produce 10 masks, each carefully created by an individual craftsman from top quality materials.

This pledge comes with the following digital items: Mask of Oni, Oni special weapon and armour of Oni.
The price is 999$, check reward tier details below: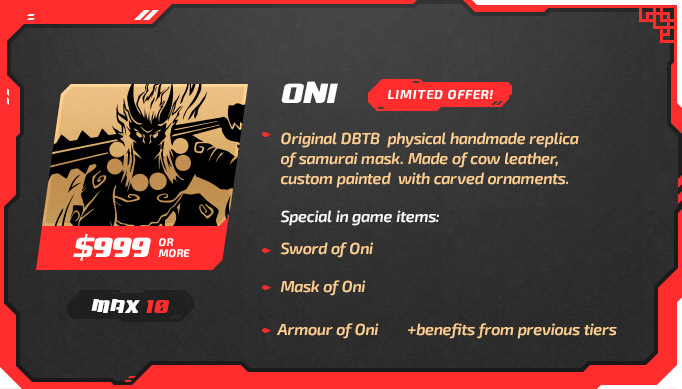 MATERIALS
The mask is made of cow leather. The process of creation starts with soaking high-quality leather in water for 13 hours and then shaping it according to the 3D form created by our dev team. Little carvings are then added using a swivel knife. Next, wooden horns are made and attached to the mask with added texture to replicate that of a real horn. Finally, the mask is hand-painted to achieve the final look. Due to this, every single mask is an original piece, originally numbered and signed by the craftsman.
COMING TO KICKSTARTER ON 13TH OCTOBER 2020