Hello,
Today we want to address more other games that influenced the creation of our game. 
Dawn: Day or Night. The first game could only be from the final fantasy series.

Final Fantasy Tactics - Series

A subseries of the well-known Final Fantasy franchise, this series merges the TBT game mechanics with
the vast world-building and storytelling of the franchise. These games became so famous among fans
that they bleed into the main franchise in Final Fantasy XII where the world that previously was exclusive
to the sub-series (Ivalice) became the world for the game, as some character references and lore.




Reference: Final Fantasy Tactics - Series
Fae Tactics


Fae tactics approach to tactics games created more dynamic combat, the developers decided to take
a "no menus" approach to combat simplifying some of the genre basics but giving more depth to other elements. The game contains a system of summons that creates various characters and challenges.
And beautifully made pixel art visuals with vibrant colors and more details than expected.
The Development of the Game was mainly done by Endless Fluff Games which it was formed by two
persons as Developers Carolina Moya, Kyron Ramsey, and Sam English for the music.
While the development was done by a small team the sound effects were done by Hyperduck Soundworks while the publication was done by Humble Games and the vaster team.



Reference: Fae tactics

Into The Breach


Another example of a very small team creating a great Tactics game.,
The game takes a rogue-like approach to the tactics formula and allows a vast amount of variety in missions and approaches. Every battle happens in an 8x8 grid with terrain variations and hazards. Most
of the combat which is made by controlling Mechs focuses not on the direct fight but on the mechs utilities like throwing enemies which can fall on lava killing them easily. The game seems to take some influences from another game.
Advance wars, on how it's about conquering the grid and during gameplay you may feel these influences not as a copy but as a way the game built a way more intricate yet satisfying systems based on that.
The pixel art approach clearly worked in the game's favor, especially in the way the grids are created and how the terrain changes easily. The mechs, enemies, and all elements are very easy to understand and from a game development point of view, it may have helped lower the required time, money, and effort that other styles would require.
The Game was the second title created by Subset Games after the success of their first game FTL, another visually simple yet mechanically complex game.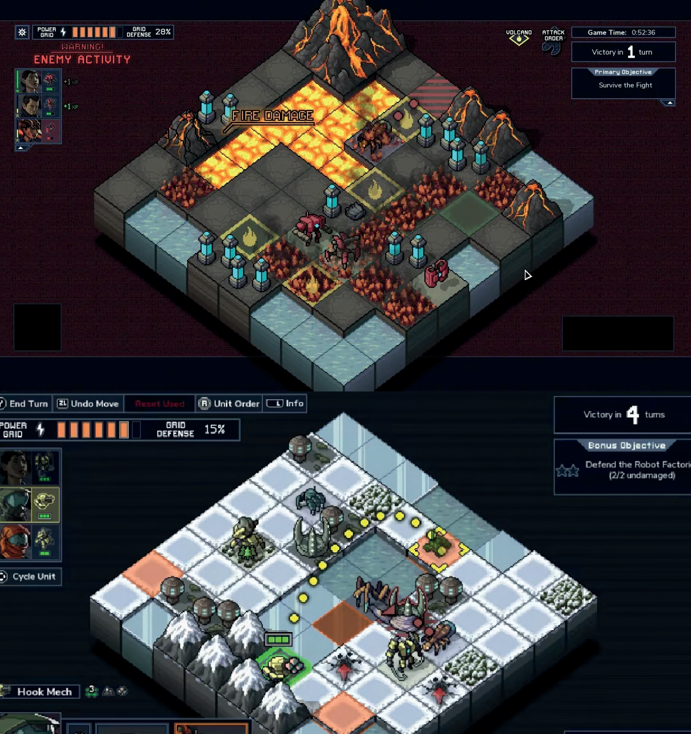 Reference: Intro The Breach