Junkers 88-A4 Status Report
____________________________________________________________________________________________
Junkers 88-A4 Status Report

XOOM
One of the most anticipated vehicles to enter WWII Online is nearing completion. Today I'd like to go into a little bit of detail about its current status, why it has taken a little longer, and what we are doing to help accelerate that timeline. This aircraft is significant in that it's the first ground-up aircraft that CRS 2.0 has built and let's just say there have been TONS of things to learn. Let's get right into it.
Ju88CURRENT STATUS - IN MOTION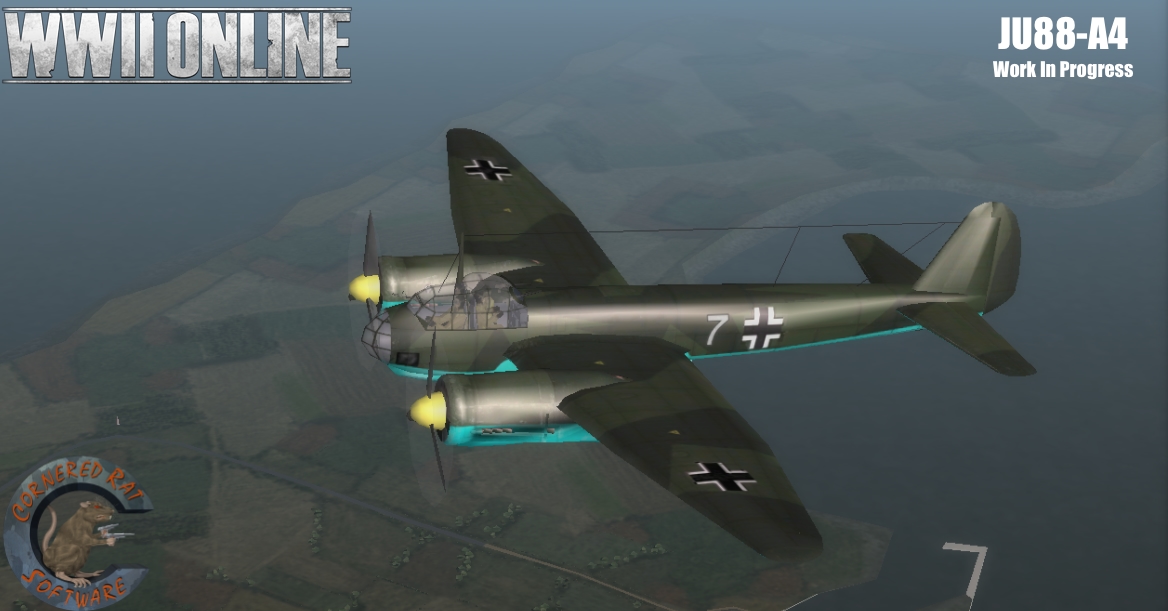 The Junkers 88-A4 is the Production team's primary focus at this time. The modeling has been mostly completed and right now BMBM is aligning the first and third-person models accurately and making any spot corrections necessary. HATCH meanwhile is working on completing the measurements for internal components, other related data work, and will shortly thereafter create the flight model. Between BMBM and HATCH, this is their join priority one task to get completed in terms of vehicle production. We know that you all have been waiting very patiently for this and just know our guys recognize this and are on it.
WHY HAS IT TAKEN SO LONG?
As we briefly mentioned in the article announcement, the Ju88-A4 marks the very first aircraft that CRS 2.0 has built from scratch. This has been a huge educational process to understand aircraft development, and with the intricacies of this particular model, it takes some time. The good news is this knowledge can help accelerate future project developments which we look forward to.
Ju88A4 cockpit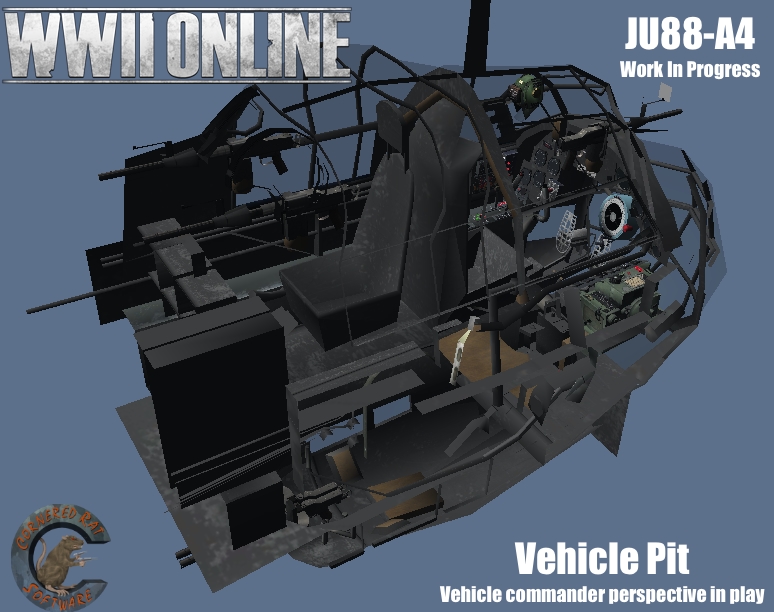 WHAT ARE YOU DOING TO ACCELERATE PROGRESS?
We've had to make some changes to prioritization and workflow, and now we also have our top two vehicle development guys focused on it jointly to push it through to the finish line. We also have an outside consultant who is an expert in the Creator software to assist us when we get a little stuck somewhere, this has also contributed to an important transfer of knowledge to help keep us moving.
WHEN CAN WE SEE THE JU88-A4 IN-GAME?
We're doing everything we can to get this in before the new year, as delivering on our Roadmap objectives are very important to us. Our team at this time feels confident that will be achievable and with the re-work in prioritization it definitely seems viable from a project management perspective.
___________________________________________________________________________________________
SUBSCRIBE TO SUPPORT GAME DEVELOPMENT
WWII Online is 100% fueled by player support. Please consider subscribing to help us accelerate game development and continue to produce great features and content like this. Go to Account.wwiionline.com and upgrade your account now. ALREADY SUBSCRIBED? Become a Hero Builder! By becoming a Hero Builder ($29.99/mo) you'll gain access to several recognition features and receive special in-game player content. Head to the account pages and upgrade your account, and click the below picture to learn more about the Hero Builder program. Thanks for your support!