Greetings Arms Traders!
In this update we want to reveal more on the diplomacy window. As an arms dealer, you will have to deal with various countries. To give uniqueness and authenticity to the dialog window, we decided to assign each playable country a unique "face" that is both recognizable and do represent the right moment in time.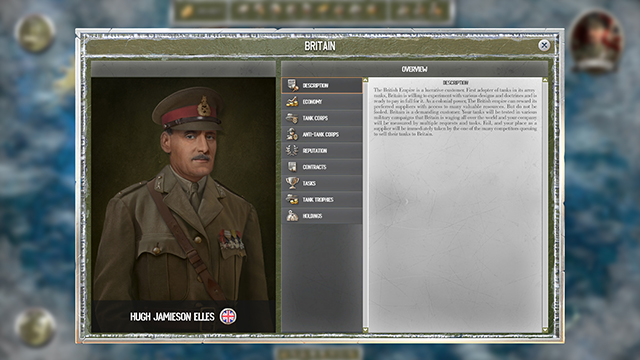 When dealing with the British Empire, you will be met by Lieutenant General Sir Hugh Jamieson Elles. Historically, it was Sir Hugh Elles who was the very first commander of the newly formed Tank Corps.
It all started when Elles was sent to investigate the first tanks being built in England. He attended the initial trials of "Mother" and reported back to his superiors on its success. Later, he was tasked to report back from the Somme, where these tanks were first used in battle. As the most fitting candidate, Elles was promoted to head the Heavy Branch of the Machine Gun Corps in France from September 1916.
Convinced in high potential of this new weapon, he recommended High Command to use tanks in masses on the right type of ground, which happen to be at Cambrai. On day of 20 November 1917 he personally led over 300 tanks into battle at Cambrai.
Elles continued to command the Tank Corps until Germany's surrender in 1918.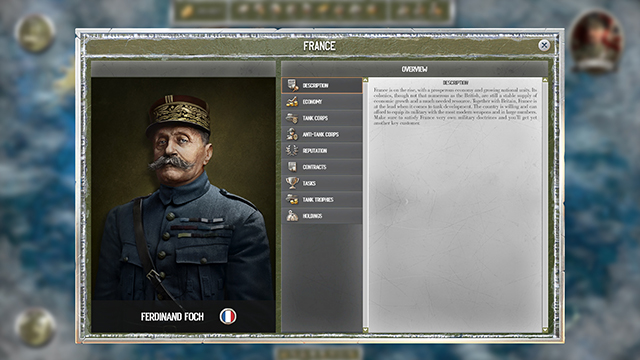 France of the WW1 period will be represented by general Ferdinand Foch. He was as the Supreme Allied Commander during the First World War and was seen by many as one of the most original military thinker of his generation. Being an aggressive and even reckless commander, he still managed to successfully coordinate the Allied war efforts into a coherent war machine. It was this war machine that stopped the German offensive and launched a war-winning counterattacks.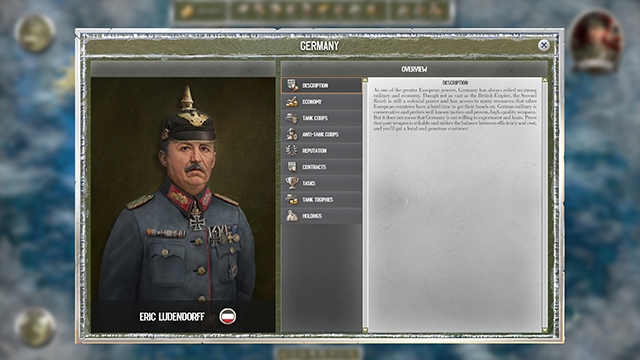 On the German side, player will be met by Eric Friedrich Wilhelm Ludendorff. After successful actions on the Eastern front, Ludendorff was promoted to First Quartermaster-general. His influence was everywhere. His attention extended into every aspect of the German war effort. He received daily reports from the front and issued multiple orders, instructions and even communiques to the press. Before long, the public perceived him as the German Army's brain.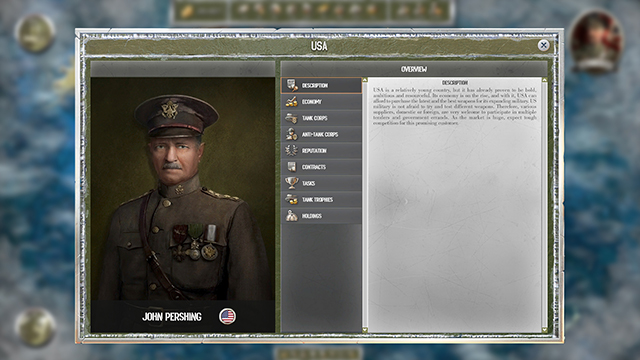 When it comes to United Stated of America, all negotiations will be handled by John Joseph "Black Jack" Pershing. It was general Pershing who was the commander of the American Expeditionary Forces (AEF) on the Western Front during World War I. Under his command, AEF fought many battles including battle at Cantigny, Chateau-Thierry, Belleau Wood, and Soissons.
In addition to leading the A.E.F. to victory in World War I, Pershing was a mentor to many next generation generals who led the United States troops during World War II, including Dwight D. Eisenhower, Douglas MacArthur, George S. Patton, and many others.
Pershing is the only American to be promoted in his own lifetime to General of the Armies rank, the highest possible rank in the United States Army.
For the most recent news about the game, please join our Discord channel: Discordapp.com!