SOCIAL
Feel free to post your suggestion or ask any questions on our forums or on our Facebook Group - Mercenaries from Edengrad. Also if you want to keep updated we recommend you joining our Facebook Group.
We want to make Edengrad accessible for as wide audience as possible. That is why we greatly focus on optimization. Almost every day, we introduce patches thanks to which we increase FPS and get rid of unnecessary memory leaks.

Mobs starter to patrol their paths. They no longer just idle, waiting for the opponent. Opponents are now more dangerous while their AI is now far more advanced than a month ago.
We introduced a new system of loot crates. For now, their content depends on the difficulty level of the map and the crate type. By the way, crates are sometimes put in places that you wouldn't even think of. Exploration – that is our goal. Players devoted to exploration will be greatly rewarded.
Settlements are an integral part of Edengrad. We devote a large amount of time to make settlement wars as entertaining as possible. We want to make battles strategic, so that a good commander may win even despite of overwhelming number of opponents. That is why we added the first trap – the land mine.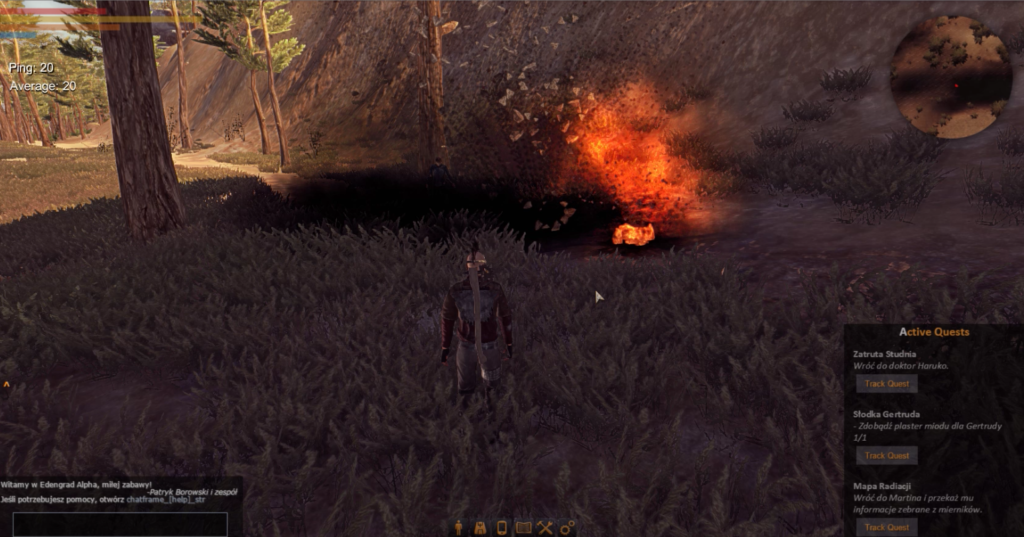 We improved settings of filters, post-effects, gradation of colors of the camera. We added vegetation for the new types of locations, intensively worked on elements that make locations more interesting and diversified. We created models of military vehicles related to legendary events, which we will describe soon. We have also started working on day/night mode.
QUESTS AND NEW LOCATIONS!
Dialogues with NPCs are now far more dynamic. What is more, it is possible to speak to several characters at a time. That will allow us create even more complex and diversified quests. We have started the process of filling maps with objects related to professions. We created two new locations – we don't want to reveal much but believe us, they look awesome and we can't wait to show them to you!
So far, Edengrad was a sort of a mute game. However, we do not live in the times of Charlie Chaplin, so we invest our resources to create sounds for the gameplay. We have created sound for most of the mobs, while sound of movement now depends on the surface we walk on. We are still expanding our base of sounds and references, more info soon!
Javascript Unity was slightly disappointing and limiting. That is why we transcribed the whole project from javascript to C#. Those were some hard days, phew!
By the way, please welcome our new programmers – Dushan and Filip, who worked for the last month on the above new elements, and our new tester – Kamil.
For those who managed to stay to the end of this article there is already a part 2 on our website, but I don't want to spam IndieDB too hard.