For a long time now I've been conflicted when it comes to the subject of player advancement. Up until now I have been using a class based system. I had intended to have a mix of skill and class progression. With this system you could freely change your class in towns. Classes would limit what weapon and armor type you could use. After a lot of thought, I've decided to change this completely. The main reason I used this system was to make paper-dolling for avatars easier and require less resources and that's just a bad reason to do it. Instead, Noble's Land will use a true skill based system for character advancement. The more you use a particular skill, the more experience it gets. The higher a skill level is, the more effect it becomes.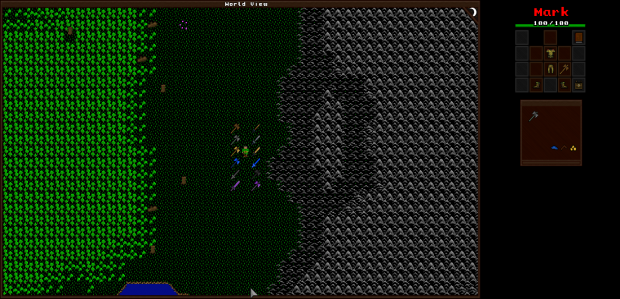 Now when creating a character, instead of picking your starting class you'll pick a weapon skill to start off with. To put this new system to use, I've programmer-arted a new weapon type, axes. Axes hit slower then swords do but also deal more damage. You can only equip weapons if you've learned that weapon type's skill and have the right amount of experience with it. Although new characters get one weapon type, there will be NPCs around the world that you can do quests for to learn different ones.
With this system, characters have a lot more customization options. Everyone has the ability to be a jack of all trades, the only thing required is time. This way you can also mix and match equipment to create as many custom builds as you can think of. I'm not sure yet how this will effect avatars. For now, avatars will change when you wear a full set of armor, with weapons no longer being included in the decision. Avatars will also be shown holding a sword, even if an axe is currently equipped.