At this point in development, there won't be too much left to talk about. There is few things left to do. There is for one, add more stuff. But other than that, there is just a final cutscene, and endless mode. Neither of which will take too long. So since there is nothing major this time around, we'll be showing off some different minor kind of things.
If you're new to this blog, you should really catch up on the old ones before, since this blog has been going on since like August or something. I'm not really keeping track. ANYWAY, HATS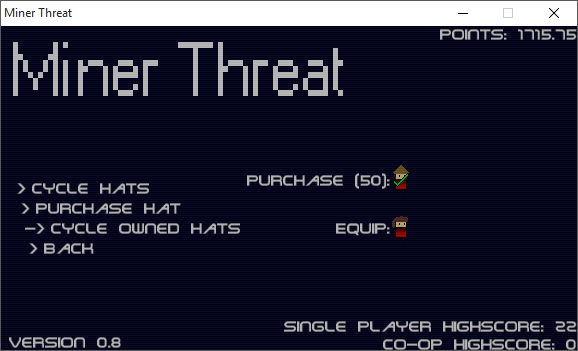 There's only two in that photo, but there's more. And yes, by request, a coonskin hat was added.
The next thing that you'll actually notice in the game is the addition of difficulties. There are three difficulties you can probably guess. Easy, medium, and hard. Or in this case, Diluted, Pure, and Chemically Enhanced. When you play on easy or Diluted, you get less points, but the enemies are easier to kill. Basically, everything is multiplied by a number less than 1. In normal, everything is multiplied by 1, and hard everything is multiplied by a number great than 1. This is all still up for debate though.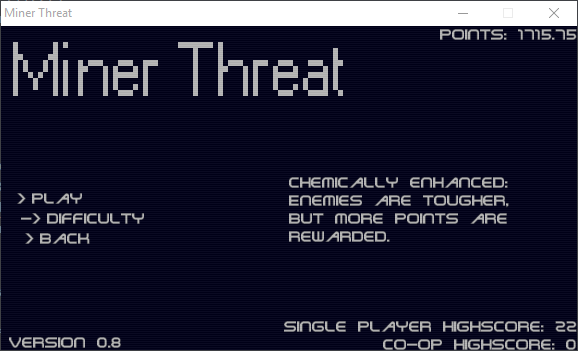 The last thing you will actually notice that happened this week is the addition of 'ghosts.' If you read the past few blogs, you'd know that the last few levels are just the ghosts of the enemies you've killed. Now, the ghosts do more damage, have less health, and are slightly transparent.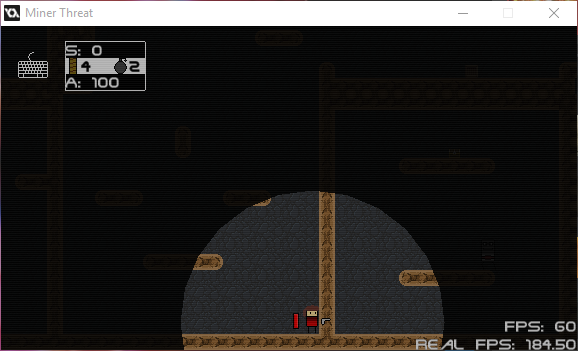 I might add like a flame or something behind the ghosts to make it more obvious...
Anyway, remember to share this with your friends and follow Miner Threat, it's almost done.