Hey Everyone!
This update is all about the art and the inspiration behind it, and it's being written by myself (Stephen Gibson, Art Guy and Designer).
I'm going to be fairly informal in this post, it makes it easier to get the words out if I can speak freely. So let's get to it!
IN THE BEGINNING...
When I first started designing the art for High Moon I had no idea what direction I was going in, but I wanted the game to be as simple as possible so that it could be produced quickly. Check out this early screen of the game: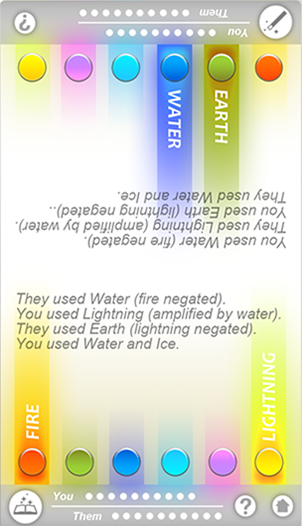 That ended up feeling way too basic, no one was going to get overly excited about it. And I soon realized that there was way too much information to share with just text. From there I decided to try my hand at something a little different, with a little more character...Pixel Art!

Awful, isn't it? Now, I had never done pixel art before but I've played my share of pixel art games and have been admiring it for years. Adding characters required a bit of a UI change, which brought me to here: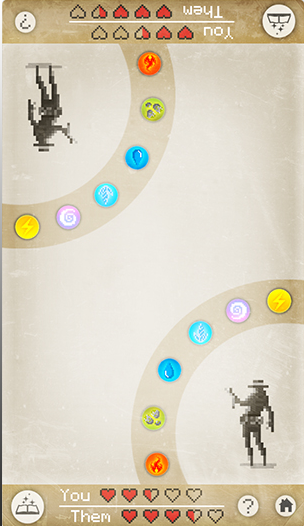 Still, not great, but it started to take shape. Confession: I love Sword & Sworcery. It was my main source of inspiration for trying to create pixel art. I was unsatisfied with my initial attempt so I took another stab at it after studying the Superbrothers' art a bit more. I ended up with something quite similar to what I'm using today:

That's Westwood. As you have probably noticed he's still in the game. He was my first successful pixel character and has become somewhat of a poster child for High Moon.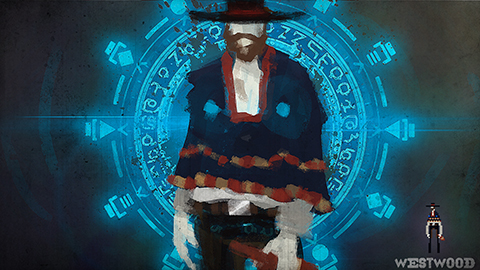 After I established my character style for the most part with Westwood, it got pretty easy to create more characters.
INSPIRATION, ADAPTATION, EVOLUTION
Now... why on earth did I make cowboys when I had a dueling game revolving around magic?!? Really it doesn't make sense, I just hadn't seen it before and I just love that whole Western feel. Cowboys and Aliens anyone? Loved that movie! And it was a great mash up of Sci-fi and Western. I thought, hey... why not mash up Magic and Western? Heck throw in the Sci-fi too! Throw it all in!
I went a little overboard. I started plotting out a story that revolved around a group of Cowboys being "sired" (Inspiration from Vampire Diaries...yes I watch that show) and thrown into a blood sport where they dueled to the death with magic against each other, devils, vampires, aliens...anything. I took Funcom's "The Secret World" approach where every myth and legend was true and worked it into one story. Also, almost everything in High Moon is a spoof or homage to something I love.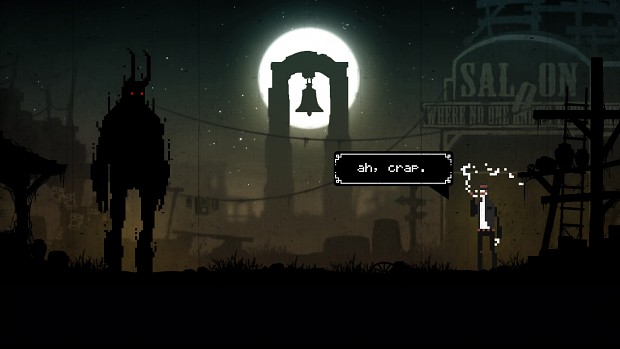 The overall style of the game got much darker and grittier but I wanted to keep it light-hearted too. I accomplished that by adding in silly animations and speech bubbles with goofy dialogue.
You can see from the last screenshot, things changed a lot. They had to change, the rule set for each element and how they played off one another got much more complex and that information needed to be conveyed visually more than through text. So I had to re-design.
Almost everything about this game was a first for me. I had never designed a UI before, pixel art, or animated sprites. I was in a little over my head but I managed to pull it off well enough where I wouldn't be embarrassed to show it.
You can see I changed from my goofy icons for the elements to basic shapes. This idea came from a few places, mainly Sword & Sworcery with their use of basic geometric shapes for particle effects and the whole "Trigon". That mixed with Daniel Luvisi's glowing red triangle on Gabriel's helmet and my love for neon lights.
As for the colors, I just picked what made sense with each element, nothing special there.
REFINE, REFINE, REFINE...
Looking back on it all now, you can see how far I've personally come as a designer/artist. I remember the Fire Shield animation took me a week to get it looking good *shutters*. As a team, we're not finished in terms of the UI, Elemental Visuals, Characters, Environments, etc, but that all comes with time as we continue to refine our ideas and work away. Some days I just try experimenting to see if I can come up with something better, like in this image: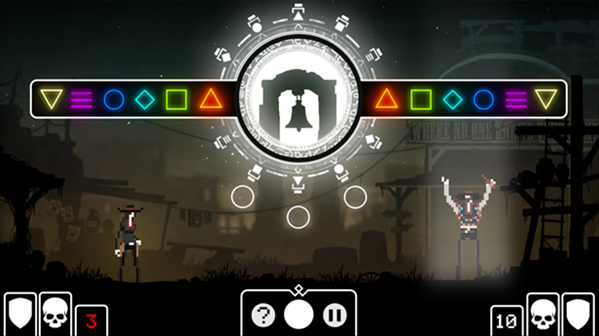 THE JOURNEY
You don't always know where you're going as an Artist, but there are those beautiful moments when you arrive and it was totally worth the pain and frustration. I'm thankful for my partner James, who has been very flexible as I've redesigned the game throughout the months. The core of the game has never changed, and was actually developed years ago, but how that core gameplay is experienced has evolved into a much stronger creature.
One last thought. If there are any artist's reading this who often feel overwhelmed by the amount of amazing art out there that is better than yours...that's normal. You just accept that you aren't the best and move on to do YOUR best. Because in the end, that's all that you can do. You should never be dissatisfied with your best.
I'll leave you all with a few new environment and character mock ups, enjoy!