Demonstrations

Recently we have been working super hard on making Frontier a game that deserves to be played, squeezing as much out of Unity graphically as we can with our limited budget and totally rewriting the Battle system because although it was fun... it could've been... MORE fun.
In the below YouTube video you can see some of the fruits of our labour, a preview of the Battle system showing what happens when 3 misguided battleships try to take on a supercarrier, our showroom scene which pans through a small handful of starship available in Frontier (3 / 24) and a totally redone fitting scene (the old UI was too clunky so we scrapped it).
Perfect Planets

Having nice looking planets was a top priority when we were first envisioning what Voidnex: Frontier should look like. However, getting to that point was not as simple as taking a satellite picture of Earth and putting it on a sphere; that will get you a planet for sure - but it probably won't look very good! In fact one of the biggest problems is dealing with texture warping caused by the way vertices are arranged in 3D sphere. Luckily there is a way around this problem - namely transforming a cube into a sphere! It requires a little bit of maths but the results are much better as textures can be applied evenly. The shot below shows a planet 'exploded out' inside the editor window.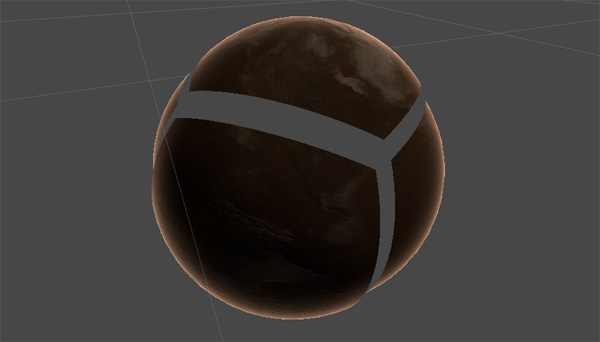 But wait, we aren't done yet! Now the problem is that we have six sides to texture, instead of just one. Therefore all texture maps need to be split into six parts that tile together properly in a seamless manner; at the moment this is done by turning a regular texture into a horizontal cross - giving a very similar appearance to a cube map texture. After this, normal and specular maps are generated; then combined with rim lighting and atmosphere to create the final effect.