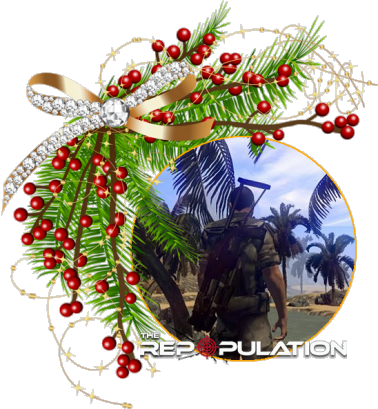 Holiday Update and Patch!
Happy Holidays! Merry Christmas, Yuletide Greetings, Happy Hanukkah, Joyous Kwanzaa, Joyeux Noël, Happy New Year!
---
A.00.02.29 ALPHA Game Update
We are very excited to send out the Announcement of the patch A.00.02.29.
This is the first phase of the new island and the very most basics of our content that will be coming to the game throughout the year.
Patch details:
January 1st, 2020
Servers coming down at 10 am EST (3 pm BST)
Expected downtime to be 6 hours
We want to give a very warm and heartfelt thank you to all the internal testers and volunteers that helped us find bugs and give us feedback on the layout and design of the island.
We look forward to the new year and having as much fun with the players and the new content!
---
Special Addition:
As you know we have made several changes to the game, many of them are still a Work in Progress. Because of this, we wanted to give everyone a little extra something. All accounts will now have one extra character slot to help with continued play testing and feedback. This will Allow players to try out the new content now and in the future without having to decide which of the characters to delete.
Free: 1 (Limited)
-> Alpha Standard: 2 Character slots
-> Alpha Silver: 5 Character slots
-> Alpha Gold: 6 Character slots
-> Alpha Plat: 7 Character slots
* These numbers will be adjusted as we draw closer to Beta and Release.
We also want to inform you that this will not change nor will you lose any slots or perks once we do move into Beta and then into Live. Though we have not finalized the business model, these changes will work alongside the new model once we announce it. These changes will also give us plenty of leeway for those that are getting perks for supporting the game and the prior team. The final model will be announced much later once we enter Beta.
---
Original plans and delays
We had hit many hurdles and delays in one or two areas. You can read about those below under the Current Issues part of this update. Though we have been able to get over most of them the remaining difficulties are currently being worked on.
Below are the three most frustrating issues we had faced this past quarter. If you find any of these issues in game, please fill out a ticket and let us know right away!
Terrain textures reverting
Missions reverting
Arrival points reverting
---
What to expect in this update
We want to make sure that all players know that we are currently using modified versions of the old missions on the Island. We have gone ahead and updated the missions, locations, dialog and tried to fix as many spelling and grammatical errors that we could find. However, there may be more of these in game that we and the internal testers may have missed. This includes hints and tips. So if you do find them, let us know so we can get those updated in the next patch.
Missions: We have spread out the current missions across the six areas. This has been done to prepare you and us for the layout and flow for when we are able to begin the new mission/dialog system. The flow will feel a bit splintered at this moment. This is because we are using the old current missions in the game with some adjustments. Expect the missions to change and adjust with each subsequent update until we do have the new systems and missions in the game.
We tried to mitigate any difficulty with the current missions on the island by adding the roads and paths to the land, as well as recognizable markers for players to use as landmarks while they transverse the island.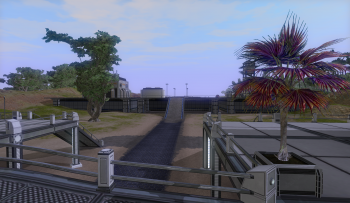 White Boxes (or coloured boxes): As the island fills out, the missions will flow more smoothly and as we begin to add in our own to help introduce players to The Repopulation, the flow will begin to feel more natural and flow more smoothly. You will find plenty of whiteboxes around the island right now. These are boxes and other shapes that are placed around the island where we have new art currently being finished. A few assets you will see are placeholders that range from rough sculpts with temporary UV's (textures) and another special one that has been modeled and base textures completed, yet still has a little work left to be done (including the interior).
A lot of new art has been created and added to the game. You will begin to see the blending of old and new styles to give the world a more robust and progressive feel while keeping to the original vision of the game. More new and unique assets will be coming as we clean up more systems and areas and improve stability.
You can view the changes in the change log we will be releasing this week before the patch. In these you will get an idea of what we have been working on in depth as well as the new additions and changes we have made to date.
---
Current issues
As with any major overhaul, especially one that is still very deep in progress, There are several issues that we are aware of. Some of the changes we have made have led to some of the old bugs becoming more prevalent. Others that some of you may have thought were fixed years ago may appear again as well since we have been ripping off band aids to repair and redo other systems.
Though we are aware of many of them, there may be other issues that you find that is not in the list below. If you find any, please let us know!
Map POI markers (from removing Neighbours) (WIP)
POI's currently are not shared between areas because of turning off the Neighbour system until we can finish cleaning that up to remove the errors that cause overhead.
If not able to fix, we do have plans to create our own global system to keep performance up yet retain important POI markers visible from all areas
Arrival point bugs (from current systems) (WIP)
Arrival points are reverting back to default (old system overrides are overriding our default settings) (WIP)
It will be adjusted and updated in the upcoming patch.
High risk of crashing when transitioning to another area (WIP)
Amount of data from NPC's, Massive Texture and Material overhead (WIP)
New textures were brought down to low res to help mitigate the overhead until cleanup is finished.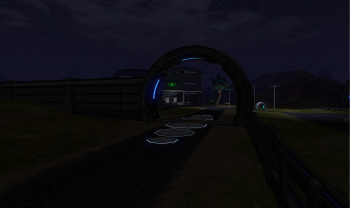 One of the things we have added in are updated Rings at the main road transition areas (going from one area to another). This is to help identify where the zone lines are.
Crashing is the one thing that is our top priority. So each update during this phase (and throughout development) will have this as our focus to minimize the crashing to a very bare minimum. Here are a few tips that cover multiple causes:
Pause for a moment when crossing area lines near the center of the island where the three nations meet.
Turn off shadows
(they add 3 times the draws and can cause latency issues like hitching)
Turn off sound to help minimize the running data
---
Problem areas we have nailed down
Working on the island and starting out in a clean fresh set of areas has allowed us to easily isolate and identify several of the problem areas. We want to give a BIG thank you to all the testers that have helped us test and reproduce some of the issue so we could narrow them down.
Many of these we have spoken about previously, however, we can say with confidence these areas listed below will be our focus during the next two quarters and throughout the Isle development.
Compounding replication of data and areas,
NPC's and their total draws and calls to the server (including replication issues of the current system),
Audio banks (will be removing audio in a future update to create smaller banks and remove the replication issue)
Duplication and use of many assets from models to textures
Texture and script replication and 're-replication' compounding memory and caching issues.
---
New island style, current, and future plans
We have big plans though we have to take them in steps to make sure we do not get caught up in applying bandaids or letting scope creep sneak in. Below are a few things that we will be focused on for the next two quarters. DO note that these are not in any particular order nor state when they will be finished. We are listing these for you to let you know what we have started on, designed and even begun some of the basic development of the below systems. So, moving ahead in the new year, here is what you can expect to hear about and see during this Island phase.
Missions Moving Forward: As stated above, we are currently using the old missions. Though we have modified and cleaned them up a lot, we are still going to create our own missions with the same original scope and style to keep to the original spirit of the game.
Feedback on the changes made already will help us make any adjustments we did not foresee. We will be focused on a lore driven mission/dialog system that will allow players to have the options on the mainland to pick and choose what and how they want to play. The new mission/dialog system will help resolve many of the issues that we have listed above, as well as the current disjointed feel some of you may experience with the current Island and Mainland missions.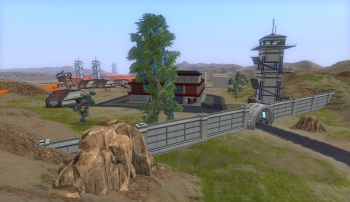 Modular UI: We have also looked into the GUI and though we have started working on concept art for the new UI, the primary focus when we begin to release those changes will be very basic in style yet modular and customizable. As players ourselves, being able to arrange your UI to fit your play style or your mood, is important. Being able to save and easily reset your layouts is also just as important. Our focus will be a low overhead yet modular UI so you can set up your windows how you want.
Nation and Faction Options: We noticed one thing quite early from interacting and talking to many players, especially the new players that are coming into the game. It is a difficulty with what and who the Nations are. When we began the design phase of development our focus was to give players a choice once they are in the game as to what Nation they wanted to belong to. So in the first half of the year we will be looking at the work needed to change when and how you pick your Nation.
The end result will be choosing your Nation once you finish your basic training on the Island. There will be additional optional content if you wish to complete, but you will choose your Nation before leaving the island instead of at character creation.
Inventory and Container System: We have not forgotten the new Inventory and Container systems. This has been a long road, and we still have a bit more to go yet before we can release this. The work that needs to be done is a bit more in depth than we had expected. Since the container system would touch upon many aspects of the game from Player Inventory, NPC and Corpse Loot Tables, Player Markets and Shops all the way down to the skill bars and other UI elements that "contain" data; we want to make sure that we get a good clean solid foundation completed before switching over from the old/current system.
---
Ongoing Development
Will be making more frequent updates at each phase. The first few updates for this phase will be focused on fixing bugs and bringing back functionality in steps. You, the player, will be directly involved in testing and feedback with real time development updates. This gives you a hand in the direction of development as well as the assistance in testing to find those pesky issues we may miss.
As issues are fixed or replaced we will be adding more visuals such as:
Additional buildings
Additional Flora and Fauna
Additional texturing and fine detailing to the terrain
Adding in Dynamic detail (grass, shrubs, etc)
We are also happy to say we are comfortable enough will start releasing more screenshots of work in progress with each of our news updates.
---
Happy Holidays!
We wanted to try to keep this short as the Holidays draw near, so with that we will wish you all a very Happy Holiday and hope to see you in game on the 1st!