Deadbuild 1.0.4 - The Hero update!
I must first thank you all for the great comments and good feedback!
And those who have followed this project, since the launch in Desura deadbuild has got 3x more watchers :) ! This is a biggest update since release and all changes are pretty much from the feedback. Lets have a look what is changed.
New Stuff:
This was originally planned to be in the game, but I really did not have a time to add this and I kind of
forgot it. But here it is now, it gives a little more atmosphere in the night time.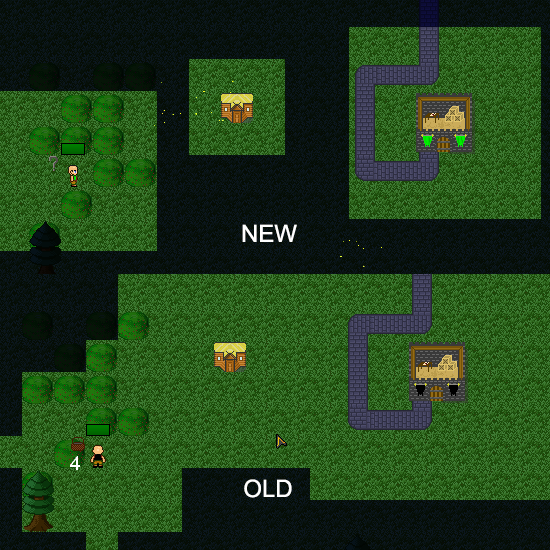 Now the vision at reduced in night.
So this is propably to only new thing what was not in anyones comments it's a new building.
It propably won't have a much use in the current campaing, maybe in levels 2 and 7.
But it's for the upcoming Survival mode.

Market where you can buy food,wood and rocks with crystals.
Also there is a new victory screen when you finish the last map.
This is just part of it.

Nurse wants your feedback.
Hero:
DarixGoof, had some really good ideas about the hero stuff, and one of them was hero respawn,
you can now respawn the hero at cost of 100 food, and make time of 1 villager.
All credits to him, I would not have think of that.
So if your hero dies you really need to think do you need the hero now or one extra villager.
Also the hero will now autoattack closest enemies.
And now you can see heroes stats when choosing hero.

And ofcourse new particle effect for ressing the hero! (It looks a bit weird in the gif)
Difficulty:
I have got pretty much feedback that the villagers working speed is too low and that the game is too hard even on the easy difficulty.
well there are upgrades that give first +66.6% working speed and then +133.3% working speed compared to default working speed.
But I quess that the default workingspeed is too low, on easy difficulty, especially if you are not familiar with RTS games like Aoe.
So I have made the first upgrade tools default upgrade when you are playing Easy.
This should be maybe more than enough. At the start +66% higer working speed
+ 130 wood & 150 rock savings on the upgrade and workshop and - the time on gathering,building and researching.
I wanted to give a some challenge to players, but if you are not familiar with rts games, then it will be
way too frustrating to try to beat even the first level multiple times so thats not fun.
So I would like to have a feedback is the difficulty now better on easy?
Here is the full change list:
FIXED & CHANGED:
Fix: Reduced vision at night.
Fix: Level1 slight improvements on the mineral placing
Fix: Make easypeasy even more easy by giving tools upgrade by default on easy difficulty,
Fix: Read me, now has more info.
Fix: Now has maxpopulation cap of 95
Add: Tutorial: added more answers to most asked questions
Add: Market buy f/w/r
Add: New end screen!
Add: Hero stat info
Add: Hero Respawn
Add: Hero Autoattack
Add: New particle effect while ressing!