Cyclical Circles, what is it?
Cyclical Circles, formerly called "Stoom" is based on the game speed, and reflexes. The goal is to scour all levels by switching between the rings according to the previously displayed at the bottom of the screen or directly in the game, according to the previously selected game mode.
Ok, but the goal in all this?
Four modes are available to the player:
Circle One (Pass through the green rings while avoiding the red ones)
Multicolors (Pass through the color circle shown at the bottom of the screen)
3 Lifes (. Surviving avoiding red rings After three failures, the game results in a game over)
Speedway (Finish the level before the time runs by performing combos that add seconds counter)
Each of the modes will have four levels of difficulty. From, Easy, to Impossible. But the loot drops recovered will get you some usefull skills.
Loots?
Indeed, the game will have the loot drops over levels 80 objects for each level. You will have a total of 4 different skills, each with three levels of improvement.
Each competency will require the equivalent of 100 loot drops by skill level. Then 2 times the previous amount plus (100 × 2 = 200) for the second stage, then the same thing for the third and final level of competence (600 loot drops).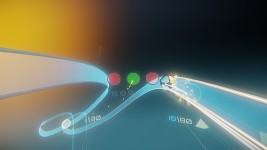 ---
Where does the development?
The game is still in beta testing but soon a demo will be posted on the ModDB site, and possibly on Crydev. In the meantime, here one video showing the actual rendering of the game :