Cyberspace VR - Tower Defense / FPS VR game gets ready for the Early Access / Kickstarter launch.
FUSE / People & Technology, a gaming / interactive studio based in Monterrey, Mexico / Austin, TX and is currently developing its own VR video game. The independent studio has been working for more than 5 years developing advergames and VR experiences.
Now for almost a year, they have been working on this title to release an Early Access, after a period of beta-testing worldwide with more than 60 Testers along their CyberCommunity to develop a complete and fun video game that will give VR gamers hours of entertainment.
To take their project a step further they are launching on Kickstarter a campaign to support their development, providing players with the opportunity to participate with different pledges starting from $16 USD to get a full copy of the game once it releases and all future 2021 DLCs included.
The main focus of the game is to deliver constant adrenaline and make you think about new strategies to overcome the constant challenges of waves of different enemies.
This hybrid shooter has a lot to offer in terms of game mechanics and storytelling.
Keep on reading if you want to know more about the game and the future goals FUSE hopes to reach in the upcoming year.
CONCEPT OF THE GAME
FUSE / VR Studios Creative Team wanted to share their vision of the future through this addictive game genre and a futuristic style. Cyberspace VR is a Hybrid VR game that combines Tower Defense and First Person Shooter Gameplays, where players must defend their cores against enemies using a diverse weapon arsenal and the capacity to build turrets to help improve your battle strategy. Offering a masterful sci-fi cinematic universe to give you a vibrant visual and immersive experience.
The studio needed to create a game with a concept that will allow the gamers to enjoy a more complete and dynamic game by having 2 ways of playing, combining a strategic mindset and progressive fast-paced action. All set in a futuristic dystopia where you can throw grenades, jump and attack, run and hide, plan your turrets layout and prepare to take on big bosses, true challenges that will need you to think fast and improve your strategies.
The game will allow players to build their own personal strategies and gamers will have to constantly analyze the environments, situations to make the best decision on the battlefield and save humanity remains from eternal digital deletion and extinction. Its futuristic storyline will guide you through every wave to advance through several servers and immerse further in the story to discover the truth behind the attacks.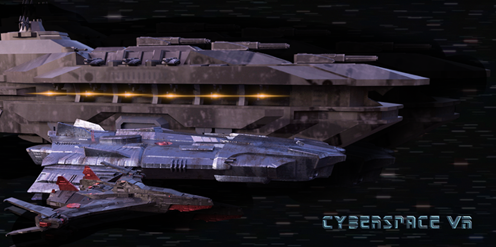 CYBERSPACE VR CINEMATIC UNIVERSE
CYBERSPACE VR Storytelling is based in a future where the human being has perfected the digitization of consciousness, a future where humans have abandoned physical bodies in favor of digital worlds. Cyberspace is the name given to their digital utopia, a set of thousands of data servers where their consciences will live forever without fear of disease, hunger, or death.
With this humanity lives peacefully until one of the worlds of cyberspace is attacked by what appears to be digital entities. The consciences that these entities assault are forced out of cyberspace, for the first time in hundreds of years, humanity once again knows hunger and death. All around the earth, the call for war against this new race would bring humanity into an era of chaos.
This cinematic universe will take players from the year 2071 to the first half of the century, where after a series of tragic events, hope will give humanity an opportunity along AI to colonize other stars of the galaxy.
WHAT'S TO COME
Inspired by the future, FUSE developed a VR game that checks all the blanks, an ambitious indie development full of action that will allow you to be immersed in a transhumanist future with an original story, stylish 3D designs, cinematic cutscenes, and an original soundtrack.
Like many indie developers around the world who want to take their project further, they are planning a Kickstarter funding campaign. FUSE / People & Technology will be using these funds to finish and continue developing Cyberspace VR. With your help, they are planning on releasing a multiplayer mode in Q2 2021 and the Full campaign by Q4 2021. Get to know more about the future they have envisioned for Cyberspace and the surprising rewards they have prepared for you on Kickstarter.
Right now they are working on further improvements for the Early Access Launch by incorporating the feedback they got from the Beta Testing Program. In case you are interested you can apply here to help Cyberspace VR reach its full potential.
Cyberspace will be a VR title supporting Oculus Rift S, Valve Index and HTC VIVE headsets. The official EARLY ACCESS launch is expected to take place at the end of October 2020 via Steam and Itch.io and, as the campaign progresses, Cyberspace's social media will keep you updated.