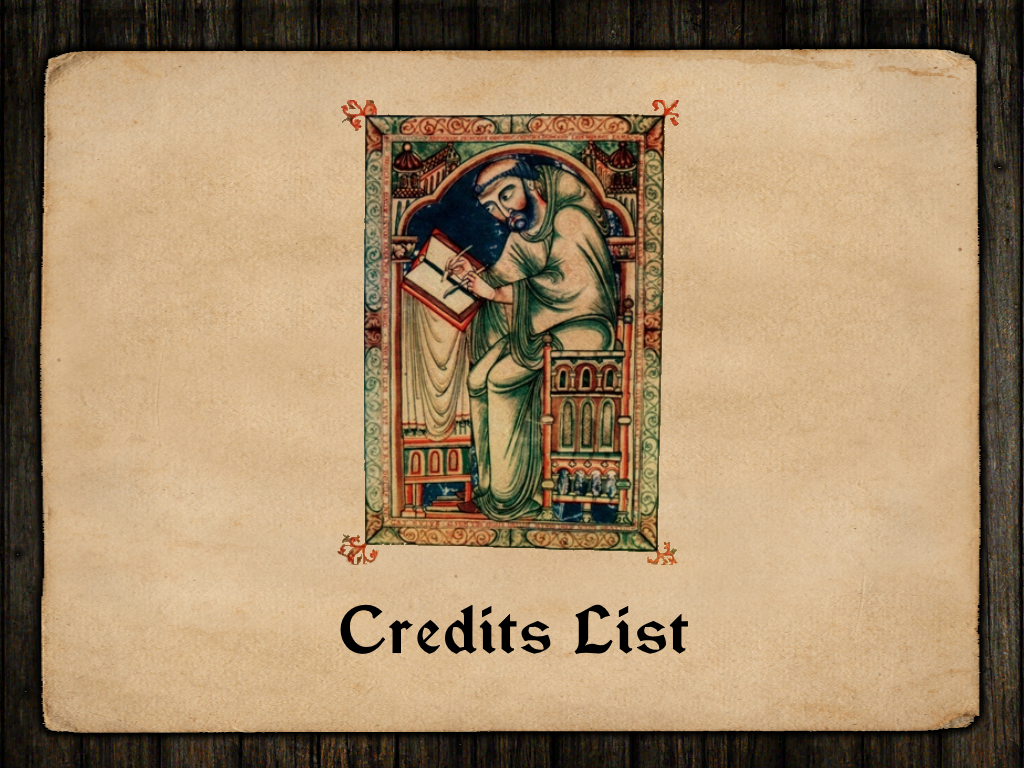 (Image above: Edwin the Scribe)
---
Without these mods and their creators, beta players and all the supporters of Realistic Mod, this project would not have been possible.
And so, I thank you all.
If I have missed anyone off this list then don't hesitate to drop me a PM.
This list will be expanded during Development.
---
Credits List
I would like to thank Taleworlds for a great game.
I would also like to thank Tocan for providing the base for this mod.
Mods and there creators
Caba ` drin - Pre-Battle Orders & Deployment
B Team - Brytenwalda (Items(OSP))
gutekfiutek - Polished Landscapes
The_Bowman_TW - Native Scene Replacement Pack
CWA Team - Crusaders Way to Expiation
Wei.Xiadi's - [OSP] [Warband] Wei.Xiadi's Litus Armour Project V1.1 (OSP)
Faradon - Faradons Weaponry 0.5
ShaunRemo - Agent spawning OSP
ShaunRemo - [OSP] Skyboxes Lighting Tutorial and Assets
Adorno - [S]Historic Castles Project - the British Isles [Released for Warband]
AlphaDelta - [LSP][Item] AlphaDeltas opensource Viking pack - RELEASED
Adorno - [OSP] Ambient Soundtrack [v. 1.1 released 11-16-2010]
iggorbb - [LSP][Item] iggorbb LSP
Floris team - Floris Map icons and banking system
Revan Shan - [OSP][Sounds] Epic Man Sounds Pack - Open Source
Dejawolf - [OSP][Items] Viking model pack
Dejawolf - [LSP][Item] medieval helmet pack
Maroon - [LSP] Medieval armor sets - now with helmets and horses!
jojo-ojoj - Old paper seamless textures DeviantArt
jojo-ojoj - Medieval paper 1 on DeviantArt
MAXHARDMAN - Animations Compilation Mod 2.0
Njunja - [OSP]Eastern items OSP [Updated to v1.5]
CounterPoint - [OSP] The Colored Lances Project [Warband]
ha3481 - Realistic rePolished Map (trees only)
Slawomir of Aaarrghh - Tavern Animation Pack
Yamabusi - [LSP][Item] Highlanders models
Stephan_dinavoa - [LSP][Texture] Small plates retexturing & bonus
Life_Eriksons - [OSP] Life_Eriksons-Medieval-Sword-Pack
Punkt - [OSP] Punkt's HiRes Textures 2.0
Rejenorst - [OSP][Sound] [M&B] Hybrid Soundpacks
Matheus - [OSP][Texture] Matheus' Armor Texture Pack
El Guanche - [OSP][Item] Extras for Modders!
Adorno - [OSP][B]Ambient Soundtrack Warband
Sonyer - [OSP][Item] Sonyer's pack (armour,helments,shields and horses)
Pino - [OSP][Item] Pino's armor pack(s)
Septa Scarabae - [OSP][Texture] [M&B] Scarabae Texture Pack v.2.9
Lucky Lancer - Training Fields
Totenkopf900 - [OSP][Retexture]Eastern Armor Pack
Iboltax - [LSP][B]Face Improvement Project
Rohzdear - [OSP] Warband UI Retexture
DtheHun - [LSP]New female body
Rohzdear - UI Re-texture (Warband Coloured Art For Mod Page)
c6x - Taking the time to report old bugs from v3.3
---
Closed Beta Players
I would like to thank the beta players personally for there patience and for helping me test the mod.
Ztorm
Phillips
Gustav
Tallestdavid
LagGaming(official)
Dustycinnabon45
Attela
Arradir
Vincentw5
Etrux
The_pleb_knight
Jeffreykiller1
Squirewilliam
Mrparagonthepie
Alfa129
I would also like to thank all those who took the time to submit a form to take part in closed beta but did not get picked.
---
Semi-Open Beta
I would like to also thank all those who helped during the week Semi-Open Beta. There where so many that helped so I will list all the people that helped by reporting bugs constantly and provided general feedback.
Norion
Brissinger
NEGEV PRC
El Gandalfo
SirJTaylor
Brokenheart 2003
Torlun
Alex002
Crysix
Moeby
Jaska
RobertWave
Honcho
---
Companions Help
I would like to also thank those of you who took the time to submit a companion story.
Ztorm
Golfthai
ElReyArturo
Jeffreykiller1
Pedronetokj
Thaticegamer
Grandmaster Sherman
---