Hello Modders and Modies. As you know yesterday I hinted at being able to win yourself access to the newest CS:GO beta and today is the day you find out how. This is going to be a fairly simple contest to give 15 keys to our community, the other 5 keys will be given out to the some of the more active people within ModDB (as judged by staff).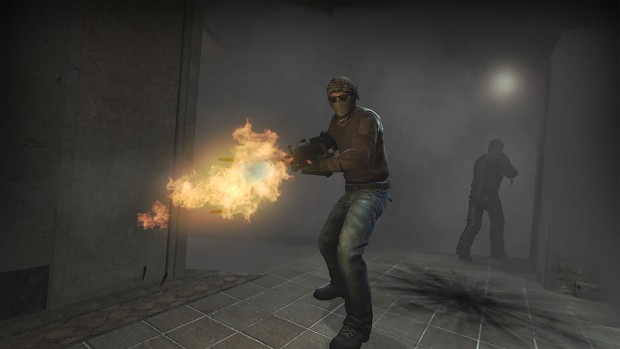 To enter all you need to do is impress the staff by writing a simple limerick, poem or short story about why you should be in the Counter-Strike: Global Offensive beta and if that is too difficult counter-strike in general will also suffice. Post your entries in the comment section below. You can enter as many times as you like, and the most creative and original entries (extra points for funny entries) will win. You have two days to enter, and winners will be notified by personal message on ModDB. If you do not claim the reward within a day we will just give it too another entrant. Take note, if you submit your entries in any other way we will ignore it so don't bother.
Best of luck!
---
UPDATE UPDATE UPDATE!!
We have our winners! Check your inbox soon for your beta key.
GuyOnAManatee:
Here is a gamer named Manatee
Who had only one last plee
He can't aim for shit
and constantly rage quits
But all he wants is one key
ModDB: This kinda sums up my experiences with counter-strike over the years.
---
mjnowak:
The keys are few,
The crew is wise,
A contest of English,
The noobs demise.
To play Global Offense,
With a free beta key,
Would be so intense,
Where else, but ModDB.
ModDB: Love it, especially how you rhymed ModDB with something.
---
dontragemebro:
people who play CS try for headshots
some people may claim they use aimbots
nothing is sadderwhen people cry "hacker!"
when people just like to play a lot
ModDB: I am sure it was all just skill! Like your mad rhymes.
---
Epidemic12:
Awpers, Awpers, everywhere
Will they see me?
I don't care
In B tunnels?
At long A?
Well placed frag grenade,
And they ragdoll away
ModDB: AWPers more like no-skillers... HA. I'm funny.
---
Wombo194:
Open the door
Get on the floor
Please give me a key because I'm poor
ModDB: Lets hope this funds your archaeology event.
---
twinnuke:
Bullets ablazing
Newbies a hating
Aim bot Aim bot they cry
but I'm just amazing
The sniper they fear
A scoping i steer
as the bullet leaves the chamber
Not a head is left near
ModDB: I dunno about you guys but twinnuke's new album is hella-tight!
---
medve:
roses are red
violets are blue
i hope this will have a proper promod
ModDB: You and me both sister!
---
ZaliaS:
For the first time on ModDB,
The Devs tried to make a fool of me,
Wasting my time,
To come up with rhymes,
Just for a damn beta key.
ModDB: I'm sorry alright... I just wanted to be with the cool kids.
---
jimmynavio:
A key to this game, I desire
And proof of this fact, you require?
With one single move
My fervor I'll prove
By lighting my crotch hair on fire!
ModDB: I am afraid to ask for pictures to confirm this, but I love your commitment!
---
campbullard:
24/7 born and raised
on dust 2 is where i spent
most of my days
poppin' off headshots
no scopin' these fools
gettin' called haxxor
like it's preschool
when a couple of t's
who are up to no good
started causing trouble
down in packaged goods
got in one little knife fight
and the admin got scared
says you going to csgo beta
you belong in there
ModDB: Shit just got real....
---
MilfandCookies:
In 2000 it first began,
To four different games it would span,
With great mods and fun,It became number one,
The Counter Strike franchise change man.
One of these glad men was I,
Who, for Counter Strike: GO, would die,
But without a beta key,
No GO for me :(,
I'll make sure that key is all mine.
ModDB: You sir are a poet for the ages!!!
---
freepwnyridez:
My girlfriend cried "You must come to bed!"
"Quit CS and I'll give you great head!"
I cried "Dear I can't yet!"
"I really must plant this!"
Guess I'll have to whack it instead!
ModDB: I was tempted to not pick this one, I cannot deny it is clever though!
---

tioslash:
"Invalid CD Key", Steam?
I swear! I´ve got it from ModDb!
Was it a dream?
Where is my CS:GO beta key!!?
Well, I still need my fix!
So what will it be?
It´s back to 1.6...Or wait for Half-life Three?
Damn it.
ModDB: Wait! The first key I sent you didn't work? I'm sorry here is another...
---

hevlovesbike:
Registered today
Now im itching to play
Saw this contest
That sparked my interest
Oh to kill again
On my steam engine
Missing the thrills
Of a Counter strike kill
To fill this void
you have been employed
Now all I seeis this beta key...
ModDB: Welcome to the family of mad rhymes and modders! Have a key...
---

Cas943:
Twas the night before the beta,
And all through the map,
Not a CT was stirring,
Except John J. Fap,
When the terrorists rushed in,
Weapons held high,
John J. pulled a pin,
And watched them fly,
With one terrorist left,
And no where to run,
John J. said,"Now ain't this fun?"
His weapon a blazing,
The terrorist's balls they were grazing,
In the end he saved the day,
Old John J.,
So wake up CTs,
Don't be AFK.
ModDB: Don't you be AFK accepting this key!
---
Congrats to the winners and thanks to all those who entered. So many entries!