Greeting explorers!

Today I tell you that Congo v0.5 has been released! Yayyy! What's new in v0.5? Below is a list of the changes and new features now available in v0.5:

New Menus

We have totally re-designed all the menus for Congo including the lobby, in-game pause menu, options menus and the rest!

So first things first - the new lobby: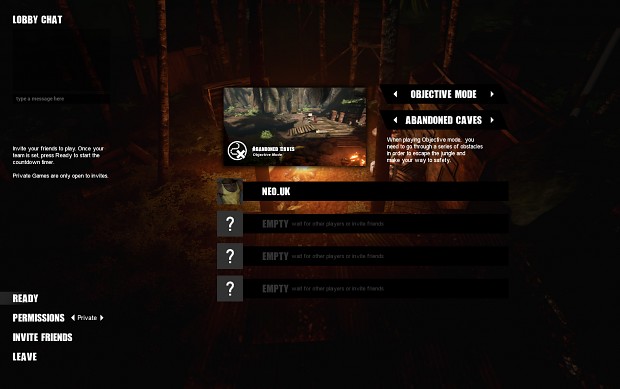 The functionality of the lobby has completely changed. Now you don't have to select a level BEFORE you enter the lobby, you can change levels directly from the lobby which means if you have a change of mind, you wouldnt have to restart the lobby and re-invite everybody. Scroll through the options at the top to select the different maps and game modes.

This leads onto another part of the Lobby. When you have completed a map (or died trying!) you can now simply restart and you will be able to try the map again or you can press 'Return to Lobby', which will bring yourself and all the players in-game back to the lobby to try a new level. A great improvement on the old system! :)

In the top left is also the Lobby Chat system. You can send each other messages in the lobby which comes in handy if you're playing with players who you aren't having a mic session with.

The Permissions scroller allows you to change between a public or private game.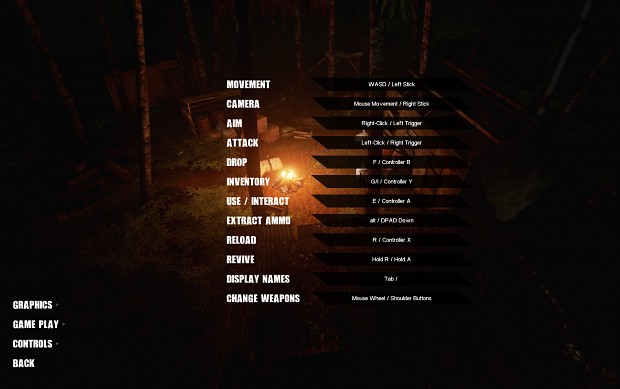 The options menu has also changed a lot and we've updated the Controls list to be a little more detailed. It's definitely worth scanning over this to see if there's some actions you may be missing out on. It's quite common that people aren't aware of the Extract Ammo action, which allows you to take out the loaded ammunition from a weapon and store it in your stash. That means if you open up a crate and get a revolver and you currently want to keep using your other pistol, then you can pick it up, extract the ammo and the go back to your favourite choice.





We've also added two new settings (mostly focused for the controller players). Camera Speed and Invert camera, as I know a number of players prefer inverted controls!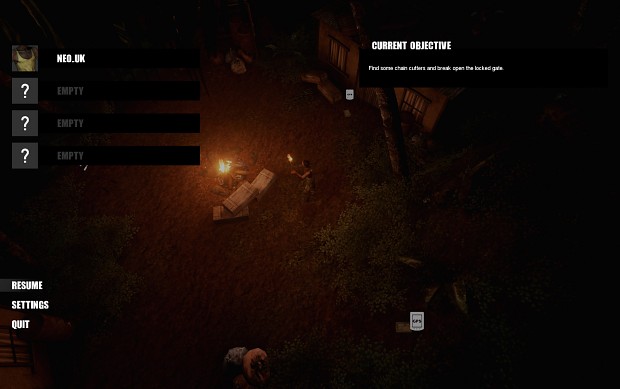 We have also re-made the in-game pause menu and it provides you with a lot more useful information! On the top left is the Player List, so you can see who is still in the game and who is dead or alive.

On the right is your current objective. We noticed from a lot of the play-throughs and comments that people aren't always sure what to do. Especially if they missed the intro sequences or weren't paying much attention. Now all you have to do is press ESC or Start on the controller to access this menu and revise the objective.

We have also updated the Win and Lose screens. These screens now provide you with information on who survived and who didn't. In the future, when we add in the persistent player progress and XP / Level elements, you will find information on XP you gained on those screens - at the moment these features aren't in-game but will be soon!

All in all the menus are now a lot smoother and hopefully you'll all agree :)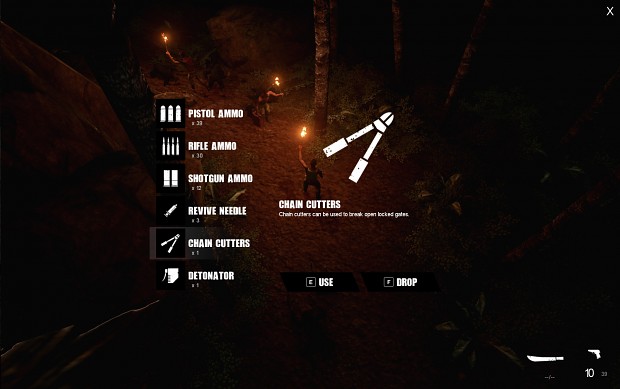 New Inventory

Something we've been working on changing for a long time was the Inventory. We found that the previous versions of the menu were very limited, unclear and were difficult to use especially with Controllers.

This has now changed with the new inventory system. Now you don't have to scroll horizontally across two levels of menu - you can just scroll up or down. You also used to have to select an item and then navigate down to the Use or Drop buttons to complete your action. This is no longer necessary and you can Use or Drop with a single button press (Left Click / E / Button A to use, F / Button X to Drop).

This is SO handy when you're in the middle of the action and need to react fast.

There also used to be some confusing logic where some items reacted different. For example in previous versions, some items such as the Receiver and Flare require a player to access the menu and press Use in order for them to be deployed. Other items like GPS and Compass are passive and are on as long as you have them in your inventory and finally items like Chain Cutters needed to be Used in-game by holding E next to an object.

We've cleared up this logic now by allowing items such as Chain Cutters or Revive Needles to be used from the Inventory e.g. When you have Chain Cutters in your inventory, press Use on them when you're next to the object and you will start using that item. You can also Hold E against the object outside of the inventory if you wish.

Passive items such as the Compass and GPS no longer have the option to be Used, and the description explains their purpose. Items like Flares and Receivers are still deployed from the inventory but now from just a single button press as explained before.





Revive Animation

We've also added a revive animation. No longer does your character end up doing a wiggly hand movement when reviving a character (he actually bends down! :P). To revive people you can either Hold R next to their body, or press Use from the Inventory.

Walk Speed for Keyboard/Mouse players

Controller players could walk by only pushing the stick half way, but now Keyboard/Mouse players can do the same by holding Shift while moving in a direction.

Balancing and Bug Fixes

As always we've been working on balancing the difficulty, including the difficulty in Solo play, and we've been fixing lots of bugs!





Hope you all enjoy the new update and get the most out of the menus and new systems! Please let us know your thoughts and feedback! Please remember too that if you like Congo and want to see more of what we can bring out then please leave us a positive review :) It genuinely really helps us and can get us that step closer to full release!