Hello,
As mentioned in the last article I want to share testing results and talk about already implemented features/changes and also talk about upcoming changes to the game.
Closed alpha testing results
Two weeks ago I released closed alpha testing to Google Play and collected some feedback about current gameplay. Some feedback was obvious and features like boss health bar, tutorial, high score, player level will come in future. I want to share feedback about features/changes which was not in my plans or was planned in later releases, but I implemented already or will implement in near future.
Weapon reloading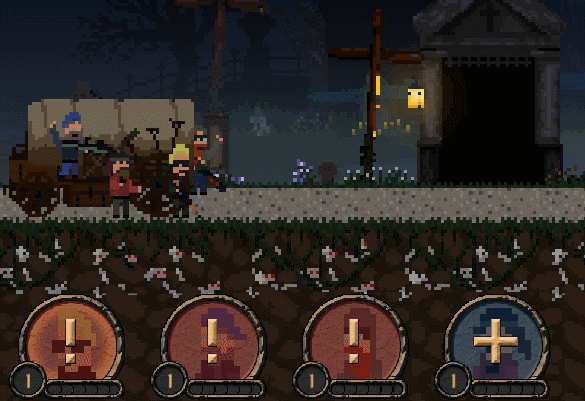 Even with all notifications, weapon reloading was unclear. I could add additional tutorial or notification with a game pause for the first weapon reload, which would explain about reloading. But I also get feedback that this requires a lot of attention and people can't enjoy this game as much as they could, so I decided to add auto reloading. Auto reloading makes current gameplay a lot easier, but the game is still missing a lot of new monsters, so it will not be that easy. However, manual reloading was intended in the beginning, so I keep that option in mind and maybe add it again later in hardcore mode.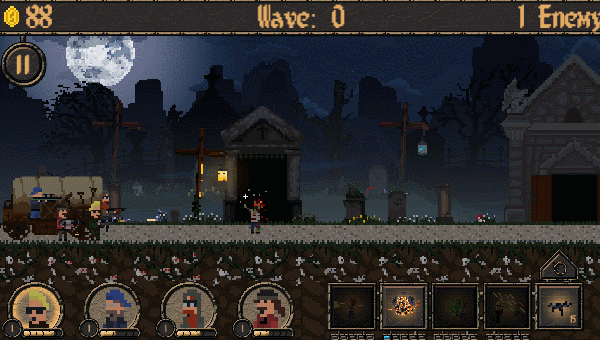 Auto reloading preview. Characters, reload weapon themselves, but I kept the reload button if you want to reload earlier.
4th character skills (grenades)
He's the only character that doesn't have auto attacks, but skills have lower cooldown and can be cast often. However, targeting require a lot of time, especially if the target is in the long range. This was intended in the beginning, but after feedback and also after I played myself I was not happy with this targeting system. I already implemented the new targeting system and here is GIFs with old and new systems.
Old targeting system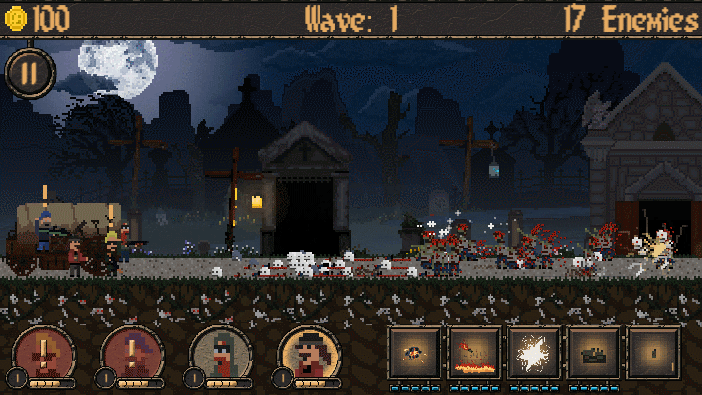 New targeting system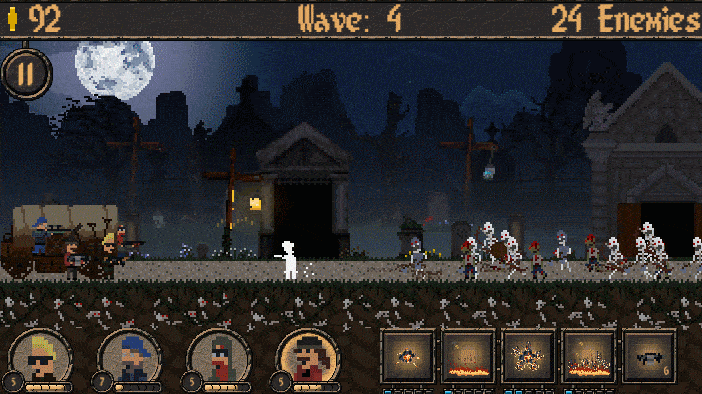 As you can see new targeting system include trajectory of a grenade and the target is selected with a click and drag the skill icon. This allows fast targeting which makes 4th character more powerful and easier to play. These changes also apply to first character `Mortar shot` skill.
Skills description and range
There were feedback about skills and what they do, also skill range is not clear and sometimes skill is just wasted on empty area. I will include info about skills somewhere in the menu later, but first I want to finish with skills leveling. I still haven't decided how to introduce skills range, it would be easy on PC with mouse over, but this won't work on the mobile version. I also have idea about training/practice level where players could test all skills and see what they do before the game. These are just thoughts and first I will finish with skills leveling and descriptions and when decide what to do next.
Pause after clearing a monster wave
At the moment where are no feeling when a monster wave ended, because immediately other wave starts. This is of course, temporal, because the final gameplay will be a little bit different and characters always move forward after each wave. But after this feedback I'll add "continue" button sooner and where will be time after each wave to spend free skill points, reload weapons and when continue to the next wave.
Bugs
I didn't avoid those :) and some more interesting ones was with -1 enemy count when new wave never starts. I cannot reproduce this one, but game at that moment was totally not optimized and it might happen due to lag. Now I have done some optimization and also changed logic for the enemy count, so this should be fixed. Next bug was when `Minigun` skill never ends, so this was kind of easy gameplay, I also fixed this one. It is good to catch such bugs early so others can enjoy the game.
Thank you!
Not sure if my current testers will read this article, but I still want to thank them for their time and feedback. This allows me to create a better game, so thank you :)
Next release
After a week or two, when I finish with second boss and implement boss fighting UI with health bar, etc. I will make a new release and would like to include more people for testing. I will probably make some short google form to register for alpha testing so if you want to try this game you can follow news on twitter.
Thanks for reading.