Hello IndieDB Community,
Clanbase were kind enough to put up an article of CPi on their front news page, which we wanted to share with you all!
This gives you a great insight from our own perspective on our gameplay, target group and how we feel we differ to the competition.
Background info
Critical Point: Incursion is a semi-realistic, arcade-like first-person shooter combining tactical gameplay with arcade-style speed. Utilising a wide variety of modern weaponry and set in fantastically rendered locations, the Mercenaries and Special Forces meet at a critical point!
As a standalone game created with Epic Games' Unreal Development Kit (UDK) by more than 40 volunteers from all over the world, we are eager to bring you an action-packed first person shooter with great community involvement!
We differ from the competition by having no unlockables or level ups, no RPG's, no claymores, no tanks, jets or other vehicles. No spotting of enemies, no gimmicks affecting reloading, no influence on aiming, and no movement hit penalties when shot!
Our market is for the average player although tuned mainly for competitive play, clan and league matches specifically will benefit from our NO FUSS, NO NONSENSE – Just pure aiming and shooting game.
An explanation about the game

CPi brings two teams together, Special Forces and Mercenaries, quite "cliché" yet the execution is what makes us different.
In a number of well-balanced UDK levels they compete against each other in a round based system, varying from escape, bombing, hacking control system or typical team death match style.
The beauty about CPi is the modularity of our objective systems; allowing a team to win in multiple ways, all depending on a per level basis. Each level has a customized welcome screen to inform you of the mission objectives for both teams. This is further aided by having on screen popups to inform a player when they are in a particular zone, Buyzone, Hackzone, BombZone etc..
The core objective is to eliminate the other team before the round ends, such objectives mentioned above give you additional means to win without necessarily having to slay your opponent. This gives us that "tactical edge" making players think about their actions: defending or storming objectives as well as frag-hunting or holding off the opponent.
There's that thin line of run in and be the hero or hold back and wait for support. Should I leg it and go for kills or stick back and defend the zones? How you play is really your choice. That said though, Critical Point is setup to reward players as well as teams for completing objectives, by gaining more points as well as money, for the individual as well as his comrades.
It should be said, money of course is key in purchasing better weapons.
A Counterstrike clone?
Some people see an FPS game (like ours) with modern guns and photo-like environments then automatically generalise us with Counter Strike.
We are not here to tell you we are not a CS clone, as you will see our in game footage sooner or later, that our gameplay mechanics are totally different.
Not only are we different from CS and Tactical Operations but also to COD and BF3 – where other similarities lie too.
In effect, we have made our own unique game and implemented features inspired by other developers, taking the best parts of different games.
Gameplay
For us Gameplay is key and comes above all other elements.
Effects, sounds, levels all play their part, but for us how it feels and how players interact with Critical Point: Incursion is most important. That is why we are so respectful of our community; listening, communicating and keeping them informed at all times.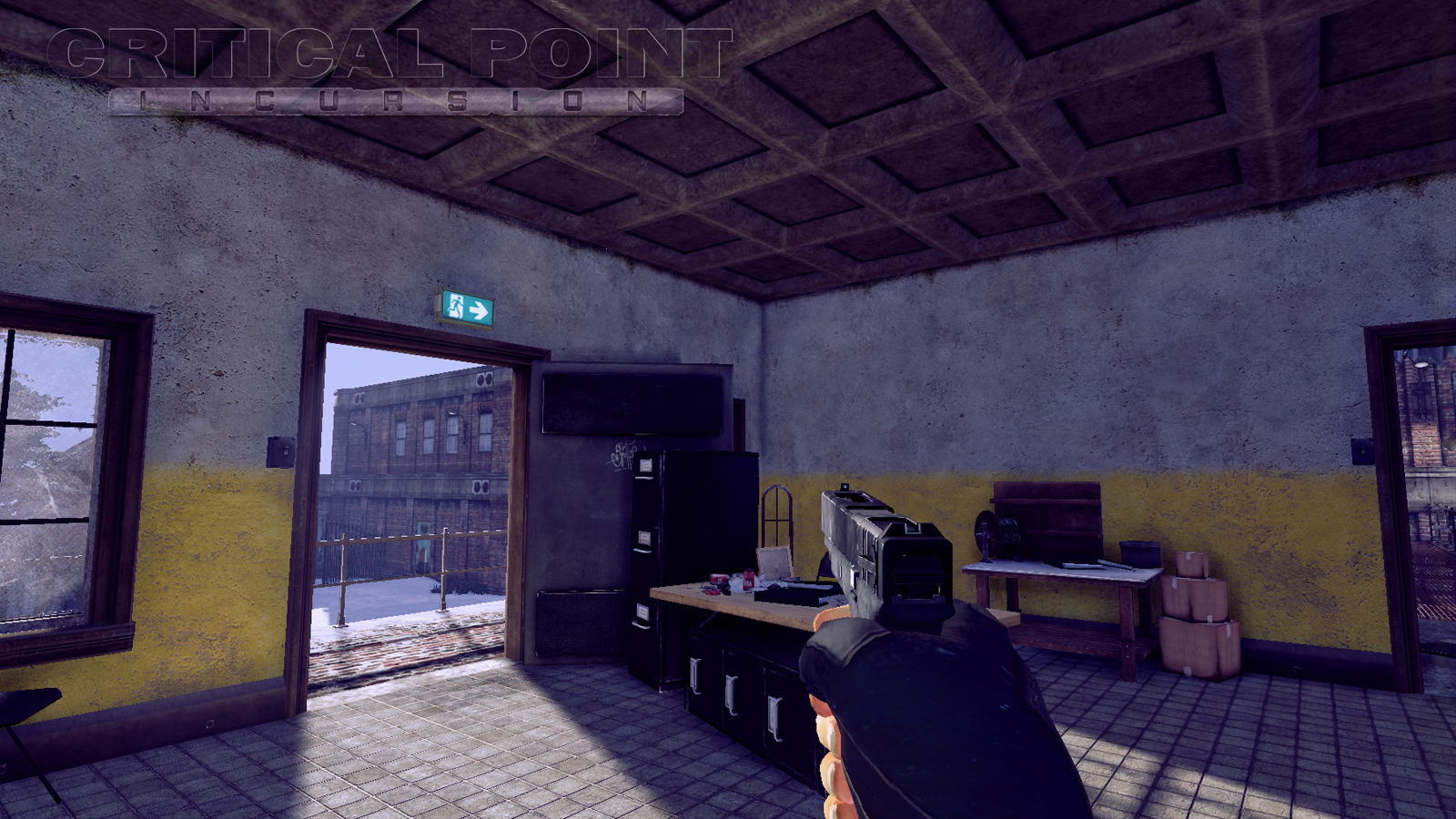 The Semi Realistic part.
We are semi realistic for two reasons.
Firstly in how you can run around, get shot and continue to move at normal speed. For us we felt this was great as it kept the game flowing, allowing you to take more risks, get hit and retreat behind cover.
We are all practically FPS gamers and felt this gave us an edge in providing a fast paced arcade feeling compared to other FPS titles out there occupying the market.
Secondly for the reason that we have no real life 1:1 realistic hit damage settings, so NO, you won't find any gun that does a 1 shot kill (except a headshot with the sniper rifle).
Generally an MP5 will take around 5-8 body shots and 3-5 headshots. This does though depend on the distance of the shot, as our weapons have an effective hit damage range, which will do 100% dmg – thereafter the damage is attenuated every set distance by a certain percentage.
Assault Rifles are very powerful, but have bigger aimerror and recoil. Switching to your pistol is definitely recommended at short to mid range, as they still pack enough damage and are far more accurate and easier to handle.
Aiming methods
We will not be having any ADS (aim down sight) system on our weapons, except those with intended scopes such as our SCAR-H and Sniper rifles. We wanted to accentuate that pace by keeping people moving, allowing them to aim and shoot, whether in mid air, mid-sprint or walking – without being penalised as seen in many other games. A laser sight for the Desert Eagle and G3 is already ingame!
Hacking the bomb
Our beloved C4 bomb is given to one random Mercenary at the beginning of each round – chosen to carry out their mission. They will have to arm the bomb on a designated Bombzone location which takes around 4 seconds. Set with a timer of 55 seconds, the SWAT team has to overwhelm any defending terrorists and defuse it during this period. Diffusing takes a total of 8 seconds.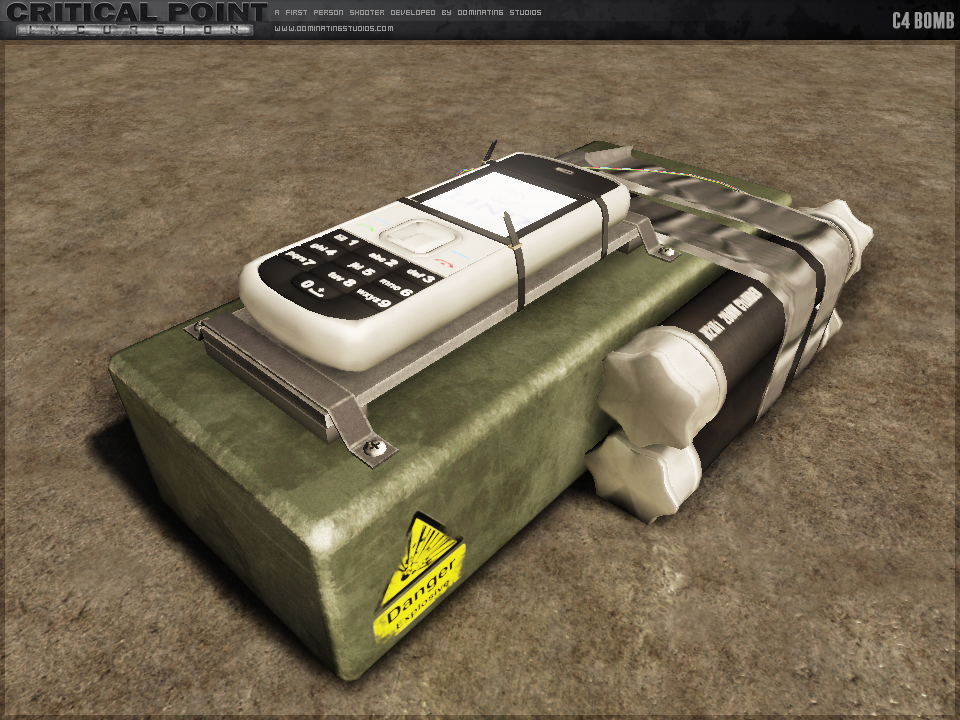 So that's it from the Dominating Studio team, we would like to thank you for reading and welcome you over at our forums to discuss and head more community feedback.
Lastly we know there is increasing pressure and criticism due to the long absence of an open Beta, however we feel it's better to bring in the goods and live to our expectations, than come up short lowering our standards and receive bad reviews.
A quote:

"The key to everything is patience. You get the chicken by hatching the egg, not by smashing it."

In the meantime take a look at our website and visit us on facebook for exclusive comments and updates.
Your Critical Point Team