First of all we gathered feedback after the last update about tutorials and improved them a lot. So this update is mainly about better tutorials. If you have a friend that just couldn't get into KAG have him play the new tutorials, we can see if we can get him on to the KAG side now :). Second, we added these lovely creatures into the tutorials as target practice (I think it's cruel and I regret doing it).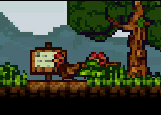 You can also find them on regular maps. Chicken can be farmed because they lay eggs. You can eat eggs for health. Also you can use chicken to create your own chickenwaffe or luftchickens or in other words your very own:
FLYING CHICKEN DEATH SQUADRON
Because by holding a chicken you can float and jump much farther especially combined with shield gliding. Imagine a team of knights floating knights attacking from air!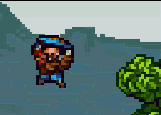 Third, some very useful changes and tweaks, please read the changelog.
Have fun,
MM
Changes b904-b907:
Someone wrote: [added] zoom to cheat sheet
[removed] motion in fixed camera
[modified] keg doesn't take action 2 any more - allows shielding when holding keg.
[modified] only 50 coins and no carry over (by default) in CTF - see CTF_Trading.as for config options (should be moved to .cfg file tbh)[added] both "rock" and "stone" are the same predefined gib[added] warning for unknown "predefined" gibs
[added] dummy target practice to tutorials
[added] added chicken
[modified] tweaked parallax backgrounds
[modified] double slash is a bit easier to execute
[fixed] sign and fireplace in front of player
[added] mapcycle can use just directory instead of .cfg (sv_mapcycle = Maps/Challenge/Tutorials)
[added] new princess
[modified] archer cursor has one more frame (smoother animation) and a better indication of legolas shot ready
[modified] esc key icon is more legible (no overlapping glyphs)
[fixed] archer aiming cursor-arrow discrepancies
[modified] arrow launches slightly higher allowing to shoot easily over 1 block when standing next to it
[fixed] various fixes and improvements to tutorials
[fixed] typo in turtorials