Hi guys! Virgil here and on this update I'd like to share some info regarding the game characters direction. Both graphical and technical in case of any geeks out there 8)
As you can see here: ...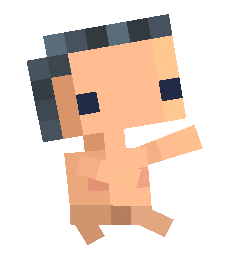 .. we've designed the characters in a very minimal way. Huge heads, small bodies for cute looks. But don't be fooled, as these guys will be ferocious, blood spilling animals when in game. Aww, they already got the RPG looks, eh?
From a technical point of view, everything, except the character's 2d design is being handled inside 3ds max and unity3d. Check this out, no animation bones! Just linked 1 sided planes with well placed pivot points composing the entire character: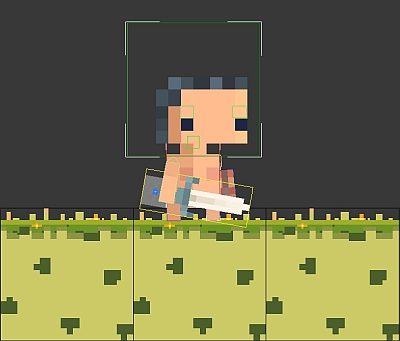 Yeah, unity3d sounds pretty awesome right now.
Here's examples of animations and equip-able items. The classic 1 shield one sword combo equips.
Idle animation:
As you can see, we're taking care of the littler details in life, such as pixel characters blinking <3 and doing our best to infuse a fair amount of personality in the little blocks of pixels we call people. We'll do this mostly through the use of many animations depending on situations you're in. For example, staying in the same spot for too much time will cause you character to get bored, sleep, look around, running too much will make him tired, etc. This will of course be covered in another update later on!
As for character customization, you can equip helmets, full body armor and weapons: knifes, sticks, swords, wands, staves, bows, throw rocks(just pick something off the ground). This is very important as it will define the character's class. Equipping a shield won't allow you to jump as high, equipping staves and wands will bring up your inner mana, leather armor would increase your speed, etc. More info on this in another update as there's A LOT to cover.
The point of this update was to pitch in a small idea of what's coming in next and especially the fact that we don't want you to think this is going to be a simple, repetitive experience even though it may seem as such at first.
Alright! Hope you guys like our little people here and stay tuned for another update soon, showing the first enemies you might encounter on your quest and why they too are.. special.
Virgil, out!