I'm always working on my Games in the Background. :D
So this time i have a little video which is showing you the actual Gameplay of the Game Celerity:
I fixed a lot of bugs and improved the Controls and the Movement System and the Colission System of the Game. The Menu is pretty much finished. As you can See here on this Screenshot, you can also change your Control Settings.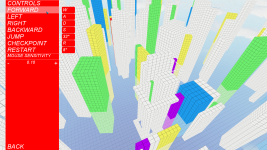 At this Moment i'm working on some Maps for the Game.
I want also to mention that the Game-Editor for this Game is going to be released as "open source".
So everybody is going to be able to create their own maps and share it with your friends or the Internet. If you want you can also change the Editor Code to add or improve some Functionalities.
There isn't much to say. XD I'm very happy that i've come so far with the game.