TMAN
Campaign 175 grinds on as we are about 3 weeks into the campaign. As of now, the Axis own 58% of the map and the Allies own 42%. As we know in this game, it's never over until one side reaches victory conditions! Your side needs you! Get in-game and fight. See our Top Players by stats so far in the campaign and we will also highlight some of the forum posts taken from the Harbor discussion on "Ship Spotted."
---
Campaign 175
Campaign 175 just entered Tier 2 equipment as Axis forces slowly grind west. Fierce and intense battles are taking place all along the front with the air forces on both sides once again making a big difference in the campaign. The Allies have been unable to mount sustained RDP factory bombing runs, a strategy they used to tip the scales of supply in the last few campaigns. Both sides fighting hard everyday!
Top Players to date in the campaign:
Top Killers:
#1 - Fusco50 with 1,703 kills from 1,334 sorties and K/D of 1.82
#2 - Stromy with a close 1,697 kills from 2,175 sorties and a K/D of .98
#3 - Mcafeed with 1,206 kills from 1,233 sorties and a K/D of 1.32
Top Tankers:
#1 - Bus0 with 172 kills
#2 - Dubane with 151 kills
#3 - Raydr with 142 kills.
Top Fighters:
#1 - Panda1k with 195 kills.
#2 - Charger186 with 168 kills.
#3 - Griffon with 150 kills.
Top Trucker again goes to the Allied CinC Jwrona with more 250 trucker sorties on just his main account. S! CinC leading by example. Do your share, drive FMS's to targets.
Ship Spotted Follow up:
Our Ship Spotted teaser has drawn quite a number of forum posts full of speculation. Here is just a sampling of what our players are thinking....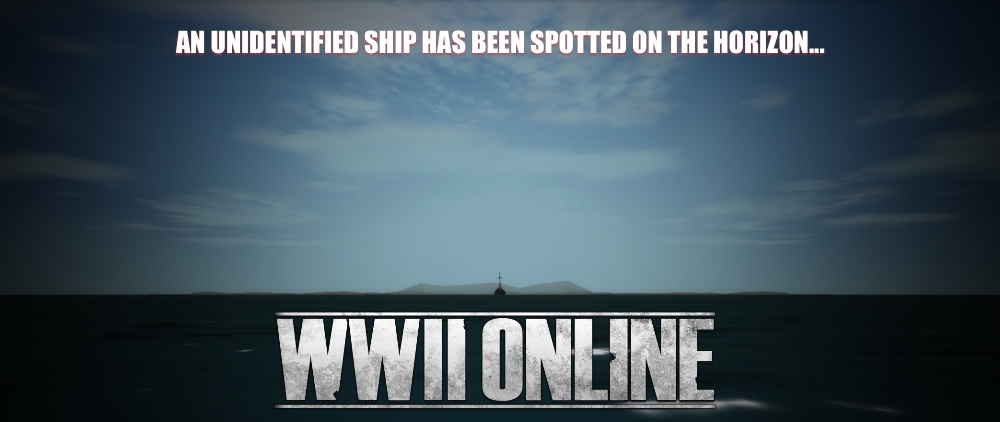 "Bismark" Adam1168
"Heavy cruise? Light cruiser?" Piattoni
"Trireme with 299 Spartans and miscellaneous oarsmen???" Doja
"Whatever it is I'm hyped. :))" Moltke
"Probably a coastal fishing vessel that will allow us to reenact Dunkirk properly. I call dibs on being the crusty fishing boat captain!" Rabbit
"Trawlers tend to have high bows, that could create the illusion of hull down. They tend to have un-warship like high stacks. Trawler." Tater
"damn it @XOOMspill the beans!!! Fishing trawler, Vikings, convoy, Battle Crusier, LST, or Galleon!! " Stankyus
"Corvette or frigate. That's my final answer" Hillstorm
"It is a Submarine that is actually BELOW the ship on the picture... Pfff" Shagher
"Is it Possible we might finally get U-Boats?" Steletto
"Vosper, that's what I was trying to think of. I think it's a Vosper." Oneskunk
More information is coming. Great to see the excitement around this teaser!!