But... what is Book of Demons?

In a few words, Book of Demons is a Hack & Slash Deck-building hybrid in which YOU decide the length of quests. Wield magic cards instead of weapons and slay the armies of darkness in the dungeons below the Old Cathedral. Save the terror-stricken Paperverse from the clutches of the Archdemon himself!
See the explanation of its basic mechanics below!
---
The more you cast down the hotter it gets... until it's SUPERHOT!
---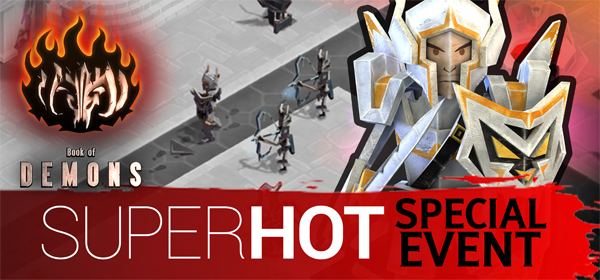 ---
We created Superhot inspired challenges, game mode and a contest for you! To celebrate that, this week we are doing a bundle with awesome guys from SUPERHOT on Steam.

All of the challenges will have one thing in common - time moves only when you move! This element will add some strategy to the game. You will be able to see what's going on even in the most challenging situations. The rest... come and see! We can't spoil the whole fun now, can we?

The last challenge will END on October 24th at 10 AM PST / 7 PM CEST.
---

---
From now on, you can also try Superhot mode in the regular game too! Just open the Options and mark the "Superhot mode" checkbox there. Don't forget to drop us a slow-mo of your best in-game actions!
Of course, the dungeons got redesigned for the duration of the event challenges featuring the key colors of Superhot - white, red and black.
---
Don't have Book of Demons and SUPERHOT yet or want to gift a copy of them to a friend? Now is the opportunity to get these for free!
---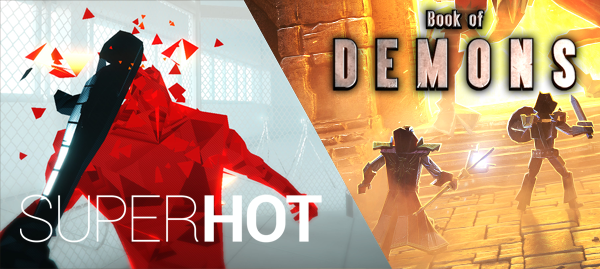 ---
To celebrate this fun with Superhot event, we prepared a contest for you. We know that you appreciate the bosses' names in Book of Demons, with names such as Gym Spirit, Usain Goat, Piece of Stone or Glu Glu. We figured - why not give you a chance to be creative too? Hence...
Join our Discord server discord.gg/bookofdemons
Come up with a Superhot-themed name for a boss in Book of Demons! Write your answer on the #giveaways channel on our Discord server.
Don't forget to explain why you chose that name!
The contest starts now and we'll pick 3 lucky winners on October 24th.
Rules: Thingtrunk.com
---